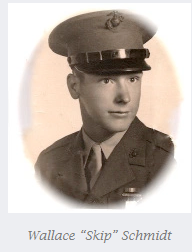 On June 13 the Community Room inside Building 22 at the Minneapolis Veterans Home was given a special dedication to Wallace R. (Skip) Schmidt. He was a Vietnam Veteran, Silver Star and Purple Heart recipient, member of the "The Twins Platoon" and a native of South Minneapolis. Additionally, this Community Room dedication honors Residents and families associated with the Vietnam War. In Skip's case, he was not welcomed home the way troops are today. This was the case with many other Vietnam Veterans as well. Not only were they not welcomed back, they were not thanked or given the recognition they deserved. "These guys were coming home and then not being accepted by their own friends or communities," said Diane Finnemann, one of Schmidt's sisters. The recent dedication event served as a remembrance of all those who served in the Vietnam War. 
"We want to make sure that all Veterans, those who didn't come home, or who didn't come home all the way, are honored," said Douglas Hughes, Deputy Commissioner of Healthcare for the Minnesota Department of Veteran's Affairs (MDVA). 
Building 22 opened this spring and is a state-of-the-art skilled nursing facility that will serve many generations of Veterans. One of the commitments of MDVA leadership was to pay tribute to Minnesota Veterans. For Vietnam Veterans, (who are currently the largest percentage of Veterans living in the five MN Veterans Homes), every day is a welcome home and thank you.