/mdva/assets/2018-03-14-dads-award-full_tcm1066-330385.jpg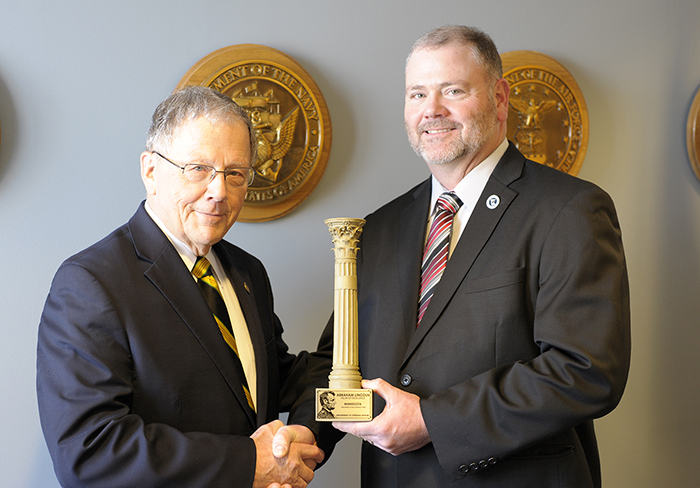 The Minnesota Department of Veterans Affairs (MDVA) has been awarded the prestigious Abraham Lincoln Pillars of Excellence Award from the U.S. Department of Veterans Affairs.  This award recognizes outstanding state programs that support Veterans within their states.
The 2018 awards were presented by Veterans Affairs Secretary David Shulkin at a conference in Alexandria, Virginia. MDVA won for creation of a database of secure military discharge documents. The Discharge Access Database System (DADS) provides a searchable database used by County Veteran Service Officers (CVSOs) and MDVA staff to locate Veteran discharge documents, like DD214s, which are needed to access earned benefits. Although it is still expanding, it already houses discharge data for 82 of Minnesota's 87 counties.
"This is the highest honor our department has ever received," said MDVA Deputy Commissioner Brad Lindsay. "It is a credit to the fine staff in our Programs and Services Division, as well as our partners at Minnesota IT Services, the Minnesota Association of County Officers and the Minnesota Association of County Veterans Service Officers."
Prior to the launch of DADS in 2016, there was no state-wide database of military discharge documents on record with the County Recorders. Staff working with Veterans had to know which of Minnesota's 87 counties the discharge documents were recorded in before they could make contact and request a secure transfer of the documents. This process was slow, and did not always produce results. A comprehensive, searchable database was needed. Officials knew there was a platform that served a similar purpose in Minnesota for marriage documents. This system is called the Minnesota Official Marriage System (MOMS). The DADS project focused on replicating the functionality of that system for military discharge records. Immediately upon launch the database took off in the state. To date there are more than 500,000 military records indexed in this database.
The DADS database is especially critical for Veterans who served before discharge papers were provided in an electronic format. In 1973, an infamous and disastrous fire at the National Personnel Records Center in St. Louis, Missouri destroyed more than 16 million official military records. In cases like these, the military discharge on file in a county, possibly forgotten by the Veteran, is the only existing record of that Veteran's service and often the missing key to earned benefits. With DADS, staff can now find and request records through a secure, but simple, online search. 
The "Abraham Lincoln Pillars of Excellence" Award was established in 2012 by the U.S. Department of Veterans Affairs to recognize best practices from NASDVA members that have developed effective programs to address the four top-line issues: elimination of the claims backlog, ending Veterans homelessness, improving access to VA benefits and services, and innovative state programs.
With VA's national commitment to Veterans and the states local capabilities, this recognition reflects the close working relationship between the VA and the state directors.  This year, Secretary Shulkin presented seven states with the Abraham Lincoln Pillars of Excellence Awards for outstanding state programs that support Veterans within their states.  In addition to Minnesota, California, Idaho, Maine, Massachusetts, Texas and Washington also received Pillars of Excellence Awards.