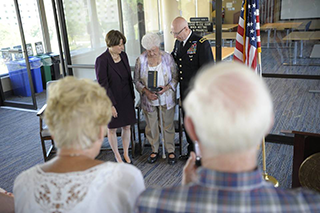 A fallen Minnesota Veteran was honored on Thursday, July 6 more than 70 years after his death.
Staff Sergeant Gerald "Jerry" Jacobson was reported missing in action in 1944 during World War II. Jacobson's widow, Catherine Tauer spent decades wondering where he was. Last month, with help from Senator Amy Klobuchar, DNA tests confirmed that the remains buried in an unmarked grave in France were Jacobson's. He died at age 27, shortly after his regiment landed on the beaches of Normandy. 
The Jacobson family first reached out for assistance in 2008. In 2015, the family provided the Defense POW/MIA Accounting Agency – the agency tasked with identifying unknown fallen soldiers – with significant evidence showing where Jacobson was likely buried in France. After over a year of waiting, the Jacobson's contacted Klobuchar's office and the Senator took steps to expedite the exhumation of the grave and the DNA testing process required to identify the remains as Jacobson. 
Tauer never gave up hope that Jacobson would someday be laid to rest in Minnesota. 
"You kept all the letters he sent, you kept his picture by your bedside so you could start each day saying hello to him. For over seven decades, that's how long Catherine's love for Gerald has endured," said Senator Klobuchar.
On Thursday, Major General Richard Nash and Senator Amy Klobuchar presented 94-year-old Catherine Tauer with a Bronze Star and Purple Heart. Both decorations were earned by Jacobson. The Purple Heart is a United States military decoration awarded to those wounded or killed in action. The Bronze Star is a United States military decoration awarded for heroic or meritorious achievement. 
"Jerry Jacobson was an American Hero. At just 27 years old, he made the ultimate sacrifice shortly after D-Day. I'm honored to have helped the Department of Defense move this process forward and hope Jerry's return home will bring some measure of closure to Catherine and the entire Jacobson family," said Senator Klobuchar. 
Tauer said she hopes Jacobson's legacy will be able to help other families with missing service members find answers, sooner. Senator Klobuchar said she will continue that fight. Jacobson will be buried with full military honors at Fort Snelling on Friday, July 14.