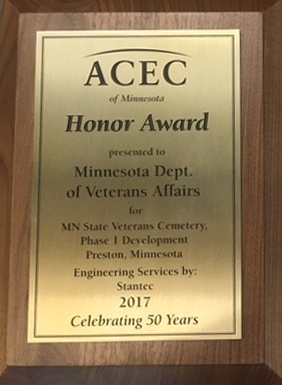 The Minnesota State Veterans Cemetery - Preston, in partnership with Stantec recently received an American Council of Engineering Companies (ACEC) Honor Award. The award was received for engineering services provided by Stantec for Phase 1 Development at the recently opened cemetery.

"We are forever indebted to the Veterans who served our country," said Chad Davison, Project Manager from Stantec. "The cemetery honors our Veterans and provides a tranquil place to remember loved ones."

Stantec developed the master plan for the Minnesota State Veterans Cemetery - Preston that outlines nine phases of development, each to occur approximately every 10 years. Visitors enter the cemetery through ornamental gates, passing an iron fence and stone piers. Our designers implemented site roads and utilities, as well as irrigation and landscaping consistent with energy and water conservation and environmental preservation. A memorial walkway and flag/assembly area is prominent during formal events and gatherings, especially on Memorial Day. Phase 1 is complete and includes nearly 4,000 interment sites and support facilities. When fully developed, the site will provide 38,000 resting places.