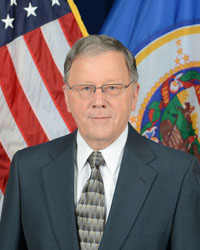 Have you noticed the change in the air? If you have, you are a typical Minnesotan sensing that summer is fading away and fall is here. With fall, and specifically September, we look forward to getting the families ready to go back to school and enjoying our County and State fairs. The 'Great Minnesota Get Together' will have one change. The Veterans' booth has been moved to a new location, the lower level of the Grandstand.  Much discussion has been had amongst our service organizations' but the new location should enable us to get more Veteran traffic.
As we look out in 2016 and beyond, several historical events will celebrate significant anniversaries. This year will mark the 75th anniversary of the attack on Pearl Harbor.  As you may know, Minnesotans were on a training exercise in Hawaii when the attack occurred.  They were on a ship named the USS Ward and, while on a training exercise, sighted and destroyed a Japanese mini-submarine.  They were the first to fire shots in Pearl Harbor and thus World War II. The gun that fired that first shot is located on the Capitol Grounds and is one of the memorials honoring Minnesota's Veterans. 
Also coming up is the 100th anniversary of the National American Legion Conference.  Minnesota was the site of the first conference and most fittingly, was selected as the site of the 100th.  I encourage all the Legionnaires to work with the state office as they have a significant task ahead of them in preparing for and memorializing this prestigious event.
And since I am focusing on historic events, I want to point out another anniversary, the 130th anniversary of the Minneapolis Veterans Home.  Established under President Lincoln's focus on caring for all Veterans who fought in the Civil War, the Homes have become a special place for those who have served our nation and have a place they can call home in their final years. Minnesota can be very proud of the Veterans Homes it has within the state and also Minnesota's emphasis on caring for our Veterans.
I encourage all of you to take time to attend a County or State Fair and enjoy the fall weather!