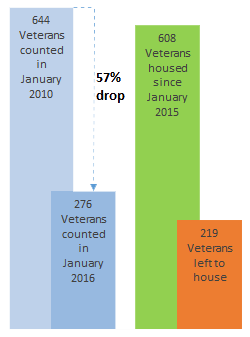 On Tuesday, August 2, 2016, HUD Secretary Julián Castro visited the Twin Cities StandDown for Veterans organized by the Minnesota Assistance Council for Veterans (MACV). In remarks to hundreds of Veterans, volunteers, and staff, he noted that nationally homelessness among Veterans is down by 47 percent since 2010, and that in Minnesota, it is down by 57 percent. He praised Minnesota's efforts to join the two states and 27 cities that have already reached the goal of effectively ending Veteran homelessness in their communities.

In his remarks, Commissioner Shellito reported that since MDVA launched the Minnesota Homeless Veteran Registry, a total of 608 Veterans experiencing homelessness have been housed. Teams of public and private service providers have been using it throughout the state to make sure that every Veteran identified has a clear and rapid path back to housing. The rate of housing Veterans has increased from 10 housing outcomes per month initially to over 35 housing outcomes per month. He said that Veterans are housed, on average, within four months of being identified, and praised StandDown for helping to cut that time down by connecting Veterans with services and support to get back into housing.

Anyone can refer a Veteran to the Registry by calling 888-LinkVet.
 
Secretary Castro remarked that he looked forward to the day when Minnesota can declare that Veteran homelessness has been ended. MDVA is proud to stand with Veterans experiencing homelessness as Minnesota approaches, achieves, and sustains this critical goal.