By Maja Beckstrom | mbeckstrom@pioneerpress.com   
PUBLISHED: August 2, 2016 at 6:50 pm | UPDATED: August 3, 2016 at 12:33 pm
Original article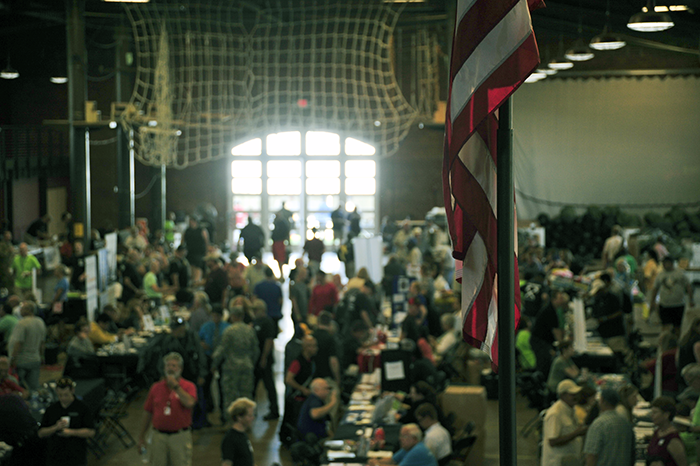 Last August, Herman Johnson was homeless. A year later, the 62-year-old former U.S. Air Force mechanic is living in an apartment in St. Paul. He says one of the best things about it is being able to cook.

"I just fried up some chicken last night," he said. "And I gave some to my neighbor."

Johnson was among the 600 veterans who showed up Tuesday for the 24th annual StandDown at the Boy Scout Base Camp at Fort Snelling. The two-day event is organized by the nonprofit Minnesota Assistance Council for Veterans and brings together a host of services for veterans living on the edge, making it easier for them to access everything from haircuts and health care to employment services, legal aid, assistance and other support. This year, a major focus was housing and the strides being made across the country in getting homeless veterans into homes.

According to figures released this week by the U.S. Department of Housing and Urban Development, and celebrated by visiting HUD Secretary Julian Castro during a stop at the StandDown, the nation has cut homelessness among veterans by 47 percent since 2010. The drop is based on the annual single day homeless count held every January in each state of all people in shelters, staying temporarily with friends and sleeping in their cars or the streets. Minnesota identified 644 homeless veterans on a single night in 2010 and 279 in January 2016, a 57 percent reduction.

"I think that's outstanding," said Retired Major General Larry Shellito, commissioner of the Minnesota Department of Veterans Affairs.

The decrease is the result of focused effort, collaboration and increased government spending. In 2015, the state started keeping a centralized list of every homeless veteran identified in Minnesota. At weekly regional meetings, including one in Ramsey County, shelter workers, VA representatives and housing advocates talk about how to get specific veterans into housing and pay for it. Johnson is one of 600 veterans who were moved off the list in the last 18 months. There are 219 vets currently on the list, and although new veterans are continually identified, they are getting moved off more quickly.

"When we started we were housing about 10 veterans a month. Today we're housing about 35 veterans a month," said Eric Grumdahl, the state's special adviser on ending veteran homelessness, who works for Minnesota Department of Veterans Affairs. "The difference is that we're collaborating and pooling our resources around each particular veterans."

JET ENGINE MECHANIC TO LIVING ON THE STREETS

Johnson was a jet engine mechanic for the Air Force for six years. After being discharged in 1979, he worked for a succession of foundries in his hometown of St. Louis until the steel industry faltered. He moved to Minneapolis in 1990, where he worked his way up to a job melting lead batteries at Gopher Resource in Eagan until he was laid off in the recession of 2008.

He was homeless for three years with his daughter. He finally landed an apartment in Brooklyn Park, but lost that in January 2015 when someone he'd invited over got into a fight outside with another resident.

"I was told I couldn't control my company, and I had to leave," he said. He slept for a year at friends' homes, at a shelter and outside under the bridges near downtown Minneapolis.

"You feel exposed on the streets," he said. "You can't really live like that."

A counselor at Minnesota Assistance Council for Veterans helped him get a new place. She helped him clear an unpaid $400 cleaning charge on his rental history.

It stemmed from leaving his bed, dresser and other belongings in the Brooklyn Park apartment when he left. Without a home, he said he had nowhere to bring them. The counselor paid apartment application fees and personally lobbied for him with landlords. Perhaps most importantly, she set him up with a federal rental assistance program for veterans.

The housing vouchers, which are similar to Section 8, go by the unwieldy acronym HUD-VASH. The number distributed in Minnesota jumped tenfold from 70 in 2010 to 700 in 2016 and housing advocates say they are critical. Johnson moved into his apartment just after Christmas.

"I have stability now," he said. "I can look for a job." He's got a boiler operator license and a forklift operator license, but so far has found few employers interested in a 62-year-old man with an employment gap.

Meanwhile, he's enjoying cooking on his stove. He's been making oxtail soup with mushrooms and cornbread and chicken salad with summer vegetables.

Grumdahl, the state's special adviser, said on Tuesday at least 20 more homeless veterans were identified and added to the central list during the StandDown, which continues today. Many of them are are already eligible for various government income programs or rental assistance.

"We know how we can pay for housing, how it can be affordable," Grumdahl said. "What we don't have is a landlord who has said yes to them. If I had a magic wand and there was one thing I could do it would be to create a more open housing market with greater number of vacancies. In the meantime, we're trying to do everything we can do to connect with landlords."

Veterans seeking housing or available landlords can call 888-LINK-VET for more information.