ASL version
If you are DeafBlind or prefer to watch the video in a slow-paced, high contrast format, watch the DeafBlind friendlier ASL version instead. 
English version
Hello everyone! I am Darlene Zangara, Executive Director of the Minnesota Commission of the Deaf, DeafBlind & Hard of Hearing. I will describe myself. I am a white woman with blond hair, glasses, and wearing all black. Can you believe it is already October? It feels like summer and the start of school went by fast. I'm sure you are wondering what the Minnesota Commission of the Deaf, DeafBlind & Hard of Hearing has been doing these last few months. Here are some updates.
Education
Danelle Gournaris has been working with the stakeholders of the Collaborative Plan. If you are not sure what the Collaborative Plan is, here is a quick explanation. Under the Collaborative Plan, schools, state agencies, and organizations, including us, work together to make positive changes in the system.
The Collaborative Experience Conference is a big Collaborative Plan project. The conference will happen online from November 3-5. Registration is open!
Here is why the conference is important!
1. It supports DHH teachers' professional development and provides CEUs that goes towards their teacher licensure renewal.
2. It provides valuable information and resources to parents, teachers, and other professionals working with deaf, deafblind, and hard of hearing students.
We have two amazing keynote presenters! Dr. Peter Isquith will discuss "Executive Functioning: Enhancing Self-Regulation in Deaf & Hard of Hearing Children."
Dr. Amy Szarkowski will cover "Families, Adults who are Deaf or Hard of Hearing, and Professionals Coming Together to Foster Joy."
Another thing that Collaborative Plan stakeholders have been working on, specifically the Commission, Minnesota State Academy for the Deaf, and VONA, is developing questionnaires for the statewide survey to identify the level of care for a day treatment program. This survey will be sent out sometime this fall.
Interpreter Licensure
The Commission has successfully contracted with a vendor, Dendros Group, LLC, to organize a task force to work on recommendations and endorsement for improving the quality of interpreting services throughout Minnesota, which include the topic of interpreter licensure.
Please subscribe to Commission newsletters. We will send out updates about the task force and opportunities to participate.
Separately, Dendros will be providing racial equity training to Commission staff.
Focus Groups
Did you know that we host focus groups? We have several: BIPOC, LGBTQ+, Hard of Hearing, DeafBlind, and Speaking DeafBlind. The focus groups provide guidance and feedback to the Commission. Recently, the focus groups provided feedback on voting accessibility and legislative topics. If you are interested in joining a focus group, please contact Jessalyn Akerman-Frank (jessalyn.akerman-frank@state.mn.us).
Community Engagement
We have participating in more in-person events since the summer. There are good things about virtual events but there is no substitute for being in the same room.
We were at Pride as part of Minnesota Deaf Queers' booth and participated in the parade.
We also worked at the Minnesota State Fair for a day at the Minnesota Council on Disability's booth.
We volunteered at Minnesota Hands & Voices' family event with interactive activities.
Michele Isham, Board Chair, went to the national Hearing Loss Association of America conference.
The staff went to the National Association of the Deaf's national conference. I presented with my National Association of State Agencies of Deaf and Hard of Hearing (NASADHH) on formulas for success for state government agencies. Jessalyn Akerman-Frank, Patrick Vellia, Migdalia Rogers, and Anne Sittner Anderson presented on civic engagement.
Here are a few photos from recent events!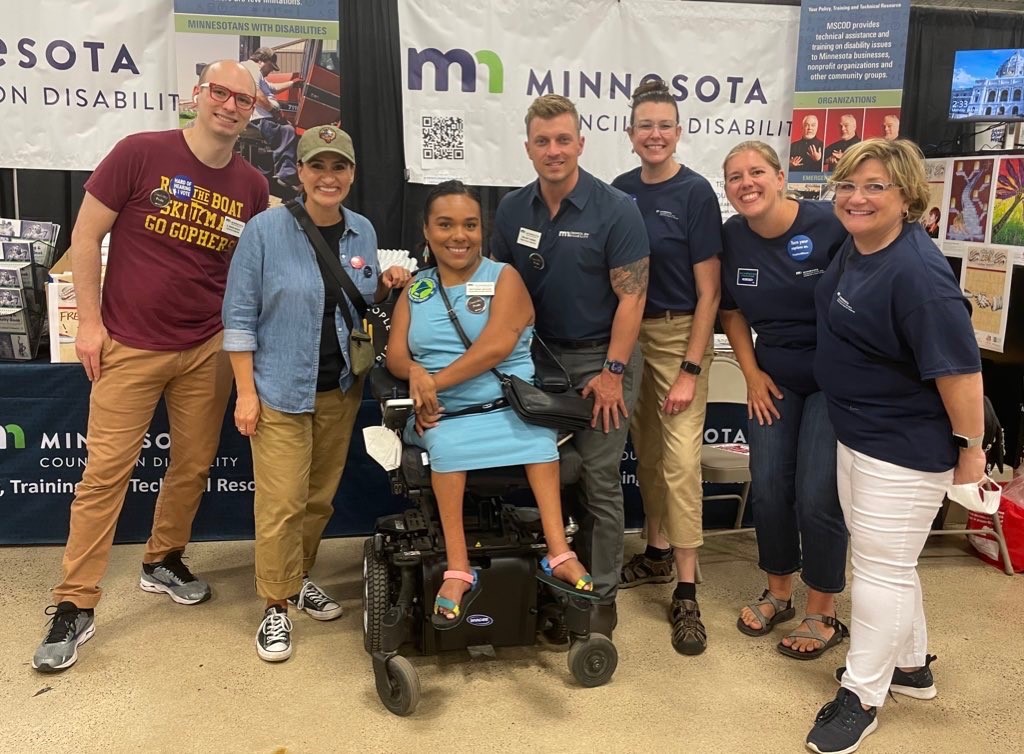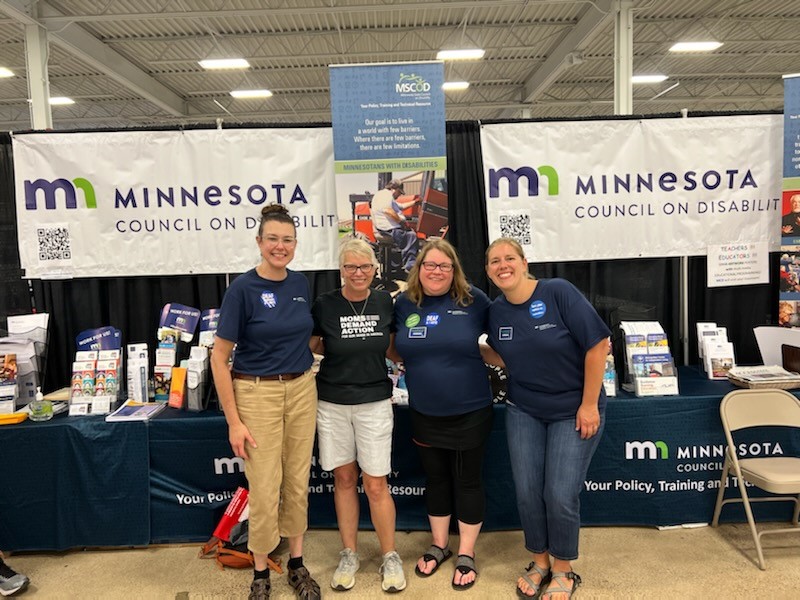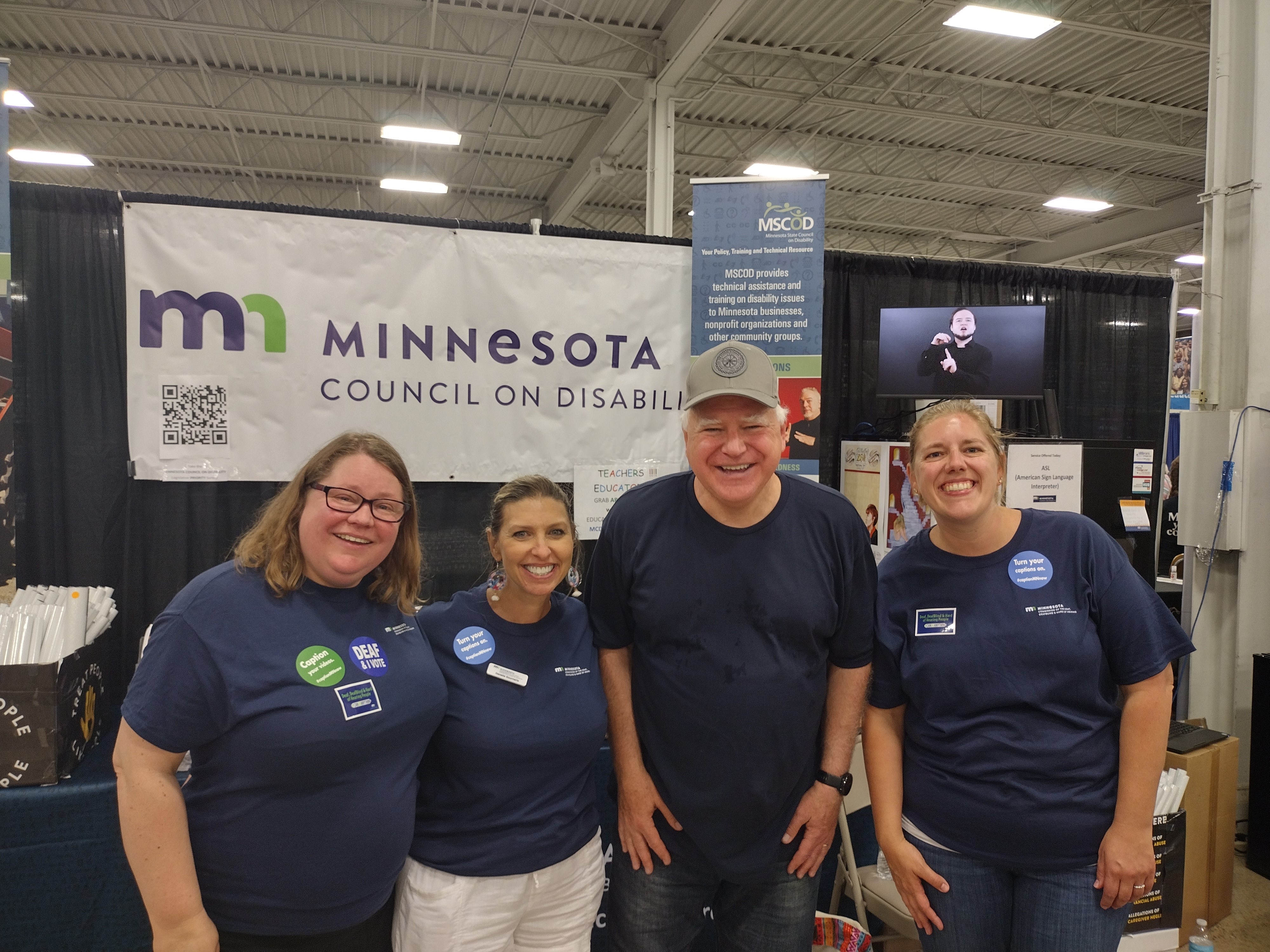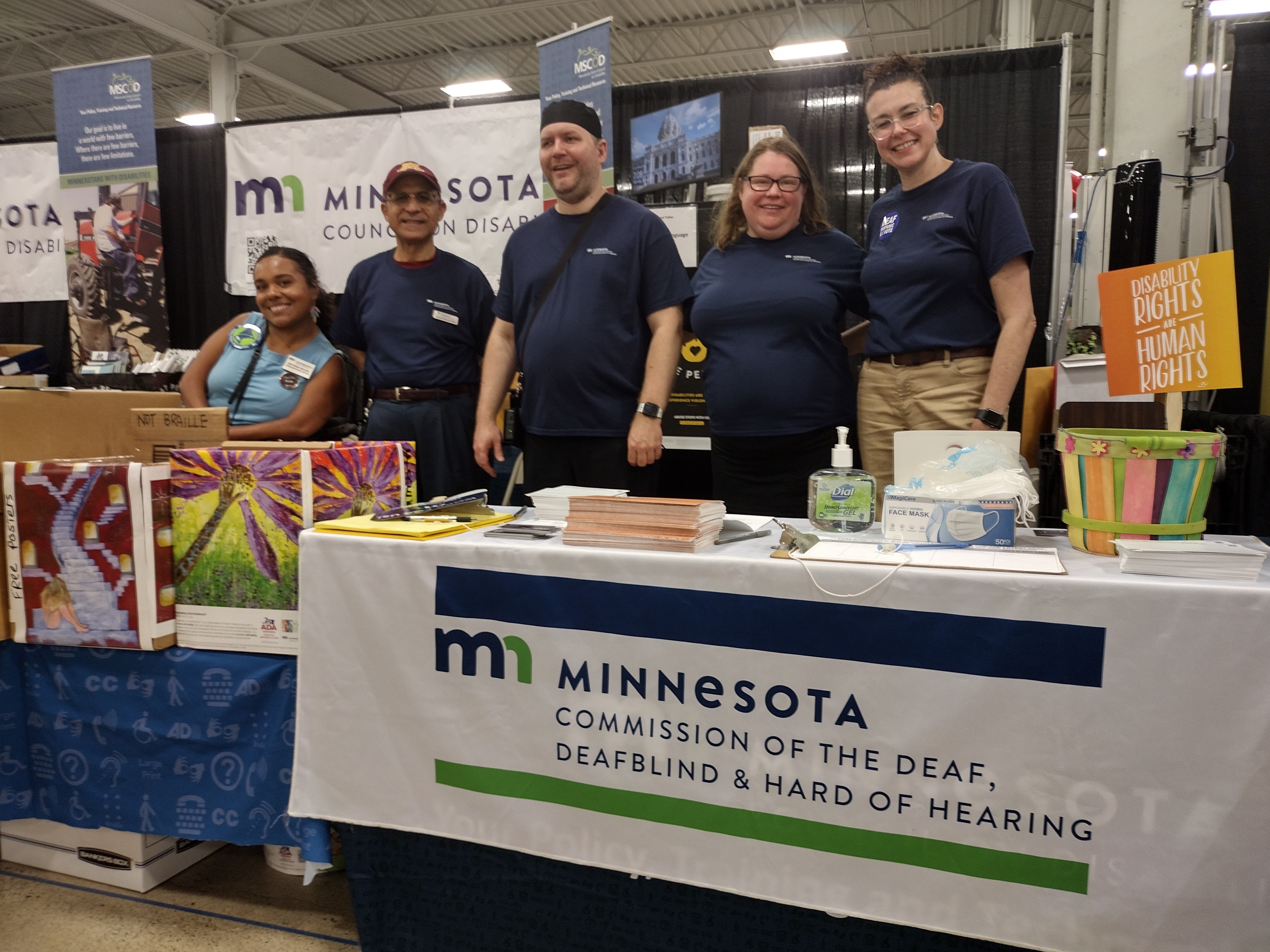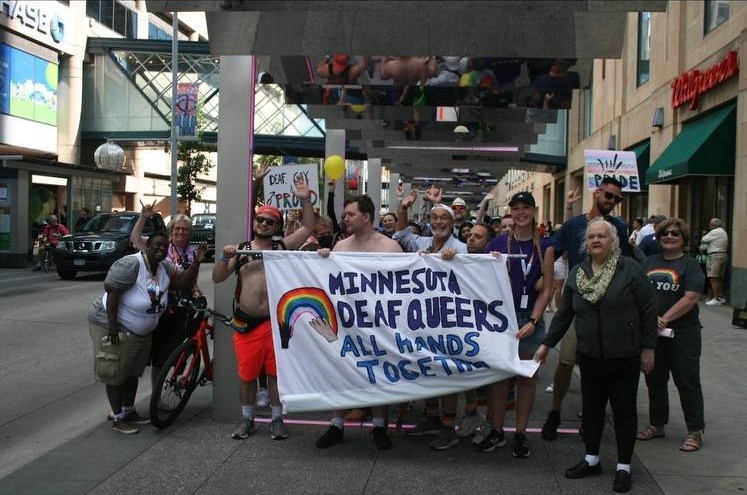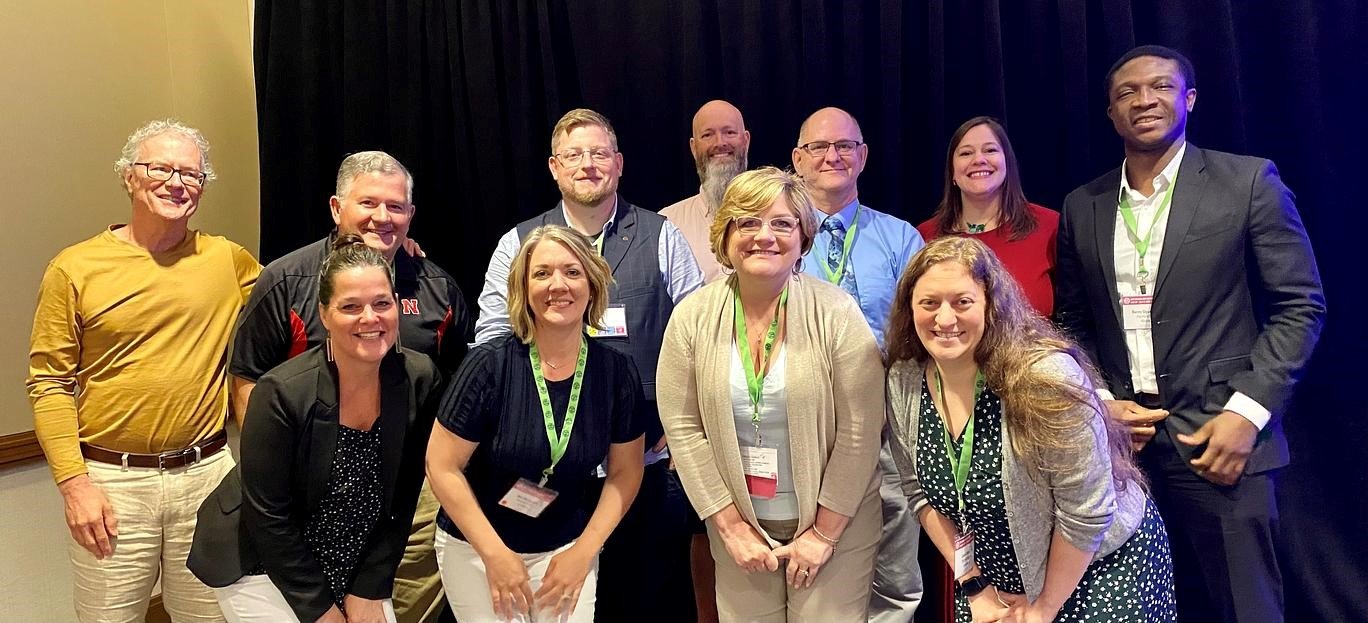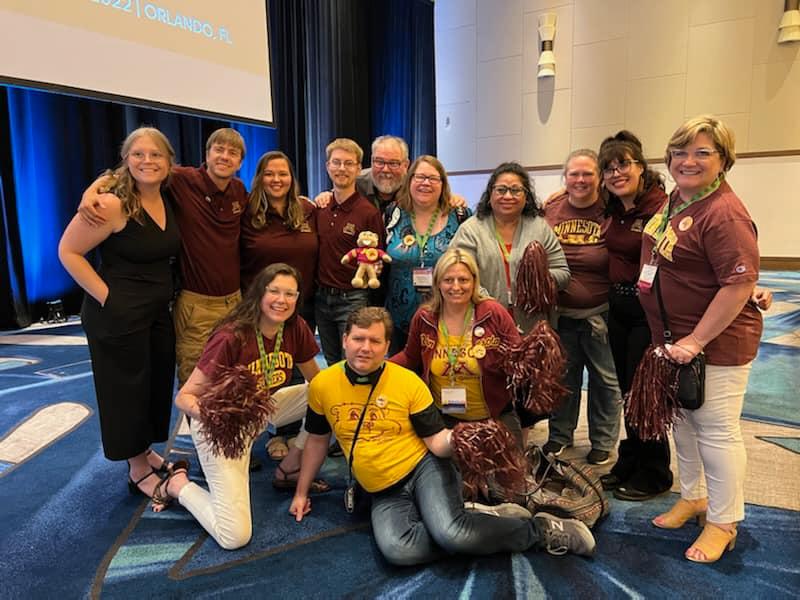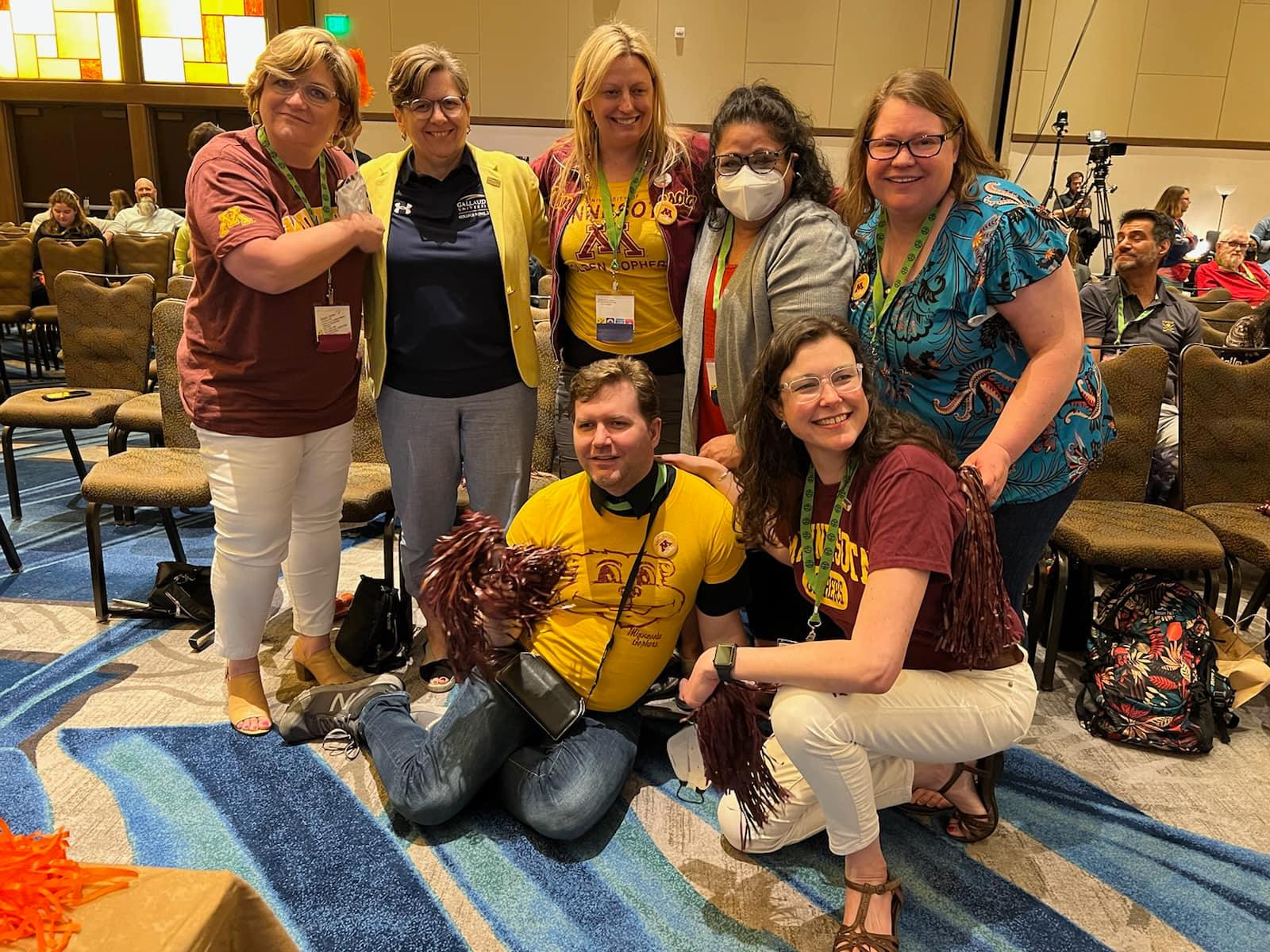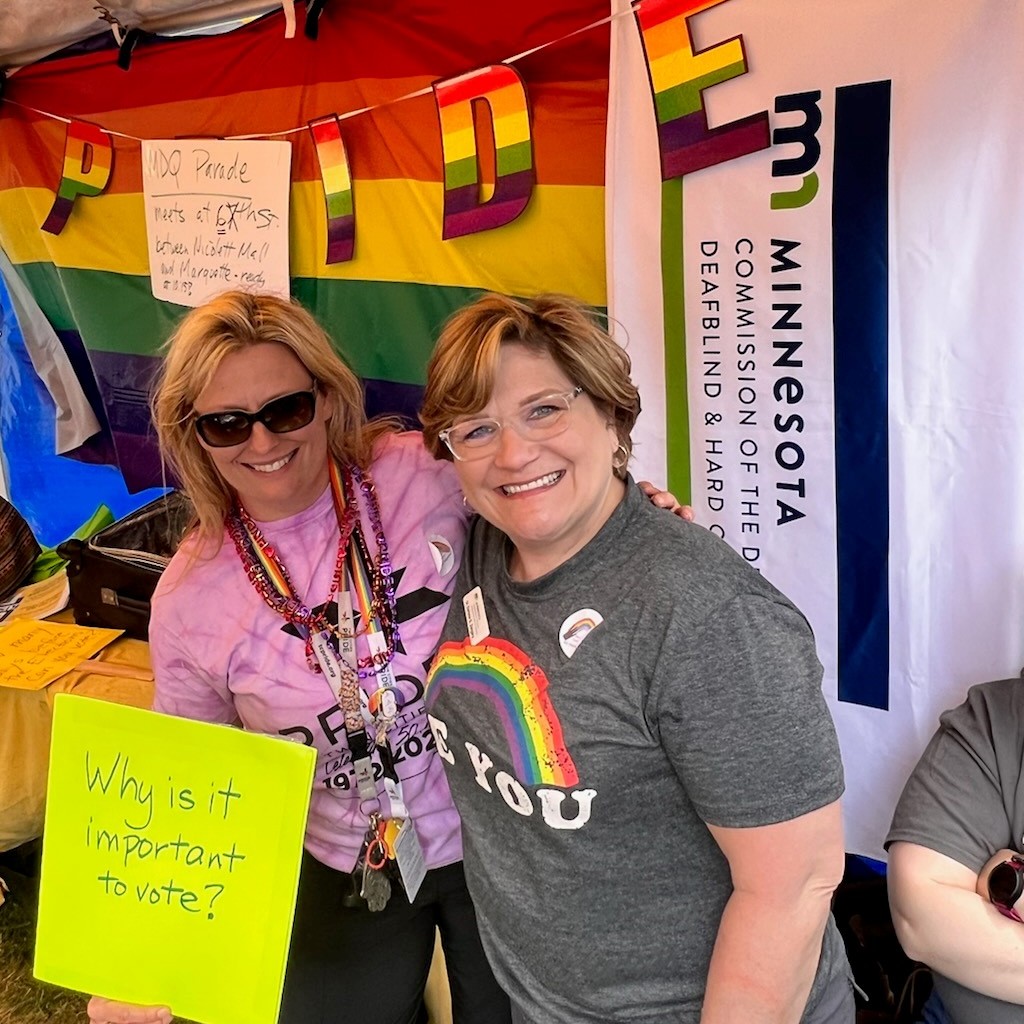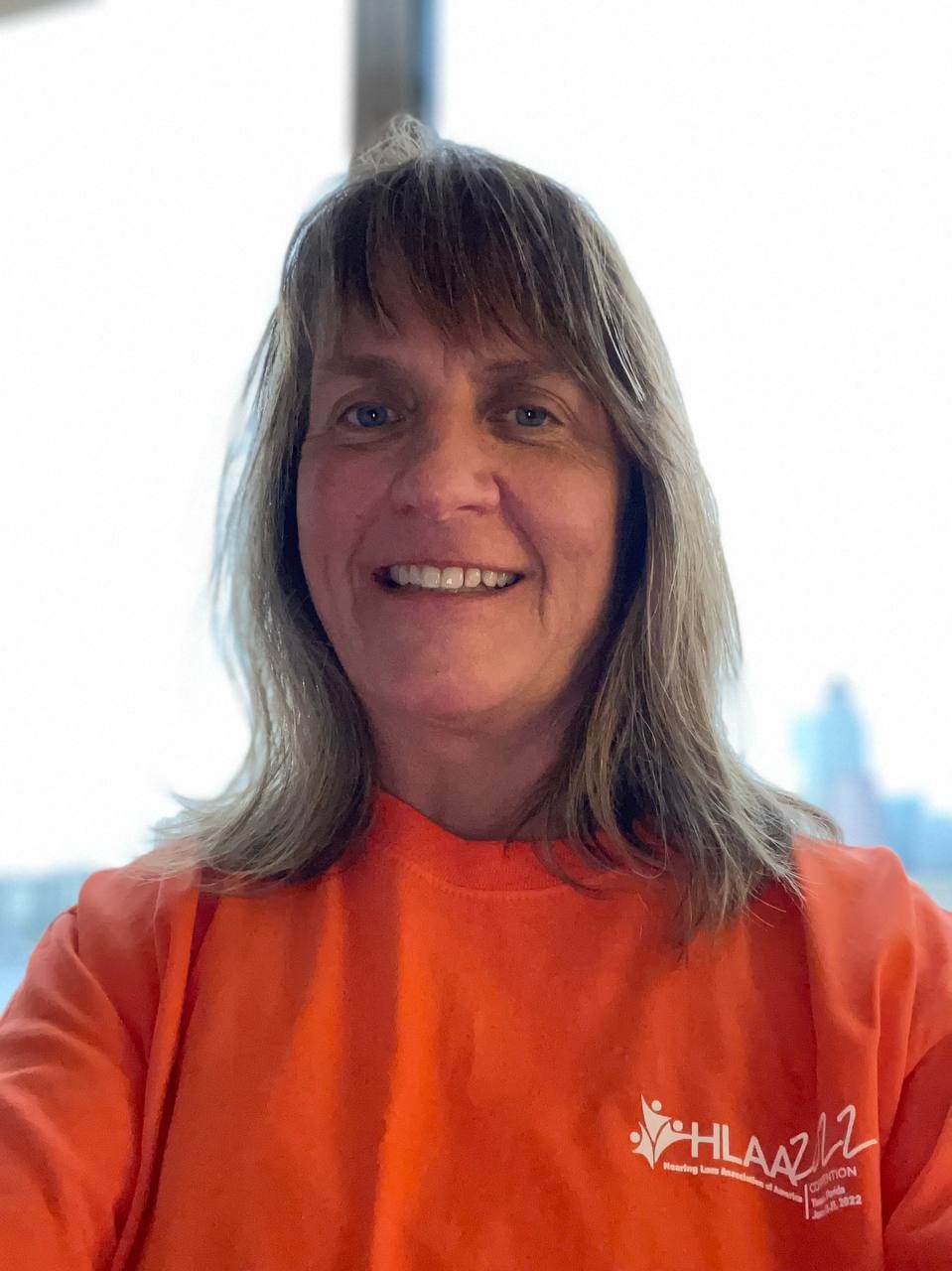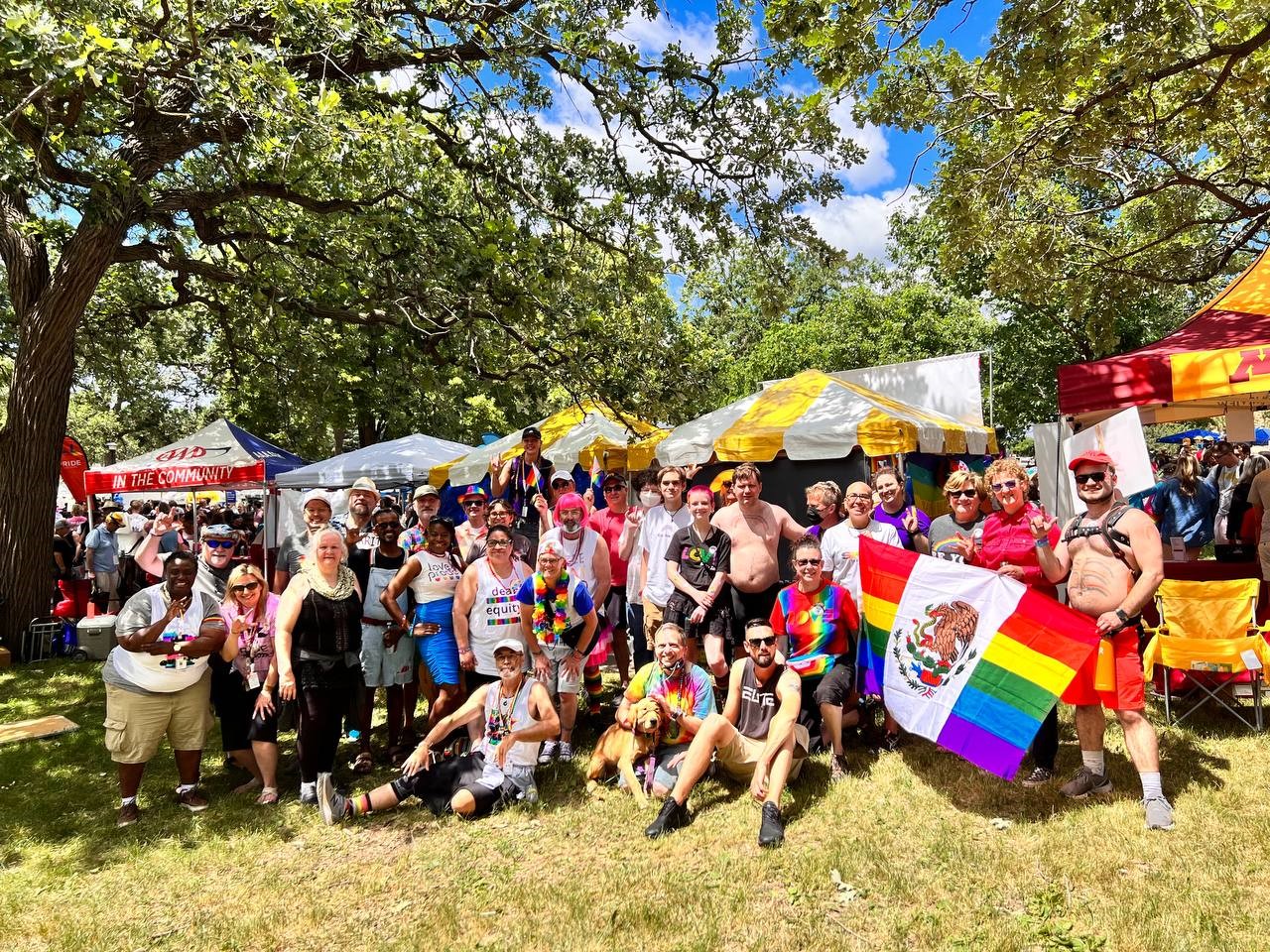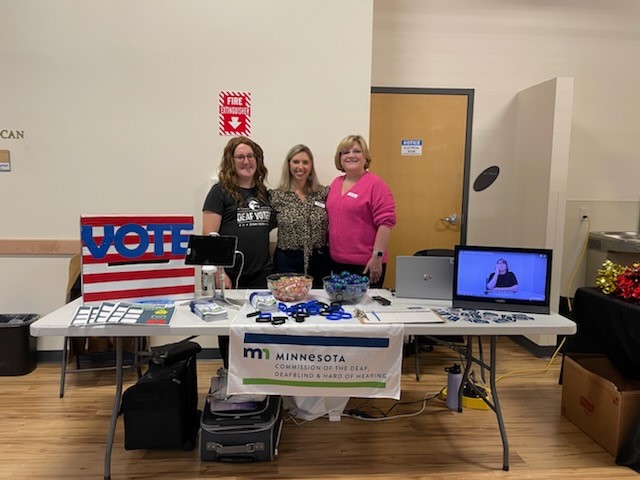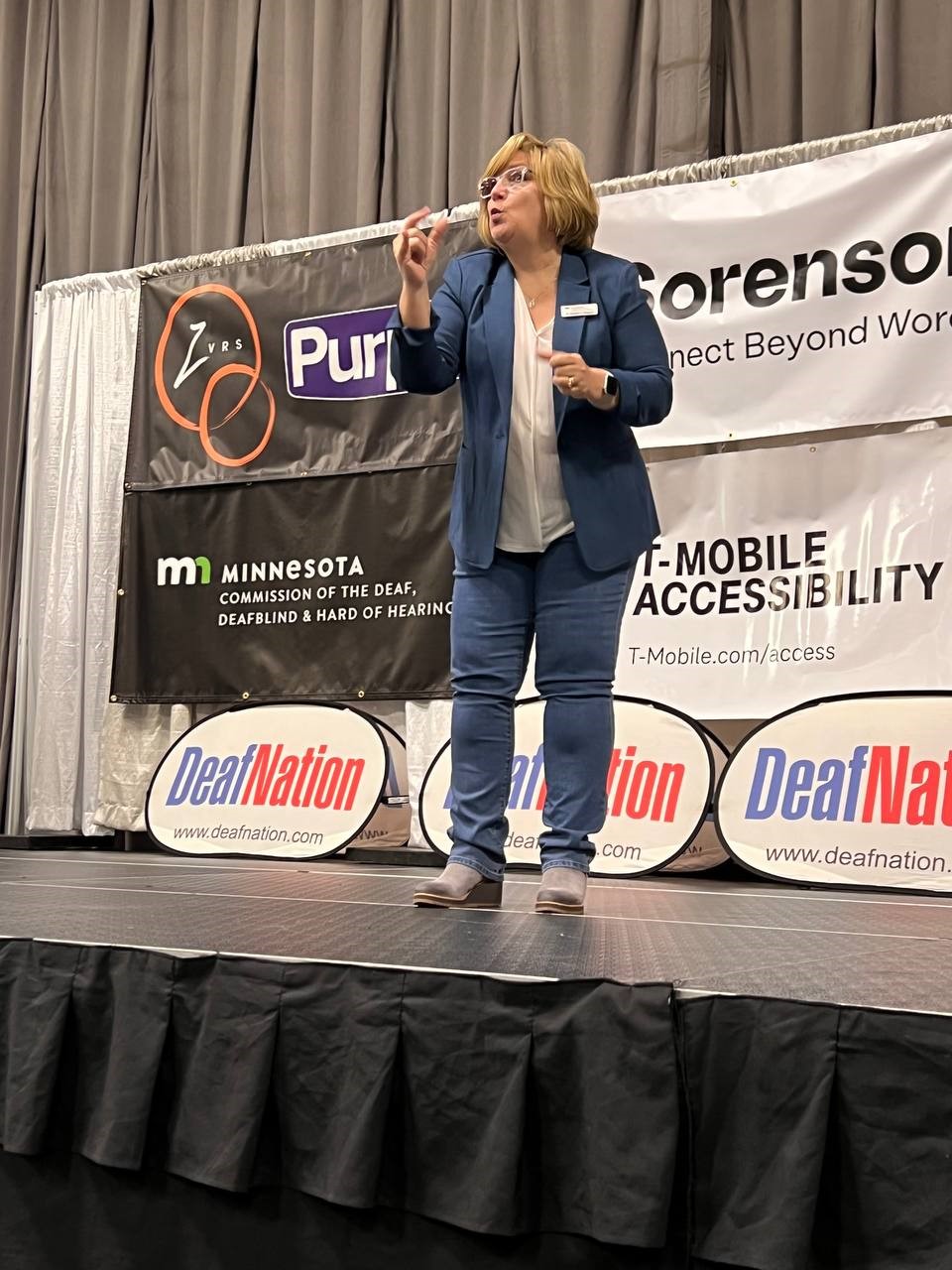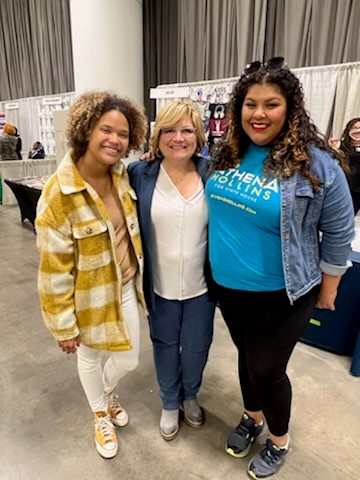 Getting Ready for Legislative Session
Alicia Lane and I have been getting ready for this upcoming legislative session. This means we have been meeting with stakeholder groups, state agencies, the Governor's Office, and community organizations during this planning and research. Thank you to everyone who attended DeafNation and let us know which topics are important to you. It helps us to know on what policies we need to work on together.
Your Thoughts?
I will send out another update next month. Is there any topic you would like me to cover in my updates? Let me know by sending me an email (darlene.g.zangara@state.mn.us). Thank you.
Credits
The Minnesota Commission of the Deaf, DeafBlind & Hard of Hearing thanks:
Dr. Darlene G. Zangara, Executive Director
Patty McCutcheon for voiceover.
Keystone Interpreting Solutions for film production.