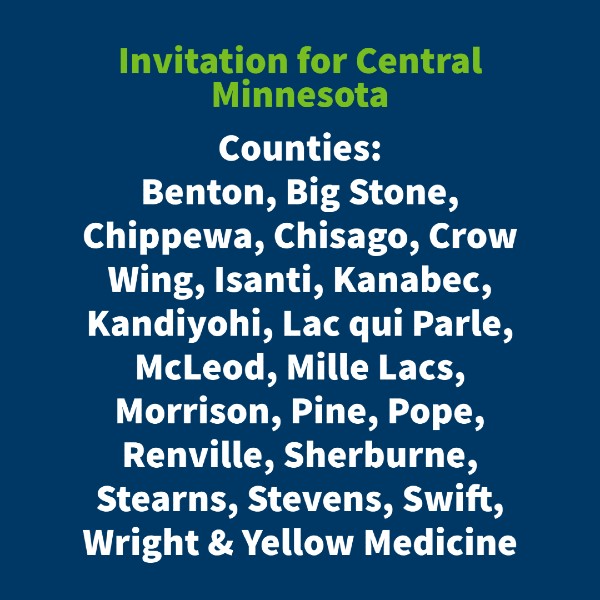 MNCDHH has booked our third Traveling Tuesdays event!
MNCDHH is coming to your region for a virtual meet and greet with Darlene G. Zangara, Ph.D., Executive Director of MNCDHH. Darlene will introduce herself to your community, share some of MNCDHH's recent activities, describe her vision for the future, and answer your questions.
Do you have questions about what MNCDHH does and can do for you? Do you have ideas for public policy that impacts community members who are deaf, deafblind, hard of hearing, or people with hearing loss, their families, coworkers, and friends? Please join us when we come to your region.
Central regional counties
Darlene's third stop is Central Minnesota! The Central region includes the following counties:
Benton
Big Stone
Chippewa
Chisago
Crow Wing
Isanti
Kanabec
Kandiyohi
Lac qui Parle
McLeod
Meeker
Mille Lacs
Morrison
Pine
Pope
Renville
Sherburne
Stearns
Stevens
Swift
Wright
Yellow Medicine
If you live in a county that is not listed above, don't worry. Darlene plans to virtually travel to every Minnesota region on Tuesdays over the next few months. In the meantime, please subscribe to MNCDHH's news and watch for when we are coming to your region.
If we have already visited your region, we plan to schedule another statewide tour in the future (hopefully, in-person). 
When
Tuesday, February 16, 2021 at 6:00 p.m.
Where
Workshop will be provided online through Zoom. Register in advance at Traveling Tuesday: Central Minnesota. After registering, you will receive a confirmation email containing information about joining the meeting.
Accommodations 
Presented and discussed in both spoken English and American Sign Language (ASL). CART and ASL interpreters have been scheduled. If you need another reasonable accommodation such as a deafblind interpreter, please email your request to mncdhh.info@state.mn.us, at least 5 business days before the event.