ASL version
If you are DeafBlind or prefer to watch the video in a slow-paced, high contrast format, watch the DeafBlind friendlier ASL version instead. 
English version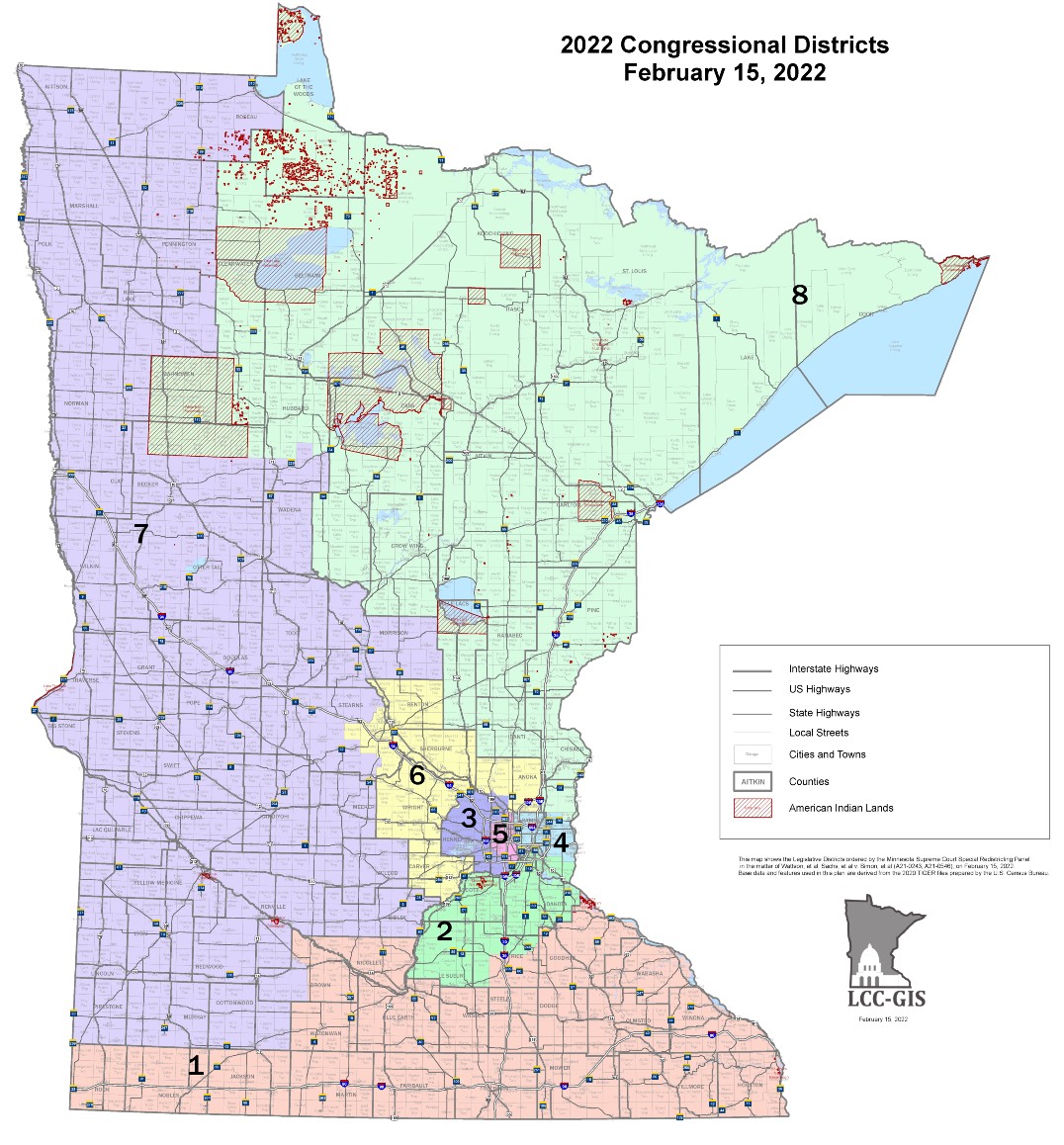 Have you seen the announcements about the new eight congressional districts map in Minnesota? This is called redistricting. Perhaps you are not sure what redistricting is and what it means for you.
Do you remember filling out the 2020 Census form or attending one of MNCDHH's civic engagement events about the census in 2020?
As the population changes in Minnesota, so does the district lines. The lines are redone every 10 years after the census to ensure that the people of each district of equally represented. In other words, the redistricting makes sure that each Minnesota legislator represents the same number of people.
We have some good news as a result of the 2020 Census! We did not lose any congressional seats so Minnesota still has 8 seats. Thank you to everyone who participated in the census!
Are you ready for updates about this legislative session? Let's go!
Interpreter Licensure Board (HF3144)
We have been working with Rep. Daniels to prepare to successfully advocate for the interpreter licensure bill in future House and Senate hearings. MNCDHH hopes to schedule an info session with bill authors so community members have the opportunity to discuss the bill with legislators.
Recruitment & Retention of State Employees with Disabilities (HF2017/SF1570)
We joined the Minnesota Council on Disability for House committee hearings for HF2017, a bill designed to improve the state's hiring and managing practices for employees with disabilities. Many thanks to Eric Nooker and Mohamed Mourssi Alfash for their verbal and written testimonies in support of this bill. Now we are preparing for Senate hearings for SF1570.
CDI in Classrooms (HF1408/SF2291)
We are preparing for an upcoming hearing to advocate for updating educational interpreter statutes to include certified deaf interpreters. Testimony is being prepared in support of this bill.
Additionally, MNCDHH is hosting an info session with Rep. Becker-Finn on March 8, 2022, from 6-7 pm. It will be livestreamed on MNCDHH's YouTube account. We hope you can join us, with your questions. (Update: HF1408 was heard in a hearing on March 3, 2022. Thanks to the Nathanson family, Jimmy Beldon, Alicia Lane-Outlaw, and Trevor Turner for testifying in support of this bill.) 
Minnesota State Academies Bonding Requests
The Governor's 2022 capital budget recommendations included three of MSA's bonding requests. The three requests are
Funding for renovations to dorms on both the Minnesota State Academy for the Blind (MSAB) and Minnesota State Academy for the Deaf (MSAD) campuses
Design funds to assess and recommend a new student center on the MSAD campus to replace aging and outdated buildings
Asset preservation funds to maintain and improve both campuses and buildings to ensure safety, accessibility, and use of student buildings.
Superintendent Terry Wilding said,
"We are thankful that those three requests are being considered and hope that the legislature will include all 3 requests into the final bonding bill during this legislative session."
Minnesota State Academies Rental Income (HF3290/SF3303)
This bill will allow MSA to keep any rental income from farm land and living residences. MSA could earn an additional $3,000 per year from the farm land rental payments and possibly another $3,000 per year from leasing resident spaces when students are not present. Superintendent Wilding testified in support of the bill at an Education Finance committee hearing on February 24.
Metro Deaf School Enrollment Preference (HF3251/SF3534)
This bill will modify charter school admission law to ensure that Metro Deaf School can continue giving enrollment preference to students who are deaf, deafblind, or hard of hearing. HF3251 was heard by the Education Policy committee on February 28. Thanks to Dr. Susan Lane-Outlaw, executive director at MDS, and Sara Klarstrom, a parent & MDS board member, for their testimony in support of this bill.
Ongoing Legislative Updates
MNCDHH will continue to share legislative updates during this session. Please subscribe to our newsletters or follow our website and social media to stay up to date. Find our information at mn.gov/deaf-commission. If you would like to discuss any of the bills, please reach out to our government relations director, Alicia Lane-Outlaw, at alicia.lane-outlaw@state.mn.us. Thank you!
Credits
The Minnesota Commission of the Deaf, DeafBlind & Hard of Hearing thanks:
James Paul Beldon for ASL talent.
Rita Van Der Puije for voiceover.
Keystone Interpreting Solutions for film production.