Reminders and Announcements
If you are planning to only go to the rally at Deaf, DeafBlind & Hard of Hearing Lobby Day on Wednesday, March 6th, we still need you to register so that we have an accurate headcount. Visit the Lobby Day registration form to complete your registration.
Are you a school or organization that wants to bring a group? Please contact jessalyn.akerman-frank@state.mn.us to coordinate your visit.  
Some people asked us if they can do both the main Lobby Event on March 6th and Lobby Tuesday/Thursday? The answer is yes! You are welcome to participate in any event you choose. Just register and let us know you are coming.
This Week's Photos
This week at the Minnesota State Capitol with community advocates. Here are a few photos from Lobby Tuesday/Thursday; providing testimony about the Legacy funding, which impacts Thompson Hall; and providing testimony about the importance of licensure for teachers of the blind, which has an impact on students who are deafblind.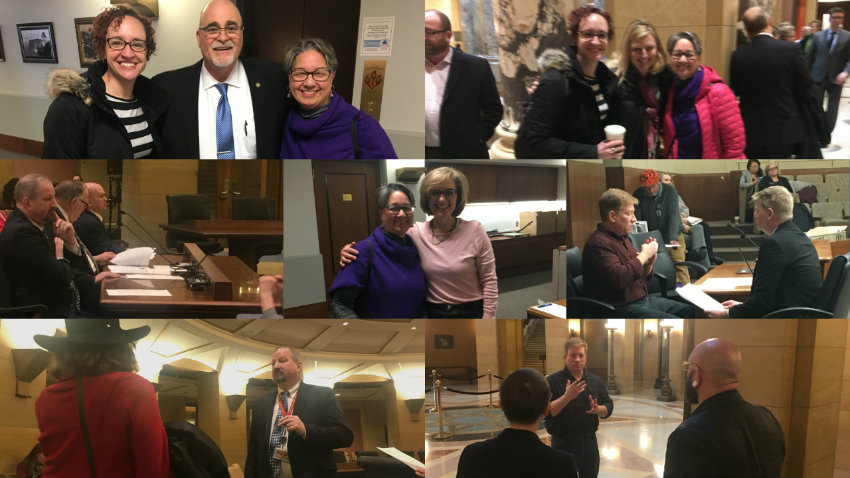 Top row:
Bethany Gehman and Kathy Manlapas are smiling with Representative Brian Daniels.
Bethany Gehman and Kathy Manlapas are participating in Lobby Tuesday/Thursday (Thursday, February 14th). They are standing and smiling with Jessalyn Akerman-Frank in the halls of the Capitol building.
Middle row:
Minnesota State Academies superintendent Terry Wilding and National Federation of the Blind advocate Steve Jacobson testify at a hearing for SF 777, the bill to support additional funding to explore, develop, and establish a teacher preparation program leading to the licensure of teachers of the blind and visually impaired.
Kathy Manlapas is smiling with Rep. Kristin Robbins inside the halls of the State Office Building during Lobby Tuesday/Thursday.
Herman Fuechtmann testifies about the Legacy funding that the Thompson Hall Board of Trustees received to preserve and renovate their building.
Bottom row:
Terry Wilding, superintendent of the Minnesota State Academies, is chatting with MNCDHH executive director Mary Hartnett inside a hearing room.
Herman Fuechtmann participated in Lobby Tuesday/Thursday (Tuesday, February 12th). Here he is with outreach consultant Shawn Vriezen and a sign language interpreter inside the Capitol Rotunda. They are role-playing a meeting between a legislator and a constituent.