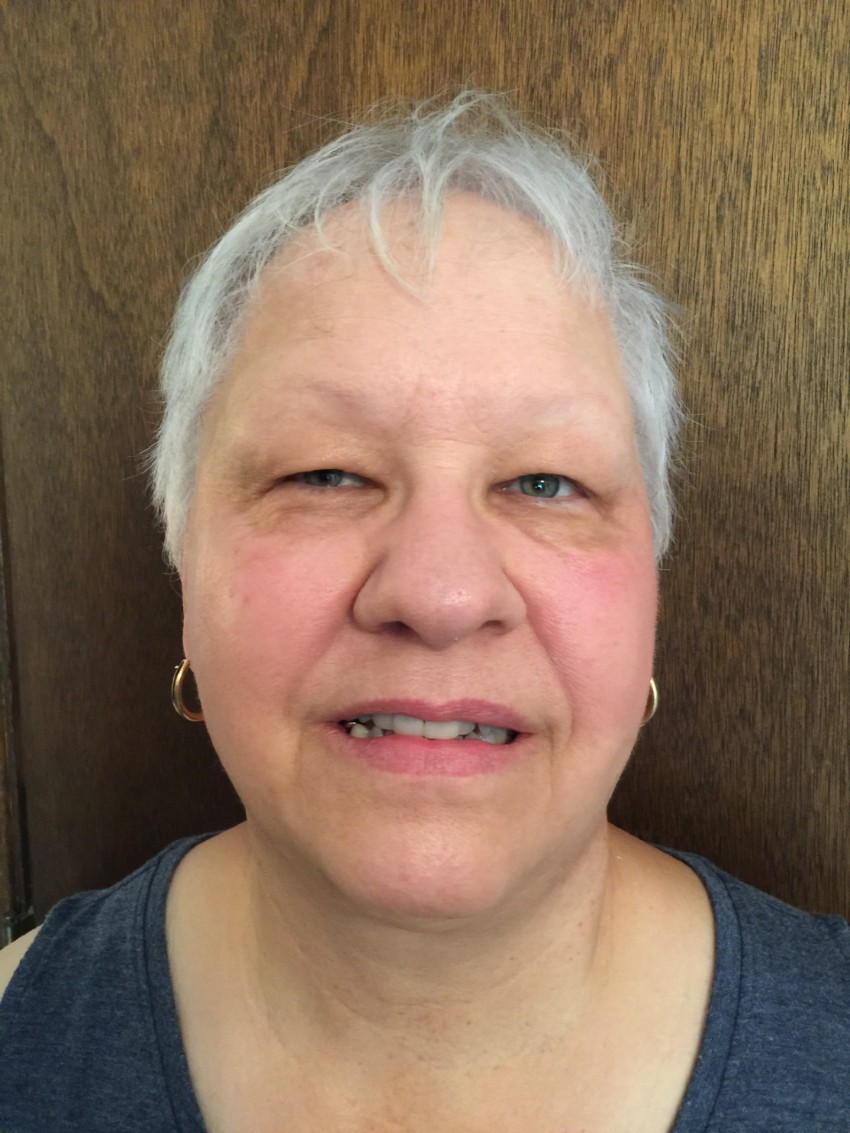 Adrienne (Ade) Haugen has worked with and advocated for communities that are affected with dual sensorial losses of hearing and vision locally, and at state and national levels for two decades. Currently, Haugen "hosts" the Minnesota Speaking DeafBlind Group (MSDBG). MSDBG was created to increase its outreach to Greater Minnesota. They achieve this through a group support email, monthly recorded conference calls that discuss different important topics, and an annual 24-hour retreat.
Hi, Ade. Thanks for taking the time to talk about MSDBG. Could you give us a brief history of MSDBG, its goals, and the work it has done?
Thanks to you as well for inviting me to share about MSDBGroup.
Through my own interest, through my terms served at MNCDHH as a commissioned member and through various communities' advocacy in behalf of DeafBlind Minnesotans, I gained a wealth of information and strategies to serve and to ensure that the voices be heard regarding the quality of life for all stages of hard-of-hearing, deaf, blind and deafblind conditions. 
In more recent years, I became keenly aware that especially in Greater Minnesota older adults, seniors and elderly with dual sensorial loss of hearing and vision have unique issues that have not been widely addressed.
Here are some examples:
Living in their own home where lack of sensorial stimulation leads to isolation because there is very little or no social interaction with people. Compared to their previous and enjoyed community life, there is less social interaction and internet social connection to keep their minds and souls healthy. Or, even the lack of transportation means to attend church services on weekends or evenings when public county transports are off duty or not running.
Living in an assistive senior residence where they can't participate in the dining hall or social group because appropriate communication interactions is missing. This has happened when professionals and staff develop a false impression that the deafblind resident has dementia. 
In medical situations, there could be a lack of voiceover interpreters or an appropriate alternative to allow the deafblind senior to speak for themselves when dialoguing with medical staff. Such as, at a doctor appointment and the deafblind patient cannot understand what some of the staff and/or doctor is saying because of poor dialect or because they are speaking too fast or softly. Another issue is the need of having proper sighted guiding. Environmental information is important for the blind patient to feel secure.
In collaboration with others that have a similar disability as me-people who are users of assistive listening devices and are legally blind, it was decided to take things into our own hands after many years of trying to get funded support for these specific needs.
Around April of 2017, our pioneering small group of four decided to merge from our independent group emails by continuing to dialogue through Google Groups email support list system. We agreed to identify ourselves as the Minnesota Speaking DeafBlind Group with the acronym MSDBG. We agreed that the email group list would be a by invitation only status. 
The Mission of MSDBG is to have outreach throughout the Greater Minnesota regions outside of the 5-Counties Metro region who are underserved or unserved. The focus of MSDBG is to provide hard-of-hearing DeafBlind Minnesotans, those who are non-signers and use voice communication, at ages from young adults to elderly, to provide deafblind related information and resources.
So far, MSDBG has been highly supported by DHS/DHHSD, DBSM, VLR, and other great institutions in Minnesota. MSDBG has moved forward in our outreach goals through our email support group list, monthly conference calls featuring topics aligned toward deafblind issues, and after a successful 2018 MSDBG Retreat, we will be having our second "annual" MSDBG Retreat in 2019.
Why do you think the work MSDBG does is important?
Oh, it is very important! Many hard of hearing people tend to not reach out any further than going to the ENT doctor, the audiologist or hearing aid dealers. They just put up with the usual isolation that tends to become a "norm". For me, after reaching the legally blind status, I became proactive after encouragements from role models and mentors. I was informed regarding my own quality of life and rights; and, I increasingly asked questions and had many discussions with others similar to my own disability situation. I had an urgency to do more, not only for myself but for others with similar experiences. The urgency for the rights and dignity of the aging population has increased. I am a Baby Boomer and this particular group is going to not only need to be heard but served as well! 
To prevent excessive isolation, loneliness, depression, and the development of dementia, appropriate intervention(s) must be provided; such as, (1) extending transportation funds to provide transportation to church services and events, and community events during evenings and weekends, (2) to develop funded systems of volunteer or minimal paid support systems specified to assist the hard-of-hearing deafblind do business or shopping for groceries.
The current MSDBG members are ranging in ages of about 30 to past 90 years old. It is agreed by MSDBG members that the importance of prevention of harm at its earliest stage is best.
How do you work toward achieving those goals? What have been barriers to achieving those goals?
MSDBG works with technology. All members are widespread in Minnesota. Currently, members are from Buyck, Duluth, Rochester, Faribault, Olivia, Alexandria area and McIntosh; and, some are in the Twin Cities.  Together, the MSDBGroup members share creativeness from past experiences and knowledge toward brainstorming outreach goals through emails and phone calls. I have basically been the 'go-to' or the 'host' of MSDBG. With this honored privilege, I make the contacts to various VIPs who support MSDBG to work something into action or take suggestions where to go next. All of the contacts have been wonderfully supportive and encouraging. Most importantly, all of them have a willingness to make the MSDBG project a success. 
Barriers for MSDBG has been minimal so far. To note, MSDBG's project had a huge breakthrough with state funding beginning in the Spring of 2018, just one year after MSDBG's conception!
How many members does MSDBG have? How did you find each other?
Currently, we have at least 12 subscribers to the MSDBGroup email support list. After the initial number of MSDBG members of four back in 2017, others were found through cooperative referrals to me by Minnesota state agencies that work with speaking, non-signing and hard-of-hearing deafblind clients. Due to ADA regulations, by an agreement with the client, referrals are given to me with careful information scrutiny.
Speaking DeafBlind is a rare perspective and identity. What does "Speaking DeafBlind" mean? Why do you and your group identify as Speaking DeafBlind?
Our DeafBlind group does accept the term "DeafBlind" to mean that there is a medical issue of varying ranges of hearing loss and legal vision loss. Typically, the immediate understanding of the term DeafBlind by the general public may mean in this way: the word "Deaf" indicating a Deaf person who communicates in ASL, sign language, and signing interpreters. The word "Blind" indicating a person who has a legal vision loss. For the Hard-of-Hearing DeafBlind population, there is a difference in communication needs. This group can utilize communication with assistive listening devices and through voice interpreters.
The initial four MSDBG members voted unanimously to be identified SPEAKING DeafBlind people. This is to inform the public that by the word "speaking" we are a specific deafblind group and are not sign language based for communication. And that we are not a Deaf Culture society but grew up in the Hearing Culture society. 
How can other communities and organizations be more inclusive to the Speaking DeafBlind community?
It has been noted for years that there has been an obvious discrepancy of website claims by Minnesota DeafBlind organizations and state agencies indicating that they do "Minnesota outreach" which is not true. Outreach implies that there is inclusiveness which means it should include the entire state of Minnesota. DeafBlind Metro headquartered organizations and some agencies assigned to include all Minnesota deafblind continually and inadvertently limits, usually severely limits, the opportunities for Greater Minnesota DeafBlind to participate in Metro located events. It has been known that Metro institutions either do not desire to share general funds or have limited funding or have not desired to consider events outside of the Metro region to provide access for the DeafBlind in Greater Minnesota. Flyers and invitations need to come promptly but because these materials do not come in time, the DeafBlind living farther than safe travel times are excluded.
Recognized common travel problems are the times of events and the non-existence of a budgeted per diem allowance that would fund travel expenses and a required overnight's stay.
I can only ask that the Greater Minnesota DeafBlind be served with unique considerations. Some ideas could include expanding satellite locations to encourage more inclusion of participants rather than asking long-distance travelers to attend an event in the Metro area, and another one could be a mass conference call for those who can listen in on the events' presentations. A third idea would be an agency, such as DHS/DHHSD, providing funding toward MSDBG Annual Retreats.
What have been your favorite parts about working with MSDBG? What have been your favorite memories?
My favorite part about MSDBG is the joy of seeing that the outreach effort is working. There have been several joyous memories: a woman cried at the 2018 MSDBG Retreat saying that she was so grateful to meet others like herself in person; a woman during a conference call with the topic "Holiday Blues" expressed her relief in hearing such great tips and asked questions how she could acquire mental health counseling through DHHS; and, a husband and wife living deep in the north-east part of Minnesota excitedly appreciated the great information given by experienced call-ins during an "Open Forum" conference call. It seems that every time we have had a conference call or shared something in email to the group and at the first 2018 MSDBG Retreat that morale was built up toward more hope while living with deaf-blindness.
How can people in the community help MSDBG achieve its goals? Where can they find more information about MSDBG?
MSDBG exists through comradeship with a clear understanding in regard to hearing and vision loss resulted by genetics, illness or traumatic injury or aging influences. Children and young adults' quality of life has benefited from legislative funding efforts by the  MNCDHH. Many of the older adults, seniors and elderly affected with deaf-blindness are the ones who have not gotten the kind of benefits to assist/provide humanitarian seniors quality of life. Thus, outreach to this population needs to better serve the underserved and the unserved who are residing in the deeper parts of Greater Minnesota. In the meantime, Minnesota state agencies and organizations working with hard-of-hearing Speaking DeafBlind clients can help asking if they desire to meet others like themselves and send a referral with contact information to the Minnesota Speaking DeafBlind Group. The participation and support toward their referrals and to MSDBG is appreciated!
To get more information about MSDBGroup, please contact me (Ade) at adrienne.haugen67@gmail.com or at adriennehaugen@icloud.com. 
Additional information
The views, information, or opinions expressed during this interview are solely those of the individual(s) involved and do not necessarily represent those of the Minnesota Commission of the Deaf, DeafBlind & Hard of Hearing (MNCDHH), including board members and employees.
Special thanks to interviewer Dalena Nguyen.