ASL version
If you are DeafBlind or prefer to watch the video in a slow-paced, high contrast format, watch the DeafBlind friendly ASL version instead.
English version
MNCDHH is aware of a critical shortage of DHH teachers in Minnesota and we have collected information from other organizations to share this information about the shortage with you.
Every two years, the State of Minnesota is required to share information about the current status of the teacher workforce here in our state, which is called a "Teacher Supply and Demand Report." The report includes information from school districts about if they are able to hire qualified teachers for their students. This includes all teacher positions, not only teachers of deaf and hard of hearing students or teachers in special education. The most important question the report tries to answer is, "Is there enough of a supply of teachers to meet the demand for them?"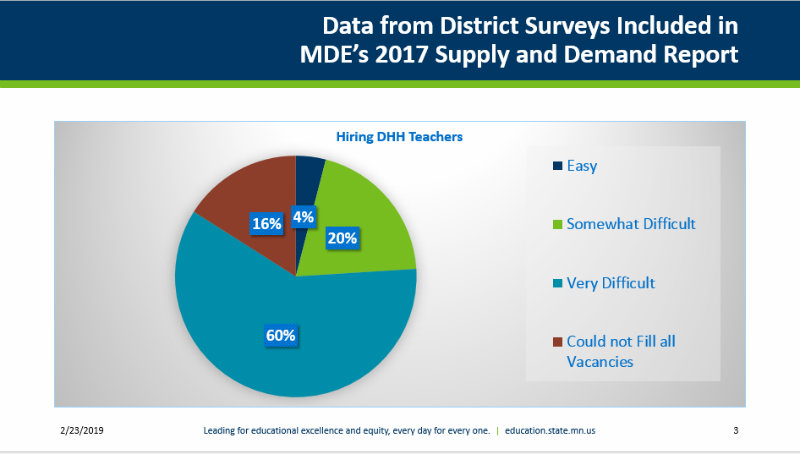 Answer
Unfortunately, no. There are currently 373 teachers in Minnesota who have a DHH license and 72 with an Oral/Aural license, but we need more teachers to meet the needs of students who are D/deaf or hard of hearing. There is a serious shortage of teachers all over the United States. This includes teachers with deaf/hard of hearing licensure. We will focus on D/HH licensed teachers in Minnesota. The D/HH licensing includes teachers with the D/HH license and teachers with the Auditory/Oral license.
From 2013-2017, Minnesota's school districts statewide have reported that hiring teachers with DHH licensure were either "difficult to fill" or they "could not fill" the vacancies.
The 2019 Teacher Supply and Demand Report included a list of positions in the 2018-2019 school year that were not filled because of a lack of qualified applicants. D/deaf or hard of hearing teaching positions were at the top of this list.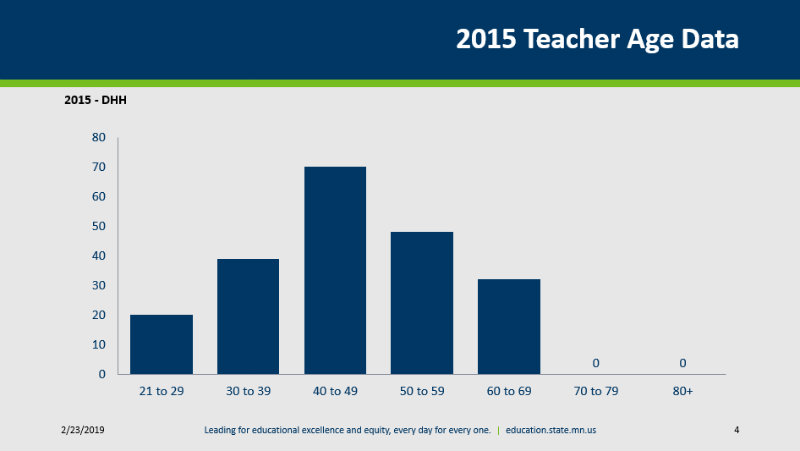 Retiring teachers
Adding to the concern is that a high number of Minnesota's current DHH teachers are expected to retire over the next few years. The median age of Minnesota's DHH teachers are 45.9 years old. A July 2018 Gallup poll indicated that the average age a teacher retires is about 58. They will need to be replaced as they retire.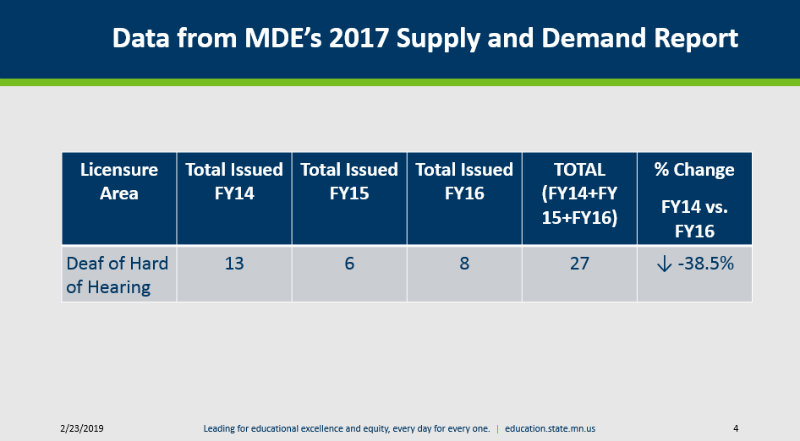 Teacher prep programs
The number of teacher preparation programs in deaf education in the U.S. is going down. In 2007, there were 68 teacher prep programs for deaf education. In 2019, there are 57. We are lucky to have the University of Minnesota's program, but even they are receiving fewer applicants and producing fewer graduates every year. This is part of a national trend. Between the academic years of 2007-08 and 2015-16, there was a 23% decline in the number of people completing teacher preparation programs.
There is some good news though. This year (2019), the University of Minnesota received an increase in applications to their program, probably because they secured federal funding for some students. This funding is called Project PACT and is good for 5 years. The University of Minnesota is currently in their 2nd year.
Since cost is often a barrier to becoming a teacher, there are many financial programs being offered, including Project PACT. Watch MNCDHH's video, "Minnesota Needs Teachers!" to learn more about those programs.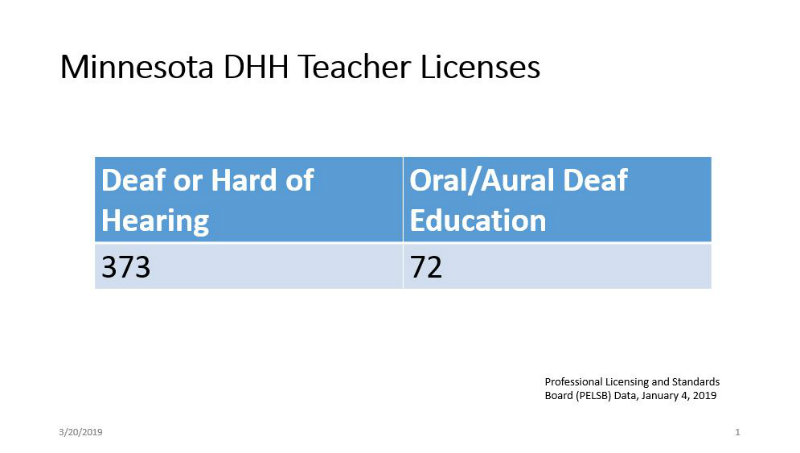 Standards for our teachers
Minnesota must have high standards for our teachers. Our students who are deaf, deafblind, and hard of hearing deserve quality teachers who can teach them in their preferred language. Our teachers must know how to teach all of the school requirements (math, science, reading, writing, etc.). They must understand the importance of communication equity, and be able to advocate for their students. They must also understand the whole child approach and ensure that their students have access to social opportunities with their peers. We also need more teachers who mirror the students they teach, which includes representation of teachers of color and representation of teachers who are deaf, deafblind, or hard of hearing.
Erin Toninato, who is the representative for Minnesota Administrators of Special Education and serves on PELSB's Auditory-Oral Advisory and D/HH Advisory Subcommittees, recently said, "We all want high-quality teachers – but we need to keep our licenses attractive and attainable to potential teacher candidates."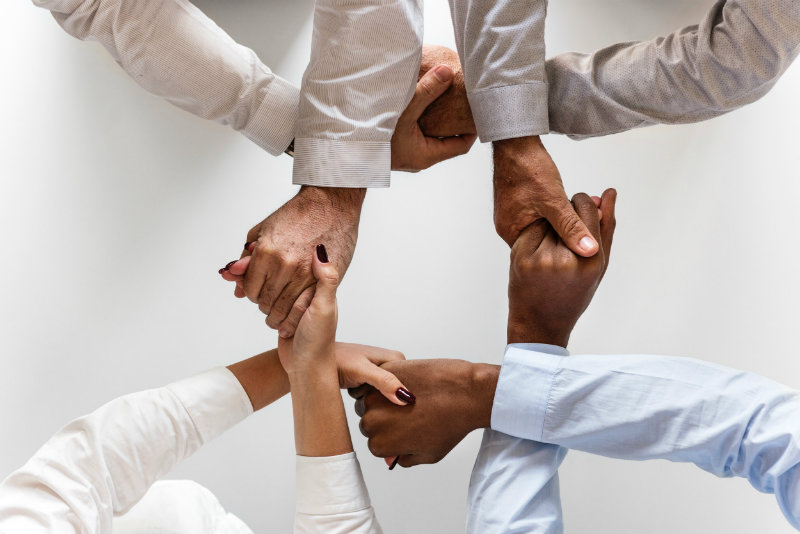 What can we do?
There are three PELSB Advisory Subcommittee groups meeting to address these issues. One group is discussing licensure standards for those who teach American Sign Language (ASL) as a world language in K-12 settings. The second group is focused on Auditory-Oral DHH licensure, for teachers who work with students who primarily use spoken English. The third group is discussing DHH licensure, for teachers who work with students who primarily use American Sign Language (ASL). They will be working hard over the next year to make recommendations to PELSB related to these licenses.
If you are not sure what PELSB is, it is short for Professional Educator Licensing and Standards Board, which was created by the legislature to oversee and implement teacher licensing for the state of Minnesota. Special education and deaf education is a very small part of a very big job that PELSB must do.
There is a national trend to generalize all special education licenses. So far, we have been successful in keeping specialized licensure in Minnesota so that students who are deaf, deafblind, and hard of hearing can have qualified teachers.
And for you, have you ever thought about becoming a qualified DHH licensed teacher? Minnesota needs you. Please reach out to Becca Jackson to talk about your options. Her email is rebecca.jackson@state.mn.us.
Here is information about applying for the University of Minnesota's teacher preparation program. While the deadline has passed for 2019, applications for those interested in starting fall 2020 will be due on March 1, 2020 (not March 2, 2020). For questions about the University of Minnesota's program, please contact Debbie Golos at dgolos@umn.edu. 
Additional information
Correction: The actual deadline to apply for the University of Minnesota is March 1, 2020, not March 2, 2020.
Special thanks to the information provided by the Minnesota Department of Education, the University of Minnesota Teacher of the Deaf/Hard of Hearing training program, and the Minnesota Administrators for Special Education for the information provided in this video.
Did someone forward this email to you? Sign up to receive MNCDHH newsletters directly to your inbox. Sign me up!
Do you have a question for MNCDHH? Send us your questions!