Thank you for all that you do for our communities.
Here are photos from several Lobby Tuesday/Thursday events, training for interpreters and volunteers, and a hearing during which community members testified in support of HF 486, the bill for fully-insured health plans to cover hearing aids for adults.
Top row: 
Faline and Natalie Rizner pose with Sarah Arana during Lobby Tuesday/Thursday. They are in the State Office Building by the elevators and are holding the "green book" which has information about all the current legislators.
Members of the DeafBlind community, plus Support State Providers (SSPs) and interpreters attended Lobby Tuesday/Thursday for hands-on training on lobbying. Some of the people in the picture are Jimmy Beldon, Philip Steinbruckner, Estina Beldon, Jamie Taylor, Hannah Furney, Molly Peterson, Benjamin Chung, Rach Eggert, Jose Herrera, and Debbie Lentz.
MNCDHH and Keystone Interpreting Solutions (KIS) provided training to ASL interpreters, including interns from St. Catherine University, which included a tour of the Capitol. 
Middle row:
Some of our great community advocates on Lobby Tuesday/Thursday! From left to right are Sarah Arana, Jessalyn Akerman-Frank, Xavier Arana, Migdalia Colon-Rogers, Philip Steinbruckner, Eric Nooker, Cookie Roang, Judy Klopp, and Kathy Manlapas.
Meeting our legislators is an important aspect of successful lobbying! From left to right are Sarah Arana, Representative Zerwas, James Paul Beldon, Philip Steinbruckner, and Jessalyn Akerman-Frank.
Bottom row:
DeafBlind community members visit the room where the governor typically holds press conferences during Lobby Tuesday/Thursday. 
More interpreters during their training! Pictured are Naomi Sheneman, Daisy Jo Shuda, Janine Cashman, Emory Kevin Dively (trainer), Albert Walla, and Quincy Craft Faber. 
Jessalyn Akerman-Frank providing training to members of the DeafBlind community. In the photo are Debbie Lentz, Molly Peterson, Benjamin Chung, and many others.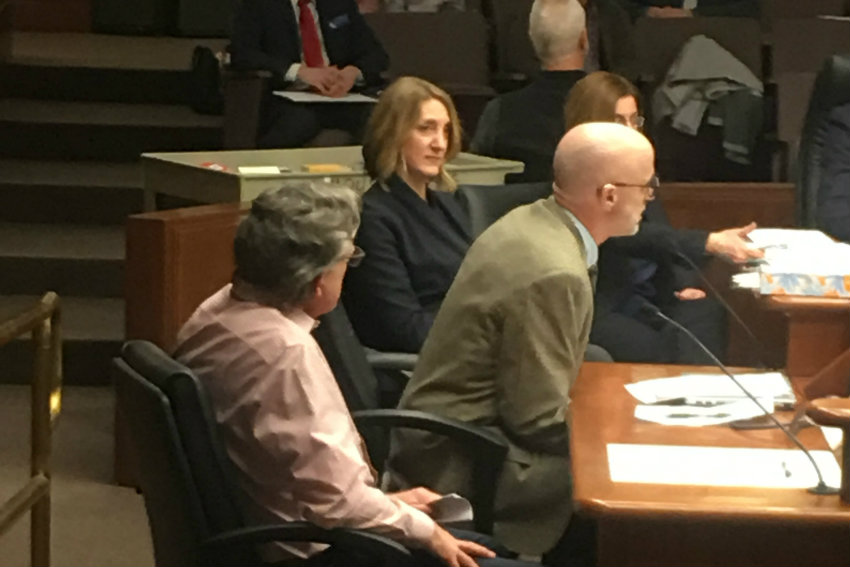 On February 27, 2019, John Wodele and Paul Sommers testified in support of HF 486, the bill for hearing aid insurance to be expanded to cover adults over the age of 18. The law already requires coverage for children from ages birth to 18.
John, during his testimony, said, "I am one of the co-chairs of a task force that the Minnesota Commission of the Deaf, DeafBlind and Hard of Hearing hosts on age-related hearing loss. Nearly 20% of all Minnesotans have a clinically significant level of hearing loss. Hearing aids are needed for Deaf, DeafBlind, Hard of Hearing, and hearing people who begin to lose their hearing from noise pollution, age, or medical. We know that people who lose their hearing as they age are 2-5x more likely to develop cognitive decline and dementia – and are more susceptible to falls, depression, and other serious issues."
"Here is Paul's testimony, "My name is Paul Sommers. Thank you for hearing my testimony today. I'm a middle school teacher at Justice Page School in Minneapolis and have been teaching for 27 years. I have been wearing hearing aids for the last 22 years.
It is not a stretch to say that I cannot do my job without my hearing aids. Much like people who wear glasses, my aids are essential to my abilities to teach. Hearing aids don't make my hearing perfect by any means, but they do make possible opportunities to build relationships with students, teaching and challenging each other to go beyond the limits of our own abilities and imaginations. Aids make possible the ability to collaborate with my colleagues and student families, helping to create the best learning environment for all people in our school community.
"And believe it or not, middle schoolers are great at recognizing the need for my aid and responding compassionately. That's not to say I don't have to remind them to speak up. I use my disability as a teaching tool and figure that if I can't hear, neither can others in the classroom, encouraging students to participate in ways that all voices and abilities matter.
"I paid $4,700 for my first pair of hearing aids. I have paid for every single hearing aid during these last years out of my own pocket. I have had employer-sponsored health coverage since I became a teacher that costs more than $600 a month for family coverage. Never has my health insurance covered this cost.
"Purchasing two hearing aids on a teacher's salary (my first job was at a private Catholic school in Bloomington) put strains on our family budget. At the time as a parent of one toddler with another soon on the way, paying nearly $5,000 for hearing aids was a huge expense. Twenty years later, these toddlers now in college, the $5,000 is no less of an issue nor can it be included in our FAFSA statements.
"Carrying an extra hearing aid - mine is a Costco one - is paramount. On a number of occasions, my main aid has gone on the fritz and I've needed a backup at a moment's notice. Can you even imagine what it would be like in a classroom of 12-yr olds? Yes, you'd miss the pencil tapping and gum snapping. But you'd also miss their crazy comments and insightful questions as they seek to find their places in this world. And you'd be unable to respond compassionately.
"I believe that people with disabilities deserve the necessary supportive devices to thrive - and contribute to our communities - wheelchairs, iPads, - - - and hearing aids.
"Being able to work is a human right. I practice this right in the world of education. Teaching is a great job, and a huge responsibility. Having quality hearing aids makes this possible.
"Thank you …..Having affordable and effective access to hearing aids keeps me productive and effective at my job, allows me to communicate with family and friends, and improve my life by giving me access to communication."