Collaborative Experience Conference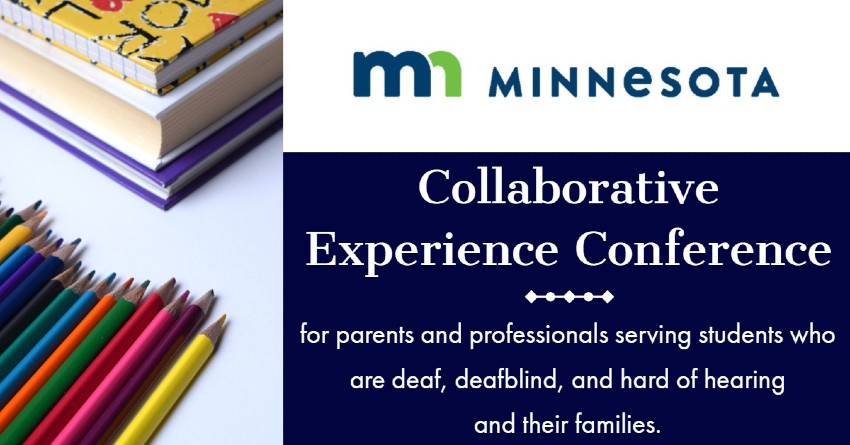 The Minnesota Commission of the Deaf, DeafBlind & Hard of Hearing (MNCDHH) and the Collaborative Plan stakeholders proudly present the fourth biennial conference for parents and professionals who work with students who are deaf, deafblind, and hard of hearing. 
Please note that conference attendees are not allowed to bring their children. This is an opportunity to learn and we want all conference attendees to have the time and space to concentrate on the presentations. 
Conference Theme
"Supporting the Whole Child"
Where
Breezy Point Resort, Brainerd, MN
When
November 7-9, 2019
Keynote Presenters
Leala Holcomb & Jonathan McMillan co-founders of Hands Land. "Language Play Through ASL Rhymes and Rhythms" 
Stephanie Cawthon, National Deaf Center (NDC). "Raising the Bar for Postsecondary Success."
Kristina Blaiser, Idaho State University. "Assessment Results as a Tool for Effective Family-Based Communication Development."
Karen Putz, Ageless Passons. "Supporting the Whole Child: The Gift of a Different Ability."
Gloshanda Lawyer, Lamar University. "Language Justice for Deaf and Hard of Hearing Students: Bringing 'Translanguaging' to Life."
Know Before You Go Conference Guide
Dear Collaborative Experience Attendee, we are looking forward to hosting you at the 2019 Collaborative Experience Conference! Here is a quick reference guide (PDF) so you are ready for a successful event.