Legislative Priorities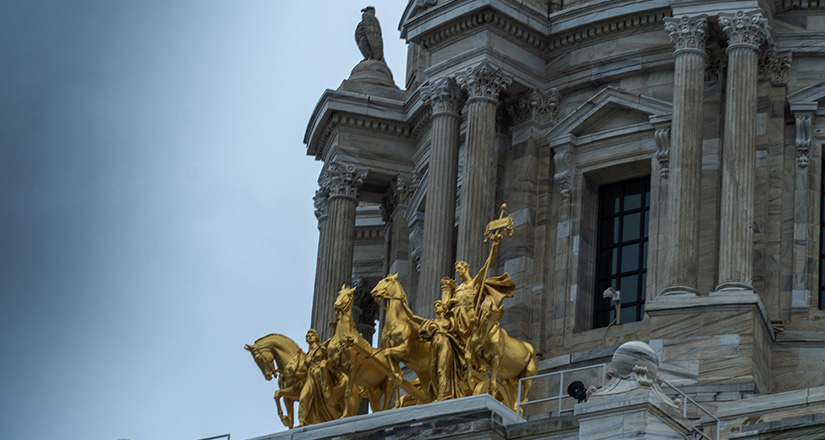 MISSION
The mission of the Minnesota Board on Aging (MBA) is to ensure that older Minnesotans and their families are effectively served by state and local policies and programs, so they can age well and live well. We work toward a Minnesota where every older resident feels safe, secure, valued and respected.
The Minnesota Board on Aging is committed to creating access, inclusion and equity for those older adults affected by bias, discrimination and inequity, due to their social identities, including race, ethnicity, class, nationality, disability, gender identity, sexual orientation and religion, among others.
MBA RESPONSIBILITIES AND STRUCTURE
The MBA is Minnesota's federally designated State Unit on Aging for multi-year planning. The MBA administers federal funding from the Centers for Medicare and Medicaid (CMS), the Administration for Community Living (ACL), the Older Americans Act, as well as state-funded aging programs (see below).
The MBA works with its seven area agencies on aging (AAAs) throughout the state to deliver services that assist Minnesota residents to age well and live well in their communities. This partnership helps to ensure local input and accountability for service funding and promotes local innovation for problem solving.
The MBA's 25 board members are appointed by the Governor and represent diverse backgrounds, ages, interests and communities across the state. It currently has working committees focused on program operations, diversity and equity and public policy.
MBA PUBLIC POLICY COMMITTEE
The MBA Public Policy Committee is the MBA's working committee for advocacy to promote policies that address the needs and interests of older adults in Minnesota.
In support of MBA's mission, this committee seeks to inform state leaders and communities about current systems, innovations and opportunities to advance policies that meet the needs of a growing aging population. Public Policy Committee work is done through effective communication, relationship building, education and collaboration with partners who share our values.
Public Policy Committee members are committed to working closely with AAA leadership and staff, aligning MBA and AAA advocacy efforts to the extent possible. Public Policy Committee members are also committed to having a strong community presence in collaborative efforts to educate the public, assist older adults and families to self-advocate, and lead the state in the prevention of abuse, neglect and exploitation of elders and vulnerable adults.
Policies supported by the MBA focus on:
2022 PRIORITY POLICY ACTIVITIES
The Public Policy Committee tracks aging-related activities throughout the session and advocates for positions that fall within the MBA's areas of concern. Members are available to advocate and otherwise support advancement of these priorities. The top four issues we will advocate for in the 2022 session include:
Legislative task force to examine the necessity of a Department on Aging within the executive branch
Long-term-care workforce crisis 
Ombudsman initiatives: No Minnesotan Left Isolated and resident-protection additions to assisted living law 
Technical changes: Vulnerable Adult Act (redesign) and dementia grants
On-going Policy Objectives
The Public Policy Committee continues to prioritize policy initiatives the following areas, as it has in previous years, and is available to promote initiatives through advocacy and communication.
Advancing affordable housing solutions for older adults
A member of the MBA is also a member of the Minnesota Housing Finance Agency Board and shares updates on efforts to develop and maintain affordable older adult and multi-generational housing and allow flexibility in the use of home modification funding, as well as activities to end homelessness among older adults.
Supporting telecommunications and broadband availability for older adults
The MBA supports the ongoing efforts to blanket the state with broadband communication capabilities to ensure future telecommunication and technology are available to all Minnesotans.
Advancing transportation options 
The MBA is a member of the Minnesota Council on Transportation Access (MCOTA), which has prioritized public policy efforts to enable recruiting and supporting more volunteer drivers to add to this workforce. 
Advancing the work of Age-Friendly Minnesota 
The MBA is a member of Age-Friendly Minnesota, supports the expansion of age-friendly communities throughout the state and age-friendly policy priorities. 
MBA DIRECT SERVICE PROGRAMS
The Senior Linkage Line
The Senior LinkAge Line is a free, statewide service of the Minnesota Board on Aging in partnership with Minnesota's Area Agencies on Aging. It is an information and assistance network for older Minnesotans and their families that focuses on helping older persons remain in their homes and communities, providing accurate information on Medicare, caregiver support and any other issues facing older adults. Being the state's reliable source of information and assistance is a key priority for the MBA. Senior LinkAge Line is a statewide system providing phone, in-person and computer-based access to local resources and assistance.
Specialists provide long-term care options counseling to help older adults and their families make educated decisions about meeting long-term support needs. The Senior LinkAge Line is also Minnesota's State Health Insurance Assistance Program (SHIP), providing unbiased Medicare advocacy and assistance. In addition, the Senior LinkAge Line administers Preadmission Screening (PAS) for people planning to be admitted into a nursing home and Return to Community for people in nursing homes who wish to return to their home or community. Continuing two-way communication between the Senior LinkAge Line and the MBA Public Policy Committee members, and ongoing support for the work of the Senior LinkAge Line, supports the achievement of this priority.
Office of Ombudsman for Long-Term Care
The Office of Ombudsman for Long-Term Care works to enhance the quality of life and services for people receiving long-term services and supports. The expansion of staffing for the State Ombudsman's office was the State's response to the increased need for the services it provides. During times of crisis, the Ombudsman leadership and staff seek to address policy challenges by raising up the voice of consumers and families whether through public communication, advocacy or reporting. The Public Policy Committee is committed to supporting the Ombudsman's office, seeking information for directional imperatives and providing support for legislative initiatives. When the Ombudsman office is contacted as a spokesperson for issues related to older adults' care, Public Policy Committee members offer to be of support clarifying resources and channels to enhance work done by the MBA.