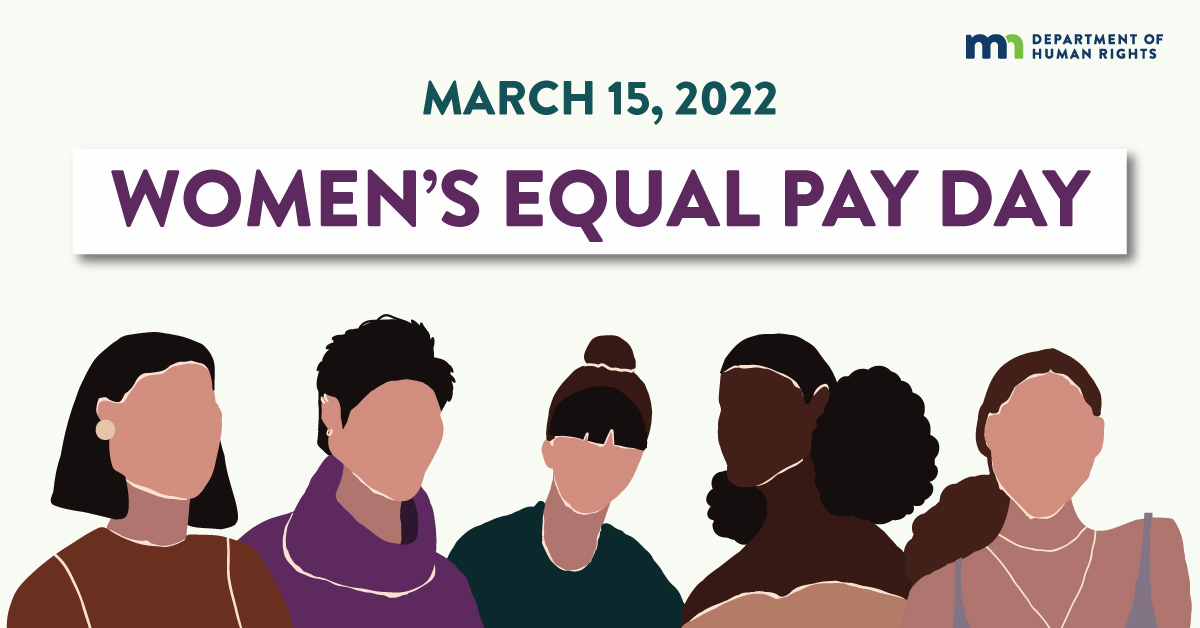 Today is Women's Equal Pay Day, highlighting the importance of ensuring equal pay for equal work and eliminating pay discrimination in Minnesota.
What is Women's Equal Pay Day? 
This awareness day marks how far into the current year women must work to earn the same as men did last year. That means in 2022, women of all racial backgrounds must work almost 15 months to earn what men of all racial backgrounds earned in 12 months. 
2022 Equal Pay Days
For women of color and Indigenous women, the pay gap is larger. Latinas, for example, must work 24 months to earn what white men earned in 12 months. That's an entire year longer. 
Mark your calendars for these upcoming Equal Pay Days:
May 3: Asian American and Pacific Islander (AAPI) Women's Equal Pay Day
September 29: Black Women's Equal Pay Day 
December 1: Native Women's Equal Pay Day
December 8: Latina Equal Pay Day
One Step Closer
Ending pay discrimination means taking intentional steps to examine what systems may be in place that are contributing to these outcomes. 
That's why the Minnesota Department of Human Rights supports the Preventing Pay Discrimination Act. Last year, the Minnesota House passed the act with strong bipartisan support, making Minnesota one step closer to closing the gender and racial pay gap. The companion bill now awaits action in the Minnesota Senate.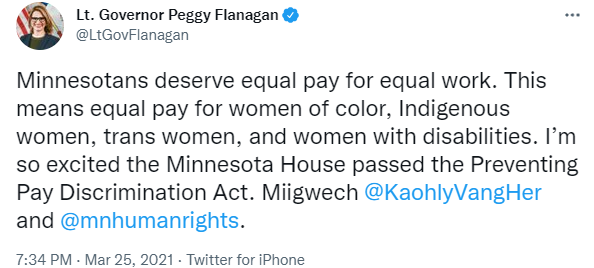 What is the Preventing Pay Discrimination Act?
This bill ensures job candidates are protected from disclosing their pay history when applying for jobs or negotiating a salary.
When future salaries are anchored to past pay, gender and racial pay discrimination can follow Minnesotans from job to job. This bill helps break this cycle.
When Minnesota passes this bill, we will join the 18 states that have already ended the pay history question. Where this bill has already passed, pay has increased pay by 8% for all women and 13% for Black women. 
On this Women's Equal Pay Day, let's commit to building a stronger, thriving Minnesota by continuing the work of closing racial and gender pay gaps across the state.