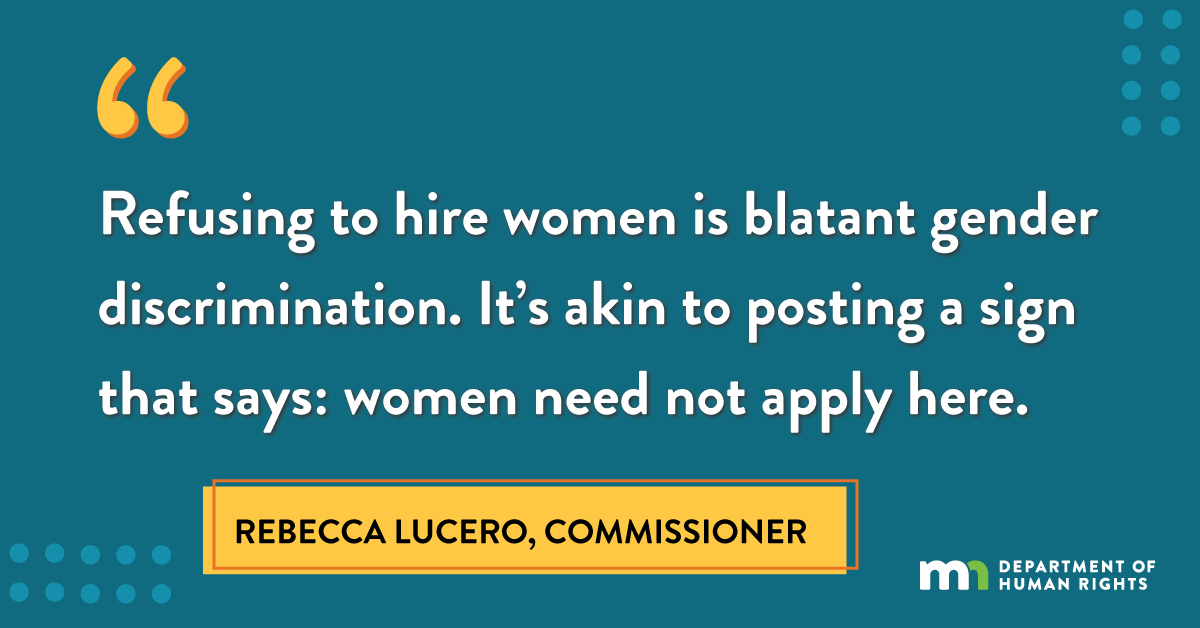 The Minnesota Department of Human Rights today announced a settlement agreement with Villaume Industries in Eagan after learning the wood products manufacturer had a practice of refusing to hire women.
"This settlement agreement helps bring attention to how women continue to face both explicit and implicit discrimination in the workplace. As the state's civil rights enforcement agency, we are committed to ensuring every woman can live with dignity and joy, free from discrimination," said Minnesota Department of Human Rights Commissioner Rebecca Lucero.
On November 14, 2019, the Minnesota Department of Human Rights launched an investigation into Villaume Industries after finding they refused to accept women applicants from an employment placement agency as part of a separate investigation.
Under the Minnesota Human Rights Act, sex discrimination is prohibited, and employers cannot refuse to hire someone because of their sex.
The settlement agreement ends the ongoing investigation and seeks to transform the company's hiring practices by requiring Villaume Industries, in part, to:
Amend all recruitment materials to explicitly state the company welcomes and values women in the workplace.
Establish relationships with organizations that help employers recruit qualified women.
Provide anti-bias, cultural humility, and welcoming workplace training to employees.
Report hiring data to the Minnesota Department of Human Rights every 90 days.
Pay $90,000 as a civil penalty, settlement monitoring costs, and a donation to an organization that supports the advancement of women in the workplace.
Create, maintain, and implement workplace anti-discrimination policies that comply with the Minnesota Human Rights Act.
"We are pleased we were able to reach an agreement with Villaume Industries and are encouraged by how the company will begin to change its hiring practices," Commissioner Lucero concluded.