[SAINT PAUL, MN] – Today, the Minnesota Department of Human Rights (MDHR) /mdhr/assets/Amended%20Complaint_tcm1061-409745.pdfamended its complaint with new allegations of continued discrimination in its lawsuit against CSL Plasma. In September 2019, the plasma collection center unlawfully discriminated again on the basis of gender identity, this time against Charlie Edgar, who is non-binary.
/mdhr/news-community/newsroom/materials.jsp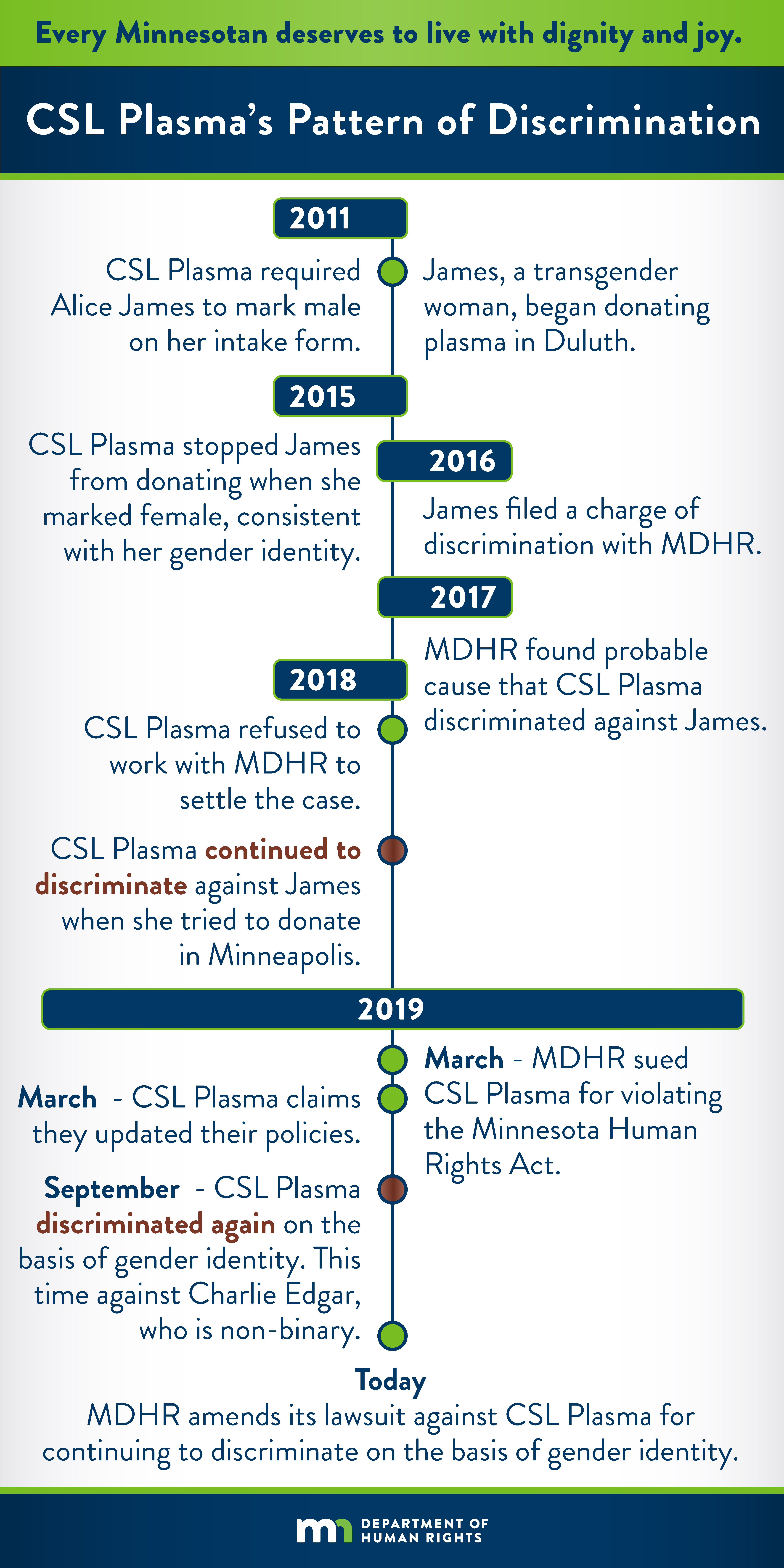 "CSL Plasma is unlawfully turning away donors based on archaic stereotypes," said Minnesota Department of Human Rights Deputy Commissioner Irina Vaynerman. "Today's announcement demonstrates the vital work ahead in the courts and in our communities to ensure all Minnesotans can live dignified lives."
In March 2019, MDHR filed suit against CSL Plasma for denying Alice James, a transgender woman, from donating her plasma because of her gender identity. In response to the lawsuit, CSL Plasma released a statement explaining they updated their policies based on guidance from the Federal Drug Administration, which prohibits the consideration of gender identity in determining donor eligibility.
In September 2019, Edgar went to CSL Plasma's Minneapolis location. As part of the intake process, Edgar answered all the questions CSL Plasma asks of men and women to ensure it has their complete health information. Edgar also offered to comply with CSL Plasma's guidelines that they identify as either a man or woman so that they could donate plasma.
CSL Plasma required Edgar to leave and prohibited them from donating because their gender identity does not align with their assigned sex at birth. The company's management repeatedly upheld this decision.
"I am disheartened that I have to fight to be seen as a human being," said Charlie Edgar. "I was hurt and embarrassed when I was denied to give plasma at CSL. I want to be able to operate in a world where I don't always have to teach medical professionals how to treat me and wonder how to pay my bills when I can't access the same services as low income cisgender folks."
The Minneapolis collection center is where CSL Plasma also banned Alice James from donating in 2018 even after MDHR found probable cause the collection center discriminated against her. CSL Plasma initially denied James from donating plasma in Duluth. CSL Plasma refused to work with MDHR to settle the case, which is why the Department, represented by Minnesota Attorney General Keith Ellison, filed suit in March 2019.
CSL Plasma's decision to deny Edgar and James the ability to donate plasma violated the Minnesota Human Rights Act. The law states any establishment providing goods and services to the general public is prohibited from discrimination based on gender identity. Minnesota became the first state in the nation to prohibit discrimination on the basis of gender identity in 1993.
In its lawsuit, MDHR is asking the court to require CSL Plasma to implement policies and procedures that adhere to the Minnesota Human Rights Act. MDHR is also asking the court to require that CSL Plasma employees undergo training to ensure gender identity is not considered when determining donor eligibility and the company submit reports documenting when a Minnesota-based collection center prohibits a plasma donor from donating because of their gender identity. Finally, MDHR is asking the court to require CSL Plasma to compensate any individual who was discriminated against because of their gender identity.
If you believe you have been discriminated against in violation of the Minnesota Human Rights Act, please contact MDHR at 651.539.1133, 1.800.657.3704, or email info.mdhr@state.mn.us. For more information, please visit mn.gov/mdhr or follow the conversation on Twitter at @mnhumanrights.
Document: /mdhr/assets/Memorandum%20of%20Law_tcm1061-409748.pdfState of MN by Commissioner of MDHR vs. CSL Plasma Memorandum of Law (PDF 125 KB).
For an accessible and downloadable timeline graphic, click on the timeline image or /mdhr/news-community/newsroom/materials.jspview the CSL Plasma timeline page.
###
Minnesota Department of Human Rights, Communications Department
540 Fairview Ave N, Suite 201, St. Paul, MN 55104
www.mn.gov/mdhr, MDHR YouTube channel
Contact MDHR
Taylor Putz, Communications Director
651.226.4615
Taylor.Putz@state.mn.us