Celebrating 55 Years!
This year marks the 55th anniversary of the Minnesota Human Rights Act, one of the strongest civil rights laws in the country.
The Minnesota Human Rights Act was written for times like this – times when racism, transphobia, ableism, antisemitism, sexual harassment, and so many other forms of discrimination are pervasive and persistent.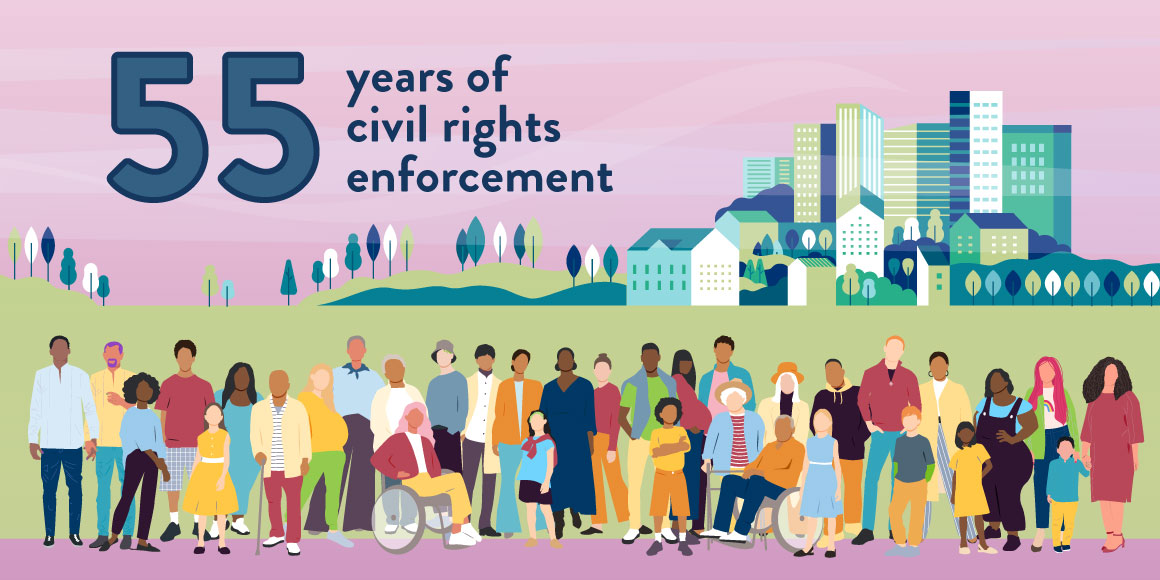 A Powerful Tool
We use the full power of the Minnesota Human Rights Act every day to create a more welcoming and inclusive Minnesota that is free from discrimination. 
Over the past few years, we have done that by:
Reaching settlement agreements with workplaces and schools requiring them to have and enforce strong policies that prevent discrimination.

Making sure Minnesotans with disabilities can fully access public places and bring their service animals to work.

Conducting a comprehensive investigation into the City of Minneapolis and the Minneapolis Police Department. We are now working with the City to develop a court enforceable settlement agreement to address race-based policing in Minneapolis.

Celebrating the landmark court ruling that Minnesota schools must allow students to use locker rooms that align with their gender identity.

Advancing policies at the Capitol like the CROWN Act, the Preventing Pay Discrimination Act, and Equity in Bonding.

Building and strengthening relationships with civil rights organizations, human rights commissions, and state contractors.

And so much more!
As we celebrate, we also honor the many Minnesotans – Black, Indigenous, and people of color; LGBTQIA+ Minnesotans; people with disabilities; women; immigrants and refugees – who fought and continue to fight to advance civil rights today.
We acknowledge and learn from their work as we chart out the next 55 years of civil rights enforcement in Minnesota.
Everyone Has a Role to Play
From getting involved in a local human rights commission to proactively working to change policies and procedures in your workplace so they are more inclusive and equitable, everyone has a role to play.
Let's build a vibrant and joyful Minnesota that is free from discrimination together!