Board Mission
The Minnesota Board of Veterinary Medicine is the licensing agency for veterinarians in the state of Minnesota and was established by the Minnesota Legislature in 1893. The seven members of the Board are appointed by the Governor to four-year terms; five members are licensed veterinarians and two are public members.
The mission of the Board is to promote, preserve, and protect the health, safety and welfare of the public and animals through the effective control and regulation of the practice of veterinary medicine.
License Renewal Notice
Licenses with license numbers ending in an odd number must be renewed by March 1, 2019. The late fee is $100 for active renewal and $50 for inactive renewal. This must be paid for any renewals that are postmarked or renewed online after March 1, 2019. Online renewal is available for payment by credit card at the Board's License Renewal page.
Criminal Background Check Fee to Increase from $32.00 to $33.25 Effective 1/1/19
Effective January 1, 2019, the FBI portion of the Criminal Background Check fee will increase from $17.00 to $18.25. Due to this increase, the cost of the CBC fee for the Board of Veterinary Medicine applications and reinstatements will increase from $32.00 to $33.25.
As of June 1, 2016 New Applicants Are Required to Complete Criminal Background Check
Minnesota law and Board policy now require that all applicants for initial licensure or license reinstatement must complete a fingerprint-based criminal background check (Minn. Stat. § 214.075). Veterinarians with existing licenses may be required to have a one-time criminal background check (CBC) in the future in conjunction with license renewal.
The Minnesota Health Licensing Boards have cooperatively established the Criminal Background Check Program to help you efficiently complete this mandatory background check. Fingerprints are crosschecked with databases of the Bureau of Criminal Apprehension and Federal Bureau of Investigation.
When you apply for licensure, the criminal background check fee ($33.25) must be bundled into your other licensing fees and paid at the same time. After you have paid all required licensing fees and the criminal background check fee, you will be sent a packet containing additional information and directions from the Criminal Background Check Program. You are responsible for having your fingerprints taken promptly and for completing all required paperwork so as to not delay finalizing your license application. Previously taken fingerprints cannot be used. Some agencies charge a fee for fingerprinting services. Fingerprinting can be done without a fee at the Criminal Background Check Program office at the address below. Please contact that office to make an appointment after you receive the information packet.
See the Criminal Background Check information page on our website for more details.
REVISED: Urgent and Emergency Veterinary Compounding Guidance office supply limit extended to 7 days.
Minnesota Opioid Overdose Deaths Continue to Rise. Minnesota's Department of Health has released preliminary numbers for 2017 which show a 74% increase in deaths due to synthetic opioids from 2016. Much of this increase is attributed to more fentanyl-related deaths. The final report is expected in 2017. Veterinarians are encouraged to be vigilant to avoid diversion from veterinary sources.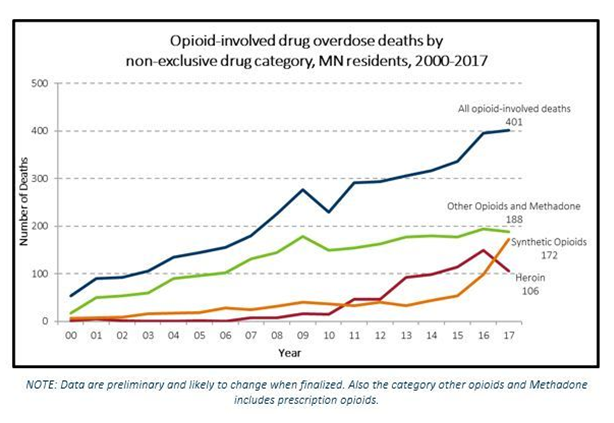 Source: MN Department of Health, May 15, 2018
Minnesota Department of Human Services has provided opioid prescribing guidelines for health care providers. Information in the guidelines may be useful to veterinarians in clinical practice as well. You may view the guidelines here.
The Secretary of State has an updated website featuring details and contact information for members of the Board of Veterinary Medicine. You may view the site here.
Board Member Applications
The Minnesota Board of Veterinary Medicine is seeking applications for three open positions for a Minnesota-licensed veterinarian (two small animal, and one large animal) to join the Board in its mission to promote, preserve and protect the health, safety and welfare of the public and animals. This is achieved through the effective control and regulation of the practice of veterinary medicine. Each veterinarian will work closely with another veterinarian to review complaints pertaining to the care of animals. The position entails three to six half day Board meetings in Minneapolis and typically two to three complaint conferences a month for small animals and once a month for large animals. The role of these veterinarians is to participate in setting Board policy, craft and discuss proposed language for statutory and rule changes, review complaints and determine if further investigation is needed, vote on proposed disciplinary action, supervise the executive director, and very occasionally, participate in clinic inspections and hearings before an administrative law judge. Board members receive a per diem and mileage for Board meetings and continuing education related to their role with the Board. Active participation in Committees of the American Association of Veterinary State Boards is encouraged.
Board members are selected by the Governor for a four year term. Applicants must be Minnesota residents and have practiced veterinary medicine in this state for at least five years prior to their appointments to be considered for this opening. The application process begins with the announcement of the open position by the Secretary of State which typically occurs in November. The application opportunity closes December 1st but may remain open until the position is filled. The appointment announcement from the Governor's office occurs in late spring, but may be made any time after January 1st. More information is available from the Board's office which can be reached at vet.med@state.mn.us or by calling 651-201-2844.
Board Member Appointment
Governor Dayton announced the appointment of Dr. Steven Shadwick to the Board of Veterinary Medicine for a four year term on June 29, 2018. The Governor also reappointed Dr. Mary Olson for her second term.
The Board thanks Dr. Barb Fischley for her 8 years of outstanding commitment to the public and veterinarians of the state, which included four years of leadership as the secretary of the Board.
Board of Pharmacy Guidance on the Compounding of Veterinary Products
The Minnesota Board of Pharmacy will temporarily exercise enforcement discretion by not requiring a pharmacy to become licensed as a manufacturer when it compounds and distributes a limited supply of veterinary products that are needed in urgent or emergency situations; where the health of the animal is threatened, where suffering or death of the animal is likely to results, from failure to treat.
Note that this guidance will remain in effect only until the Board can promulgate appropriate rules related to this issue.
Details regarding this guidance can be found in this PDF: Urgent and Emergency Veterinary Compounding Guidance.
Rabies Vaccination
The Minnesota Board of Veterinary Medicine is providing to all Minnesota licensed veterinarians a Rabies Vaccination Guidance Document. This document was created to be a reference document and provide information to veterinarians who administer rabies vaccine to companion animals.
Click the link to view the document. If you are unable to open the document, please try using a different web browser or please visit our Other News section for links to the documents. If you are still unable to access these documents, please send an email request to vet.med@state.mn.us and PDF copies will be emailed to you.