Reports and News
Miscellaneous Board Reports
Affirmative Action Plan, 2016-2018
Rabies Vaccination Committee Report, 2011
Rabies Vaccination Guidance Report, 2012
Sunset Review Commission Report, 2011
Biennial Reports
Every two years, the Health-Licensing Boards prepare a report for the public and Legislature summarizing their activities. Click the link to see your Board's report as well as those that license 17 other professions.

Biennial Report 2016-2018
Biennial Report 2014-2016
Biennial Report 2012-2014
Biennial Report 2008-2010
Rabies Documents
Rabies Guidance Document
Rabies Vaccination Committee Report
BAH/BVM Letter to the Minnesota League of Cities
Board of Animal Health's Recommendations to Veterinarians on How to Amend Rabies Certificates
REVISED: Urgent and Emergency Veterinary Compounding Guidance office supply limit extended to 7 days.
Opioids
Minnesota Opioid Overdose Deaths Continue to Rise. Minnesota's Department of Health has released preliminary numbers for 2017 which show a 74% increase in deaths due to synthetic opioids from 2016. Much of this increase is attributed to more fentanyl-related deaths. The final report is expected in 2017. Veterinarians are encouraged to be vigilant to avoid diversion from veterinary sources.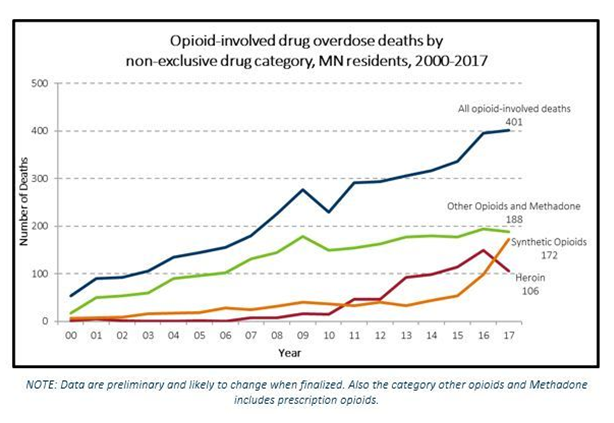 Source: MN Department of Health, May 15, 2018
Minnesota Department of Human Services has provided opioid prescribing guidelines for health care providers. Information in the guidelines may be useful to veterinarians in clinical practice as well.
The Minnesota Board of Pharmacy will temporarily exercise enforcement discretion by not requiring a pharmacy to become licensed as a manufacturer when it compounds and distributes a limited supply of veterinary products that are needed in urgent or emergency situations; where the health of the animal is threatened, where suffering or death of the animal is likely to results, from failure to treat.
Note that this guidance will remain in effect only until the Board can promulgate appropriate rules related to this issue.
Details regarding this guidance can be found in this PDF: Urgent and Emergency Veterinary Compounding Guidance.
The Minnesota Board of Veterinary Medicine is providing to all Minnesota licensed veterinarians a Rabies Vaccination Guidance Document. This document was created to be a reference document and provide information to veterinarians who administer rabies vaccine to companion animals.
Click the link to view the document. If you are unable to open the document, please try using a different web browser or please visit our Other News section for links to the documents. If you are still unable to access these documents, please send an email request to vet.med@state.mn.us and PDF copies will be emailed to you.
Presentations
Pros and Cons of Veterinary Technician Licensure in Minnesota PowerPoint - Dr. Julia Wilson