News and Information
MNDDC on Facebook
---
The Governor's Council on Developmental Disabilities (GCDD) has issued its 2022 Annual Report. (11/15/22)
---
The Governor's Council on Developmental Disabilities (GCDD) has issued its 2021 Annual Report. (12/15/21)
---
The Council's Five-Year Plan (October 1, 2021 – September 30, 2026) is available for review. (11/30/21)
---
The Council's 2021 Business Results (October 1, 2020 – September 30, 2021) are available for review: Slides  PDF  Text (11/30/21)
---
The Council's 2020 Business Results (October 1, 2019 – September 30, 2020) are available for review: Slides  PDF  Text (11/10/20)
---
The Governor's Council on Developmental Disabilities (GCDD) has issued its 2020 Annual Report. (10/29/20)
---
The Council's 2019 Business Results (October 1, 2018 – September 30, 2019) are available for review: Slides  PDF  Text (11/10/19)
---
The Governor's Council on Developmental Disabilities (GCDD) has issued its 2019 Annual Report. (10/29/19)
---
The Council's 2018 Business Results (October 1, 2017 – September 30, 2018) are available for review: Slides  PDF  Text (11/10/18)
---
The Governor's Council on Developmental Disabilities (GCDD) has issued its 2018 Annual Report. (10/29/18)
---
The Governor's Council on Developmental Disabilities (GCDD) has issued its 2017 Annual Report. (12/22/17)
---
The Council's 2017 Business Results (October 1, 2016 – September 30, 2017) are available for review: Slides  PDF  Text (12/7/17)
---
Governor's Council on Developmental Disabilities Launches Legacy Project
The State of Minnesota held a Grand Opening of the State Capitol the weekend of August 11 – 13, 2017. The Minnesota Governor's Council on Developmental Disabilities was invited to present a "Hot Dish" panel about the history of developmental disabilities on Sunday, August 13, 2017. Colleen Wieck, Executive Director, began the panel with a brief review of the online archive "With An Eye to the Past," followed by presentations by Class 34 Partners in Policymaking® Graduate Justin Smith and former Senator David F. Durenberger. Senator Durenberger was a cosponsor of the Americans with Disabilities Act (ADA). Justin Smith is a beneficiary of the ADA, our nation's first comprehensive civil rights law addressing the needs of people with disabilities, prohibiting discrimination in employment, public services, public accommodations, and telecommunications. These segments will be added to "With An Eye to the Future" as part of the Council's newly funded Legacy Project. (11/1/17)
---
October was National Disability Employment Awareness Month
This year's theme was "Inclusion Drives Innovation". The Council offered numerous educational materials and resources about employment and employment issues, and success stories that highlight what can be achieved when employers and delivery systems work together to increase the employment of individuals with developmental disabilities. Take advantage of the following items to review and/or refresh your knowledge and understanding about employment >> (10/1/17)
---
The Governor's Council on Developmental Disabilities (GCDD) has issued its 2016 Annual Report. (4/6/17)
---
FFY 2017 Training Conferences Cosponsorship Funds Awarded
Ten Minnesota organizations were recently awarded cosponsorship funds for training conferences. The conferences provide opportunities for participants to learn about best practices, and develop or strengthen their personal leadership skills. The expectation is that these training experiences will result in increased independence, productivity, self determination, integration and inclusion of people with developmental disabilities and their families. (3/17/17)
---
The Council's 2016 Business Results (October 1, 2015 – September 30, 2016) are available for review: Slides  PDF  Text (12/7/16)
---
In Honor of Robert Perske
George Ducharme and Pat Beeman hosted the Memorial Service for Robert Perske on October 29, 2016 at the Darien Community Association in Darien, Connecticut. The Minnesota Governor's Council on Developmental Disabilities honors Robert Perske with these archived items that demonstrate Bob's perseverance to Keep On Keeping On (KOKO). Together with a primary message from the Memorial Service to "Be Kind," this is the essence of Bob's life and his life's work. (November 1, 2016)
---
The Council submitted its Five Year State Plan for FFYs 2017-2021 on August 8, 2016. (11/17/17)
---
October was National Disability Employment Awareness Month
This year's theme was #inclusionworks. The Council offered numerous educational materials and resources about employment and employment issues, and success stories that highlight what can be achieved when employers and delivery systems work together to increase the employment of individuals with developmental disabilities. Take advantage of the following items to review and/or refresh your knowledge and understanding about employment >> (10/3/16)
---
The Governor's Council on Developmental Disabilities (GCDD) has issued its 2015 Annual Report. (3/14/16)
---
FFY 2016 Training Conferences Cosponsorship Funds Awarded
Ten Minnesota organizations were recently awarded cosponsorship funds for training conferences. The conferences provide opportunities for participants to learn about best practices, and develop or strengthen their personal leadership skills. The expectation is that these training experiences will result in increased independence, productivity, self determination, integration and inclusion of people with developmental disabilities and their families. (2/22/16)
---
Survey of Individuals for Five-Year State Plan: The Minnesota Governor's Council on Developmental Disabilities is in the process of developing a new Five-year State Plan for FFYs 2017-2021. A survey of individuals with developmental disabilities and their families was recently conducted to identify important issues to be addressed.
View as Slides View as PDF View as Text Only
A Survey of Providers was also conducted to learn their opinions about a range of issues including employment, health care, quality assurance, housing, and self advocacy.
View as Slides View as PDF View as Text Only
(12/22/16)
---
The Council's 2015 Business Results (October 1, 2014 – September 30, 2015) are available for review: Slides PDF Text (12/03/15)
---
October was National Disability Employment Awareness Month
The Council offers numerous educational materials and resources about employment and employment issues, and success stories that highlight what can be achieved when employers and delivery systems work together to increase the employment of individuals with developmental disabilities. Take advantage of the following items to review and/or refresh your knowledge and understanding about employment >> (October 5, 2015)
---
FFY 2015 Training Conferences Cosponsorship Funds Awarded
Ten Minnesota organizations were recently awarded cosponsorship funds for training conferences. The conferences provide opportunities for participants to learn about best practices, and develop or strengthen their personal leadership skills. The expectation is that these training experiences will result in increased independence, productivity, self determination, integration and inclusion of people with developmental disabilities and their families. (2/24/15)
---
The Governor's Council on Developmental Disabilities (GCDD) has issued its 2014 Annual Report. (Updated 2/3/15)
---
The Council's key business results for FFY 2014 (October 1, 2013 – September 30, 2014) are available for review: Slides PDF Text (12/04/14)
---
Karen Loven is the first self advocate in the United States to serve as a faculty member for Continuing Legal Education (CLE) courses. At The Arc Minnesota 2014 Awards Celebration on Saturday, November 15, 2014, Karen received the Bill Sackter Citizenship Award. In co-presentations with United States District Court Judge Donovan Frank, Karen quickly does away with stereotypes that continue to surround individuals with developmental disabilities – changing perceptions, thinking, and attitudes. (11/18/2014)
---
Congratulations to the Ambassadors for Respect, recipients of The Arc Minnesota Community Innovator Award, for the Anti-bullying Program they have carried out with 4th grade elementary school students in the North St. Paul and While Bear Lake school districts. (11/18/2014)
---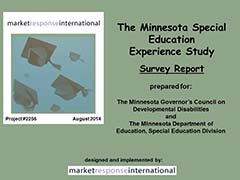 Minnesota Special Education Experience Study 2014: In followup to the K-12 Education Study for Students with Developmental Disabilities that MarketResponse International conducted in 2013, and based on the insights gained from that study, the Minnesota Special Education Experience Study was conducted in 2014. This study was done in collaboration with the Minnesota Department of Education, Special Education Division. The purpose of this recent study was to obtain benchmark measures of overall quality and satisfaction levels of the special education experience from the perspective of parents and the students themselves. The results show satisfaction levels by grade level and geographic location, quality drivers of the education experience, and awareness of and attitudes about Positive Behavioral Interventions and Supports. (9/5/2014)
View as Slides View as PDF*
*PDF version contains accessible text that can be accessed through the "Read Aloud" feature in Adobe Reader
---
The Governor's Council on Developmental Disabilities (GCDD) has issued its 2013 Annual Report. (Updated 1/6/14)
---
The Business Results for FFY 2013 are now available: Slides PDF Text (11/22/13)
---
On January 28, 2013, Governor Mark Dayton issued an Executive Order creating a 10 member Governor appointed Sub-Cabinet to "promptly develop and implement a comprehensive Minnesota Olmstead Plan" that reflects the spirit and intent of the Americans with Disabilities Act (ADA), and is consistent with the Olmstead decision that interpreted Title II of the ADA. Lieutenant Governor Yvonne Prettner Solon will chair the Sub-Cabinet. (1/29/13)
---
The Arc Minnesota posts regular updates on a range of issues on its Public Policy web page during the legislative session. Comments to the monthly Capitol Focus blog are welcome and the Action Alert Network provides email notification to subscribers about ongoing issues or opportunities to become more involved in the work of The Arc Minnesota. (1/16/13)
---
A Measures That Matter Data Brief has just been issued about the findings from a National Survey of Children with Special Health Care Needs that focuses specifically on children with Autism Spectrum Disorders (ASD). More than 3,500 Minnesota households were contacted and more than 7,000 children screened for a special health care need. The Data Brief is a joint effort between the Minnesota Departments of Health and Human Services. (1/14/13)
---
The 2009 Minnesota Legislature directed the Steering Committee on Performance and Outcome Reforms to establish and review performance and outcome standards for all "essential human services" considering the current level of available resources. The Final Steering Committee Report contains recommendations for measures and standards for a performance management system and a continuous improvement process. (12/19/12)
---
The Minnesota Governor's Council on Developmental Disabilities has been named a 2012 Tekne Award finalist by the Minnesota High Tech Association for the Autism 5-Point Scale EP app. The Mobile & Communication Technologies Award that the Council will receive recognizes innovation in mobile applications and electronic communications. (9/19/12)
---
The Autism 5-Point Scale EP app, designed and developed as an emergency planning and preparedness tool for individuals with Autism Spectrum Disorder, has received a Digital Government Achievement Award (DGAA), in the Government-to-citizen State Government category. This app can help facilitate communications and interactions between individuals with ASD and first responders in a broad range of emergency situations. We extend our deepest thanks and appreciation to the Autism Society of Minnesota for their leadership with the Emergency Planning and Preparedness Project that included the development of this app. (8/24/12)
Department of Administration Press Release
DGAA announcement
Free download at the iTunes Store
---
1962/2012 Minnesota Survey of Attitudes Regarding Developmental Disabilities: Perceptions, awareness, beliefs, and attitudes about people with developmental disabilities have changed substantially in the past 50 years. MarketResponse International has just completed a survey of the general population in Minnesota that shows these marked shifts. (4/3/12)
---
The Autism Society of Minnesota not only offers a broad range of services for individuals with Autism Spectrum Disorder (ASD) and their families but values and supports the many partnerships with community resources and other service providers. Further information about these services, educational classes, and support groups is available here:
AuSM-mental-health-services-brochure.pdf MHS-We-are-growing.pdf (3/6/12)
---
News Archive:
Past news items can be found on the News Archive Page