Ethical Issues, End of Life Conversations, and Developmental Disabilities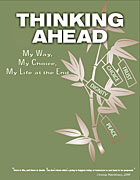 Thinking Ahead: Thank you to the California Department of Developmental Services for creating resource materials in plain language that can be used with self advocates to discuss end of life issues. This guide can be useful in assuring that self advocates express preferences about end of life decisions. Please note: this is not a legal document.
---
CNN Special Assignment: "Oklahoma Infanticide On April 6, 2011, Council members watched a three part series by Carlton Sherwood that described the lack of medical treatment for babies born with spina bifida in Oklahoma in 1984. This series demonstrated the fundamental difference about end of life issues for people with developmental disabilities compared to other groups. As a result of centuries of discrimination and oppression, people with developmental disabilities have been abused, neglected, and died as documented in Parallels in Time and Parallels in Time, Part 2.
---
The Council continues to work with Bruce Kappel in reviewing historical issues. Bruce Kappel prepared briefing papers on a series of moral and ethical issues specific to developmental disabilities. These brief papers include: guardianship, involuntary servitude, sterilization, Baby Doe, and euthanasia. To read more about these issues:
Guardianship
Involuntary Servitude
Sterilization
Baby Doe
Euthanasia
Complete Briefing Paper
---
At a 1985 National Conference of the Canadian Association for Community Living, Bruce Kappel presented a paper, "Five challenges for the future: A personal perspective."  Words of wisdom were compiled along with the challenges that society faces, and how it views and supports individuals with developmental disabilities.
---
"Human Worth, A Matter of Value" was written by Ed Goldman in 1989 for the journal Interaction that serves Australia and New Zealand.  At the time, Goldman was trying to build consensus about ending the need for institutions.  The ideas are as relevant today as nearly 30 years ago.  Unfortunately, he believes that end time may never come.