Deb Theisen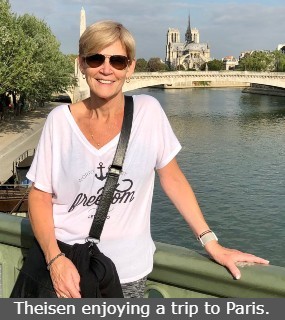 When Deb Theisen was growing up, she spent every summer at Pine Park Resort near Park Rapids, Minnesota. "I never knew what it was like to be in town during the summer," Theisen reveals with a laugh. Founded on Island Lake in 1920 by Theisen's grandfather Len, Pine Park Resort is woven tightly into the Theisen's family history. Len, with the help of his brother, built the entire resort from the ground up. His son, and Theisen's father, Frank was born at the resort. Today, as a 91-year-old, Frank continues to actively work at Pine Park, residing in a nearby lake house, while Theisen, with the help of her brother Bob, manages the resort. "The resort is my dad's whole world," Theisen says. "He fishes every day, hunts. I get so much joy out of the fact that my dad can still be here every day of his life."
When it was first founded, the resort burst to life with factory workers and their families, who traveled north from Chicago and Kansas City to escape the city heat. At Pine Park, they found tall red and white pines and the cool waters of Island Lake. Today, Theisen loves to follow the families who return to the resort summer after summer. Occasionally a break in the chain will occur – but then, almost like magic, one family member will return a handful of summers later, and the traditional will reestablish itself. "My dad is now seeing people coming back who he saw as a kid," Theisen says. "That's three or four generations! People coming back with their great-grandchildren."
Theisen, who previously served as a director on the Minnesota Resort and Campground Association, now Hospitality Minnesota, joined the Minnesota Forest Resources Council as the Resort and Tourism Industry Representative in 2015. Recalling her first Council meeting, Theisen was taken aback by the "rock 'em, sock 'em" discussions between different Council members representing environmentalists and loggers. "It was like a war zone!" Theisen says. But listening to former Executive Director Dave Zumeta, Theisen decided to commit, joining just two other women on the Council at the time. Remembering this moment, Theisen says, "Dave reassured me, 'that's why we're all together, throwing out our ideas.'"
Today, Theisen values having a voice on the Council and the ways in which she is able to represent the resort and tourism industry. As a Council member, Theisen helped Council staff craft a project which gives grants to resorts so that they can tackle forestry projects. "Normally resorts don't get any funds for anything, even though they have a lot of land on the water," Theisen explains. In 2018, the project – called "Protecting Minnesota's Family Lake Resorts and Enhancing Local Tourism Through Forest Stewardship" – was funded by the U.S. Forest Service for a 3-year period.
Now, Theisen is excited to help smaller resorts and businesses connect to more Minnesotans, especially in the wake of the pandemic, which has brought record numbers of people outdoors. "Forests, trails, and things you can do outside bring a lot of people," Theisen says. In her role as a Council member, Theisen would like to increase communications with resort and tourism industry folks. Of her approach to this work, Theisen says, "I really like to get in and help."
To connect with Council member Deb Theisen, contact her at pinepark@paulbunyan.net. The Minnesota Forest Resources Council exists to support and advocate for Minnesotans like you! Please join us for our bimonthly public meetings, with Zoom links available via  our calendar . We hope to see you there.


Theisen and her brother Bob at Pine Park Resort in 1961.

The view from Pine Park Resort.

Frank Theisen fishing. 


Theisen and her brother Bob with their grandmother,
great-grandmother, and father Frank in 1959.