Kory Cease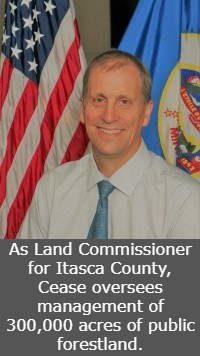 Growing up in Bagley, Minnesota, Kory Cease imagined he would one day join his family in running their funeral business. Yet, a passion for spending time outdoors and an exposure to forestry – and a number of forester role models – eventually led Cease down a different path. A turning point came for Cease when, as a 20-year-old, he worked as an intern in Itasca State Park, just 20 miles north of his hometown. Cease was struck by the long history of forestry in Itasca, as well as the history of his own family in the area. "I finished my degree and then took a couple of years of classes in forestry at the University [of Minnesota] with the intention of going to graduate school in forestry," Cease shares. During this time, Cease worked at the University studying wood deterioration, with implications for the forest products industry. Cease then left Minnesota for graduate school at the University of Alaska-Fairbanks – "Every outdoor-loving young kid's dream is to go to Alaska," Cease says – where he studied spruce bark beetles in southcentral Alaska, and where he earned an M.S. in Forest Sciences.
Returning to Minnesota, Cease worked for the U.S. Forest Service, spending time with the forest disease unit in St. Paul. In 1997, Cease moved back to northern Minnesota, to Grand Rapids, shifting his focus to riparian areas and forested wetlands and to forest treatments around these sensitive areas. In this role, Cease worked extensively with the Minnesota Forest Resources Council's forest management guidelines – a set of comprehensive, science-based standards that guide stewardship, attentive to values such as wildlife habitat, visual quality, riparian areas, and more. In 2001, Cease started his career of 15 years as a field forester for Itasca County. "I really enjoyed my years practicing forestry in the field," Cease says. "I like working with local loggers and mills, especially getting to know and understand them – the old timers who've been at it for a long time and the new folks coming in. It's all related: from the suppliers of the stumpage to the producers supplying it to the mills – we're all in it together, and we need solutions that benefit everyone."
In 2016, Cease took on the role of Land Commissioner for Itasca County, where today he oversees management of 300,000 acres of public forestland. At this time, Cease also joined the Minnesota Association of County Land Commissioners (MACLC), a statewide group made up of Land Commissioners from the 15 counties in Minnesota which manage tax-forfeited trust lands. Today, these county departments manage 2.8 million acres of public land across the state. "We have a unique model in Minnesota," Cease says. "Counties manage these lands as working forests and annually distribute the revenue back to their local communities." Cease's department was created in the mid-1940s and has included a professional forestry program ever since. "Counties are very active in professionally managing their forest lands," Cease says. "We have a long history in Minnesota and take great pride in this."
In 2020, Cease joined the Minnesota Forest Resources Council as the county land departments representative. "The Council has a wide continuum of representation in terms of viewpoints, and it plays a unique role in trying to find consensus and understanding on how we move forward on managing this important resource across the state," Cease says. As Chair of the Council's Site-Level Committee, Cease has already begun working with the newly created Communications Committee. "I hope in the next 25 years, we can strengthen our communication to the public," Cease says. "The Council may fulfill an advisory role to the governor and legislature, but it also has an important role in assuring the public that our forests are sustainably managed in a socially and ecologically responsible way."
To connect with Council member Kory Cease, contact him at kory.cease@co.itasca.mn.us. The Minnesota Forest Resources Council exists to support and advocate for Minnesotans like you! Please join us for our bimonthly public meetings, with Zoom links available via  our calendar. We hope to see you there.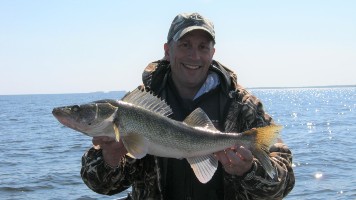 Kory Cease, an avid outdoorsman fishing at Lake of the Woods.