Bob Owens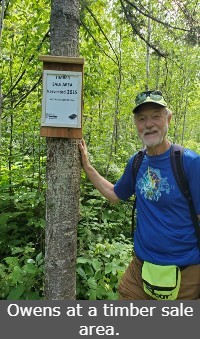 Bob Owens grew up in Gerald, a rural town in Missouri. From an early age, he was intrigued by the stave mills he saw around him. Yet, it wasn't until Owens wound up in Duluth in 1959 for a job training program after getting out of the U.S. Army – Owens served in the ROTC, two years active duty and six in the reserve – that he was able to explore this curiosity. At Westminster College in Missouri, Owens had studied business administration, a far cry from forestry. But, as a 22-year-old, Owens found himself scaling pulp wood 25 miles north of Two Harbors at a logging camp called Whyte. As Owens says, "I just fell in love with it. As a result, I spent over 60 years in the business."
As a young man, Owens worked for the JC Campbell Company, growing his skillset and understanding of the forestry industry. Soon, Owens was grading and selling lumber, managing timber lands and overseeing wood procurement for a large sawmill. In 1963, Owens was charged with building a sawmill capable of producing 12 million feet of lumber per year. "Just building that took a year," Owens says. "I was learning as I was going, and I hired the best available people who were great mentors. All of my training was on-the-job or self-taught." After 12 years with the JC Campbell Company, Owens started his own wholesale lumber and building materials company, Owens Forest Products, in 1974. In the '90s, this business evolved to include finished goods such as doors and flooring.
For Owens, the early '80s marked a notable turning point in his own actions around sustainability. "I put together a poster that said, 'Your Renewable Resource – Put it to its best use.' That was a benchmark, when I really voiced my concern and drove home the value of this sustainable natural resource. I put this poster on every package of lumber we sold." In the early '90s, Owens was invited to serve on the advisory committees for both the Sustainable Forestry Council (SFC) and the Sustainable Forestry Initiative (SFI). Then, in 1995, Owens sold his wholesale distribution yard. "I was selling a part of my career and moving onto another," Owens says, explaining that he then turned his focus to finished goods such as hardwood flooring and interior residential doors. In 2010, Owens retired from these companies, working as a consultant until 2017. Over the course of his career in the forestry industry, Owens served as President or Chairman of the National Hardwood Lumber Association, American Hardwood Export Council, North American Wholesale Lumber Association and Hardwood Forest Foundation, as well as serving as a member of the Window and Door Manufacturing and Wood Flooring Association. "I worked hard at maintaining relationships [in the industry]," Owens says.
In 2016, Owens joined the Minnesota Forest Resources Council as the secondary wood products manufacturers representative. As a member of the recently created Communications Committee, Owens looks forward to more effectively communicating about forestry issues to the stakeholders he represents. "Contractors, home builders, furniture builders, kitchen cabinetmakers – all of these consuming industries have no idea what silviculture is. If I could fully meet my goals in the industry, it would be to educate the people I represent." Owens also supports the Council's continuing research to address climate change, specifically investigating which trees will best grow in Minnesota as the climate changes. "I think the Council has successfully evolved to meet past challenges," Owens says. "Looking forward is a challenge as the warming climate presents difficulties we have never before experienced. Research and knowledge will help the Council offer direction for our future forests. I think the Council, with evolving membership, is capable of meeting some of these unknown challenges."
To connect with Council member Bob Owens, contact him at rmowens@aol.com. The Minnesota Forest Resources Council exists to support and advocate for Minnesotans like you! Please join us for our bimonthly public meetings, with Zoom links available via  our calendar . We hope to see you there.

| | |
| --- | --- |
| Owens on the Superior Hiking Trail. | The poster that Owens included with every package of lumber sold by Owens Forest Products. |