Mike Kilgore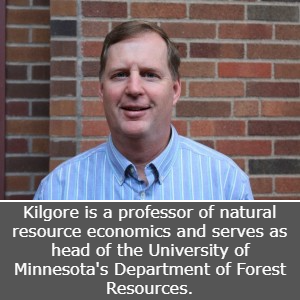 Mike Kilgore grew up in Mora, a small town in north central Minnesota, were he spent many of his days hunting, fishing and hiking. "My family and a number of my closest friends had a mindset and a passion for the outdoors," Kilgore explains. Attending Augsburg College and the University of Minnesota as an undergraduate, Kilgore found himself drawn to courses with a tie to the natural world. After starting as a biology major, Kilgore transitioned to studying wildlife before a class in natural resources conservation convinced him to switch his focus to forestry. Ever since then, Kilgore has been hooked. In 1982, he earned a B.S. in Forestry from the University of Minnesota before going on to earn an M.S. in Forest Economics and Policy. After this, Kilgore worked for several years as an agricultural economist and planning director before deciding to return to school. In 1990, Kilgore graduated from the University of Minnesota with a Ph.D. in Forest Economics and Policy Administration. Today, Kilgore is a professor of natural resource economics and serves as head of the University of Minnesota's Department of Forest Resources, a position he has held for the last five years.
In addition to his administrative responsibilities as department head, Kilgore teaches Natural Resource Economics and Forestry Orientation & Information Systems. He also conducts research focused on the economic and policy aspects of forest and natural resources management. Kilgore's research, frequently done in collaboration with scientists from the U.S. Forest Service, other universities (domestic and international), and public land management agencies such as the Minnesota Department of Natural Resources, places a strong emphasis on providing relevant, impactful information to natural resource managers and decision-makers. Kilgore and his colleagues recently completed a study focusing on private forest landowners and the ways in which their interactions with DNR foresters influenced the actions they took on their own properties. Currently, Kilgore and others are examining how the implementation of the Council's forest management guidelines – science-based standards which provide guidance on sustainable stewardship – on private forests is influenced by various forms of private forest planning and professional forestry assistance.
Kilgore has a long history with the Minnesota Forest Resources Council. Before joining the University of Minnesota, Kilgore served as the Council's first Executive Director. Even before this, Kilgore was instrumental in the very formation of the Council: he helped lead the 1994 Generic Environmental Impact Statement (GEIS) which in turn prompted the creation of the Sustainable Forest Resources Act (SFRA), a bill which established the Council and defined a series of sustainable forestry objectives. "The Sustainable Forest Resources Act was a completely new piece of legislation [for Minnesota] – we didn't have anything like it," Kilgore says. "Yet it passed the first legislative session it was introduced with strong bipartisan support. That was, in my opinion, quite remarkable." Kilgore credits much of this success to the broad coalition that came together behind the Act, from environmental and industry groups to loggers, public and private landowners and more. This diverse array of stakeholders continues to be reflected on the Council – a critical element which allows Council members to weigh varied perspectives before reaching consensus.
After six years as Executive Director, Kilgore stepped away from this role in order to join the University of Minnesota. In 2020, Kilgore returned to the Council – this time as the research and higher education representative. "The Council is the place to process important forestry issues affecting our state," Kilgore says. "It takes a concerted effort amongst all [of the Council members] to reach consensus, [ensuring] we're headed in the right direction."
As a Council member, Kilgore is energized about the role of Minnesota's forests in mitigating climate change through carbon storage and sequestration, a key issue for the Council. "I'm excited about where the Council is going," Kilgore says. "Our role is to provide objective, science-based information. We can help make sure that we're on the right trajectory as a state to maximize our forests to store and sequester carbon." In addition to this, Kilgore is hopeful about the Council's role in promoting forest health through active management, achieved through sustainable forestry practices. "Timber harvesting is the single most important tool for managing forests," Kilgore says. "Without this tool, we have a limited ability to affect conditions, impacting forest health and productivity [and leading to negative] fire and insects outcomes. This is another place where the Council is looking at what it can do, [asking] – 'How can we use our forests to promote good stewardship: for local economies, recreation and ecology?'"
To connect with Council member Mike Kilgore, contact him at mkilgore@umn.edu. The Minnesota Forest Resources Council exists to support and advocate for Minnesotans like you! Please join us for our bimonthly public meetings, with Zoom links available via  our calendar . We hope to see you there.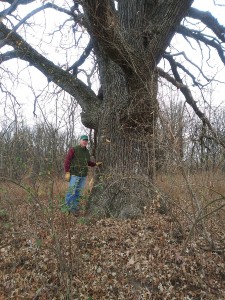 Kilgore has a long history with the Minnesota Forest Resources Council, including serving as the Council's first Executive Director in the 1990s. 
Today, Kilgore is the Council's research and higher education representative.