Kim Berns-Melhus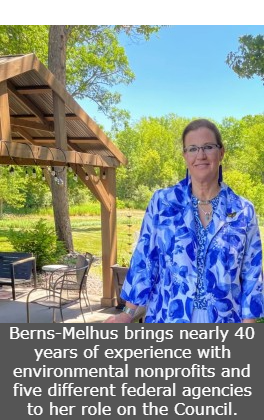 Forestry work has taken Kim Berns-Melhus across the country and the world. Raised in Rochester, Minnesota, Berns-Melhus grew up spending time outside on her horse. Passionate about botany and encouraged by high school friends, Berns-Melhus applied to Stevens Point in Wisconsin, which she attended in 1977, where she was first introduced to the U.S. Forest Service through the cooperative education program. Working for the Forest Service's Forest Inventory and Analysis (FIA) Program during summer breaks, Berns-Melhus traveled to 13 Midwestern states while still a student. She had the travel bug, and soon found herself taking advantage of study abroad opportunities, taking forestry classes in Germany and Poland, where places like the Black Forest became her field station. "That's where I fell in love with large beech forests," Berns-Melhus reveals. "I had never seen anything like that before – it's like being in a cathedral." In Germany, where the practice of forestry originated, Berns-Melhus was happily surprised by the status conferred on foresters, who were treated with the same respect as doctors or lawyers. "Forests were more intensely managed there and, because they understood the importance of it, this management was more accepted by the population," Berns-Melhus says.
After graduating from Stevens Point in 1983 with a B.S. in Forestry, Berns-Melhus took a full-time position with the FIA, thus beginning her long career with the Forest Service. Over the span of 25 years, Berns-Melhus went on to work in timber, public affairs, and land acquisitions in national forests in New Mexico, Montana, Colorado, Washington, and Oregon. Moving back to Minnesota in 1999, Berns-Melhus worked for the U.S. Army Corps of Engineers in St. Paul before joining the Trust for Public Land, a nonprofit which "creates parks and protects land for people, ensuring healthy, livable communities for generations to come." At the Trust for Public Land, Berns-Melhus worked on noteworthy projects such as the acquisition of Teddy Roosevelt's original ranch in North Dakota, during which she met the famed President's great-grandson, Teddy Roosevelt IV. "That felt significant," Berns-Melhus says. "Hearing about the importance of that land for the [Roosevelt] family and knowing it was ending up in the hands of the National Park Service."
After three years with the Trust for Public Land, Berns-Melhus returned to the Forest Service to work at the national headquarters in D.C. before moving to the Bureau of Land Management where she led the BLM's national real estate program. Not done yet, Berns-Melhus joined the U.S. Department of Agriculture's National Resources Conservation Service as a senior executive, running their easement programs. In 2018, Berns-Melhus retired from the federal government and returned to Minnesota, where she now works as the Conservation Fund's State Director for Minnesota . With Berns-Melhus at the helm, The Conservation Fund acquired more than 70,000 acres of forestland formerly owned by PotlatchDeltic, making this one of the largest land conservation projects in recent Minnesota history. For Berns-Melhus, the story of land and people are inextricably intertwined, a reality underscored time and time again during her years acquiring land for the federal government and nonprofits. "I find this to be so intriguing," Berns-Melhus shares. "It doesn't matter if it's a 5-acre piece or a 10,000-acre ranch – there's always a story about why [this person] wants their land conserved, the significance of their land in the bigger picture."
In 2020, Berns-Melhus brought her years of experience to the Minnesota Forest Resources Council, joining the Council as an environmental organizations representative. In this role, Berns-Melhus is excited about exploring greater avenues for direct, impactful communication, which she is doing as a member on the Council's recently formed Communications Committee. "I want people to get beyond the idea that managing forests is a bad thing," Berns-Melhus says. "Forests are good, forestry is good… I want to shift the conversation and focus [to talk about] active land management."
To connect with Council member Kim Berns-Melhus, contact her at kberns@conservationfund.org. The Minnesota Forest Resources Council exists to support and advocate for Minnesotans like you! Please join us for our bimonthly public meetings, with Zoom links available via  our calendar. We hope to see you there.

| | |
| --- | --- |
| Berns-Melhus as a young forester in 1981. | Berns-Melhus with one of her barn quilts. |
| Berns-Melhus collecting syrup on her land.  | |