Katie Fernholz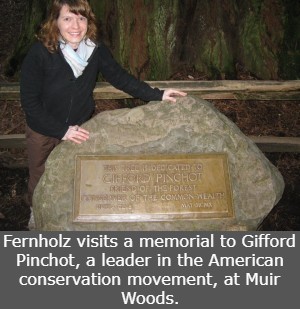 Katie Fernholz grew up on an organic farm outside of Madison, Minnesota, where she developed an early connection to the land. On the farm, Fernholz's parents were attuned to the seasons, the land and the food they produced. Growing up in this environment, Fernholz says, "I had a longing to know [the land] and understand it and name it." Accustomed to croplands and prairies, Fernholz marveled at the contrast between her family's farm and the forested regions of Minnesota, which she visited on hiking and camping trips. "One of the most distinct things still to this day is the difference in wind – it's a constant presence on the prairie, the sensation of it. But in the forests, the element of the air is very different." Growing up in the '80s during the economic farm crisis, Fernholz realized early on that she would likely have to leave farm life and look for opportunities elsewhere. Spurred by her own connection to Minnesota's landscapes, and with the help of her older sister Constance, herself interested in forestry, Fernholz decided to attend the University of Minnesota, earning a B.S. in Forest Resources in 1997. 
Since then, Fernholz has worn many hats in the forest sector. In 2003, she joined Dovetail Partners, a science-based environmental think-tank which fosters sustainability through collaborative solutions and which Fernholz now leads as President and CEO. In 2019, Fernholz was appointed to the Minnesota Forest Resources Council as an environmental organizations representative, her second time in this role, which she first held from 2002 to 2004.  
For Fernholz, one of the highlights of her career has been her work with the Food and Agriculture Organization (FAO) of the United Nations, an experience which has connected Fernholz to dedicated foresters across the globe. For the past ten years, Fernholz has contributed to FAO's Forest Products Annual Market Review, a yearly series of analyses of forest products markets in Europe and North America. According to Fernholz, "I greatly value the perspective [working with FAO has given me]… look[ing] broadly and think[ing] globally through these relationship that cross borders and cultures and viewpoints."  
Recently, Fernholz joined the Steering Committee of the Women's Forest Congress (WFC), an organization with a mission to develop strategies and solutions for forests through a female lens. According to Fernholz, "There are inequalities that touch forestry and touch natural resource [access] that really hinder us from the goals we want to reach around sustainability… creating a space for having those conversations and taking action around those inequities is meaningful." In July 2020, WFC held their first summit, where participants engaged with Vicki Christiansen and Angela Coleman, Chief and Associate Chief of the U.S. Forest Service, Pashon Murray, founder of organic waste recovery and reuse business Detroit Dirt, other leading women in the forest sector, and one another.  
Returning to the Minnesota Forest Resources Council fifteen years after her first appointment, Fernholz is energized by the potential she sees today for the Council to chart its own course. Fernholz is particularly excited about the ways in which forests and forest products can contribute to climate change mitigation and believes many parts of the Council's strategic plan compliment this. "This is the time for forests and forest products to be part of climate change solutions… the Council has always been about [that], what forest products and the forests of Minnesota can bring to the table [as we face] our biggest challenges." Beyond climate change mitigation, Fernholz would also like to see the Council broaden its representation, embracing urban forestry by including a metro representative. By thinking more broadly, Fernholz foresees the Council collaborating in new, exciting, and innovative ways. 
To connect with Council member Katie Fernholz, contact her at katie@dovetailinc.org. The Minnesota Forest Resources Council exists to support and advocate for Minnesotans like you! Please join us for our bimonthly public meetings, with Zoom links available via our calendar. We hope to see you there. 

Fernholz at work with the Right-of-Way Stewardship Council, an accreditation program managed by Dovetail Partners
that develops responsible standards for vegetation management along corridors.