Janet Erdman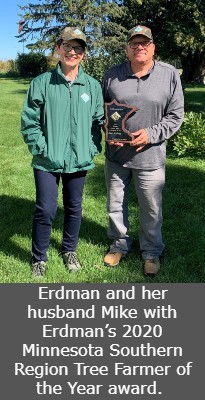 Janet Erdman grew up on a 450-acre farm in the Driftless region in southeastern Minnesota, where she continues to live today. Stewarded by Erdman's parents and grandparents before her, these acres roll with hills and small bluffs, a creek running through prairie, and 225 acres of woodlands. In the spring, wildflowers ripple through Erdman's woods, delicate Hepatica and Dutchman's breeches which she calls her first love. As a third-generation caretaker of this land, Erdman says, "I stepped into a landscape that was carefully tended by my parents and grandparents… [and] I became aware of the responsibility I would have in owning and caring for this beautiful woodland. That interest sparked a passion in me to learn about and care for our natural environment."  
Following this passion, Erdman, who is a medical librarian at M Health Fairview, became an active member in groups such as Minnesota's Women's Woodland Network, Minnesota Master Naturalists, and Minnesota Tree Care Advocates, communities which gave her the confidence to sustainably and effectively steward her land. In 2018, Erdman's woodlands met the American Forest Foundation's Standards of Sustainability and received the American Tree Farm Stewardship's Certified Family Forest designation. Just two years later, Erdman was awarded Minnesota's Southern Region Outstanding Tree Farmer of the Year. Joining the Minnesota Forest Resources Council as a representative for nonindustrial private forest landowner in 2016, Erdman brings a deep love for the woods to this role. 
Year round, Erdman can be found taking long walks around her property. In the spring, she welcomes in bright wildflowers while in the fall she enjoys an explosion of colors, often while toting a chainsaw. Erdman, who gained confidence running a chainsaw after taking a course with the Minnesota Women's Woodland Network, thins and prunes her walnut trees and removes buckthorn, an invasive nuisance plant. On her land, Erdman also cares for 150 acres of prairie, which she has enrolled in the USDA's Conservation Reserve Program. "In my home garden," Erdman says, "I have learned to incorporate native plants – not only because they are adapted to our location and require less water and care, but because they protect biodiversity." 
Over the years, Erdman has reached out to DNR experts, including local forester Mitch Gilbert, to help deepen her understanding of how to best manage her land. Working with Gilbert in 2011, Erdman outlined her management goals and constructed a Woodland Stewardship Plan, a process which she enthusiastically recommends to other landowners. "Seek out professionals and get good, sound advice from different reputable sources," Erdman says. "The rest will come." With Gilbert's assistance, Erdman has pursued timber sales and follow-up stand improvement, actively managing her woodlands for a healthy forest. 
Erdman would like to see more private landowners receive technical, on-the-ground help through expanded forestry programs from the DNR and other agencies. "Something unique about Minnesota is that there is a fairly even split of private and public ownership," Erdman says. "If forest activities are to be implemented on a large scale, we need our private forest landowners to be participants." On the Council, Erdman is energized by a recent refocusing on just this group. "Connecting with the different types of landowners on a scale that would effectively improve woodland management across the landscape would be desirable," Erdman says. Looking forward, Erdman is confident that the Council will continue to encourage sustainable forest stewardship, connecting with the diversity of landowners across Minnesota.  
To connect with Council member Janet Erdman, contact her at janet.erdman@gmail.com. The Minnesota Forest Resources Council exists to support and advocate for Minnesotans like you! Please join us for our bimonthly public meetings, with Zoom links available via our calendar. We hope to see you there. 
Looking for tips on how to manage your private woodlands? Check out Erdman's go-to resources: The University of Minnesota Extension, My Minnesota Woods, Minnesota Forestry Association and DNR Forestry. 
| | |
| --- | --- |
| An overhead view of Erdman's property, including woodlands and prairie.  | Erdman and her family. In 2018, Erdman's property was designated a Certified Family Forest by the American Tree Farm Stewardship. |
| | Swamp milkweed and yellow ox-eyes in Erdman's prairie. Erdman describes wildflowers as her first love.  |