2023 Legislation Funds Comprehensive Plan Priorities
 In the 2023 session, several legislators developed and introduced a set of investments that implement major elements of the 2040 Comprehensive Plan for the Minnesota State Capitol Area.  They include:


• $25M for the redesign and reconstruction of lower Rice Street between Pennsylvania Avenue and John Ireland and include enhanced multi-modal and shared mobility features (mobility hub) at University and Rice. The community will be engaged on design ideas and how to include investments in BRT stations.


• $5M+ for creation of a Capitol Area Community Vitality Account guided by the work of a task force of appointed community members. For more information about the legislation and task force,
click here
.
• $1M to update the Capitol Mall Design Framework (CMDF)* including the creation of new urban spaces along Rice Street to mitigate the loss of a displaced Leif Erickson Park, and $5M to implement phase 1 of the Framework priorities.  (*
CMDF Request for Proposals released Aug. 21
)
For more information on 2023 legislation affecting Capitol Area,
see staff memo
.
News & Updates
Recent & Upcoming Board Meetings
October 3rd, 2023, 1-2:30 p.m. Agenda | Board Packet Items (coming soon) | Live Stream
July 2023 Staff Memo Community Vitality Task Force & Account
June 2023 Staff Memo 2023 Legislation
April 21st, 2023  Agenda | Board Packet Items | Live Stream
March 8th, 2023  Agenda | Board Packet Items | Live Stream 
Mar. 14th, 2022 Public Hearing Recording | Hearing Introduction Presentation | CAAPB Presentation | Transcript 
CAAPB News and Updates:
RFP AVAILABLE: On August 21st, a Request for Proposals (RFP) was released by CAAPB to develop the Capitol Mall Design Framework. To receive a copy of the RFP, please contact Peter Musty at peter.musty@state.mn.us and share a) your name, and b) the name of the firm / organization that you represent.
In late May, legislators passed provision creating a Task Force to guide the use of a $5M Capitol Area Community Vitality Account (CACV) Account. For more information, click here. 
CAAPB staff recently completed the CAAPB FY22-23 Biennial Report. Each agency produces such a report every 2 years. It's a handy overview of who we are, what we do, recent and upcoming projects, and budget.
"The New Behavioral Health Hospital Project at 559 North Capitol Boulevard in St. Paul, Minnesota, on a site formerly known as Bethesda Hospital, is a joint venture between Fairview Health Services and Acadia Healthcare. The new Hospital is a five-story, ~108,000 sf facility with 144 beds serving the mental health needs of adult, child/adolescent, and geriatric inpatients and outpatients. The new Hospital includes six inpatient nursing units highlighted by social spaces with generous natural light in tower elements at the building corners, a gymnasium and exterior activity yards for interior/exterior patient recreation, and an outpatient center for post-discharge step-down treatment of patients – all in a state-of-the-art and healing environment." Review the approved schematic drawings, application materials and community review timeline here.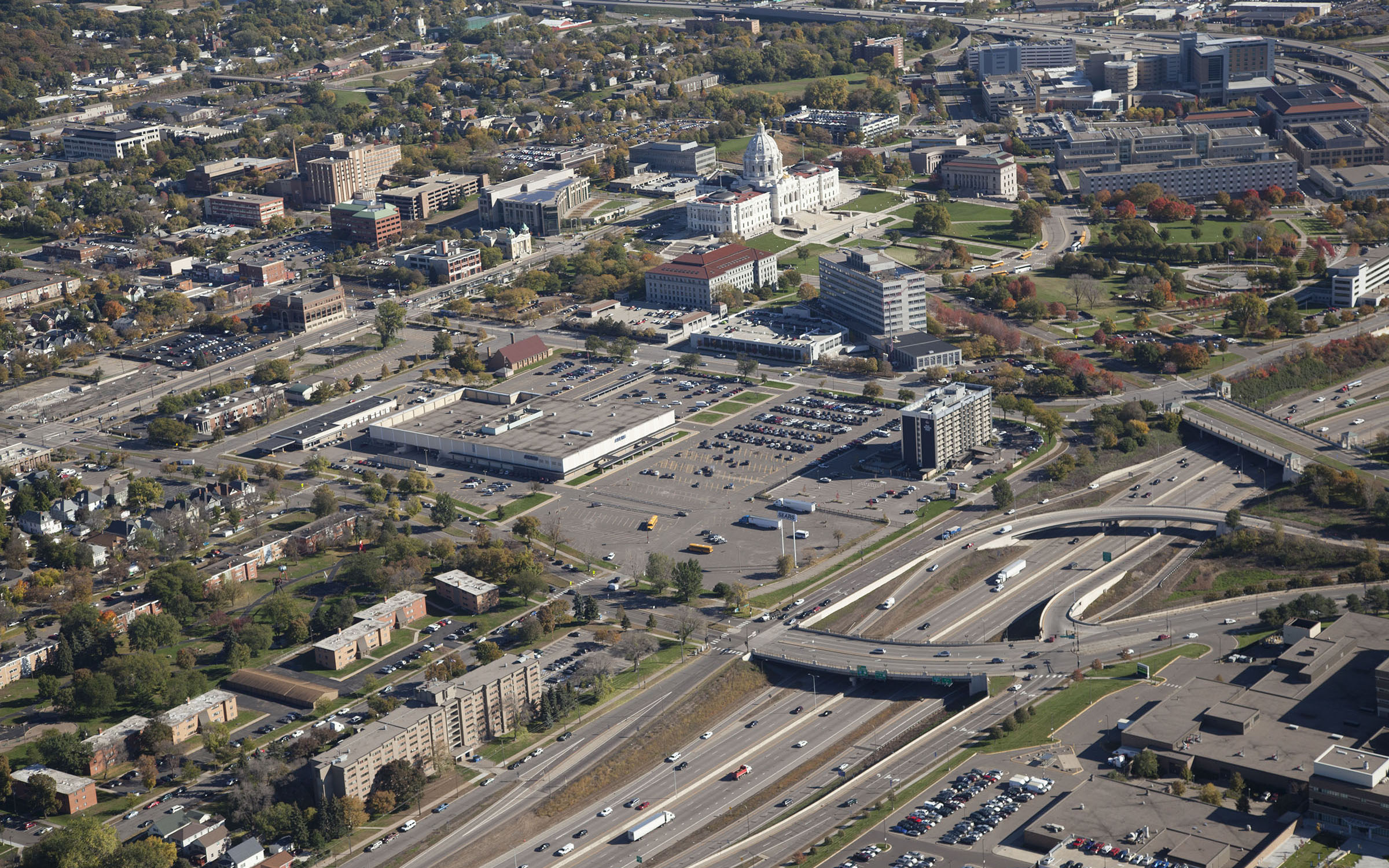 The March 2nd 2021 Board Meeting marked the beginning of the community design review process realizing the community plan for a mixed-use transit-oriented urban village near Capitol Rice LRT Station. Aspirational images presented by owner/developer team (Seritage Growth Properties) are the first iteration of a series of submittals to occur during a 'predevelopment' process featuring community discussions, individual surveys and stakeholder meetings involving neighbors, neighborhood groups and institutions. View the Sears Site Design Process page for more information and to share your views. 
Capitol Region Watershed District (CRWD) and Capitol Area Architectural and Planning Board (CAAPB) are partners on a stormwater management study to understand water quality and quantity issues in the Capitol Area and identify regional green infrastructure opportunities for improved stormwater management. CRWD and CAAPB believe that stormwater management strategies will be integral to achieving the broader vision and goals in the Capitol Area comprehensive plan. Visit CRWD's website (linked above) for further information.