Rulemaking: Rezoning of properties near the State Office Building 
The Capitol Area Architectural and Planning Board (CAAPB) is reviewing a proposed renovation and addition to the State Office Building. The addition extends into Leif Erickson Park, which is zoned for G-2 (public open space). 
Rezoning (through Rulemaking) for the project cannot proceed unless the Board finds that the project is in compliance with the Comprehensive Plan for the Capitol Area.  At this time, the Board is reviewing preliminary information, has not received a formal rezoning application, and has not voted on the proposed project. Rulemaking has been initiated as a courtesy by CAAPB due to the procedural length of rulemaking and to provide the public with an opportunity for early comment in a fast-moving process.
Furthermore, CAAPB has a statutory charge to "protect, enhance, and increase open spaces within the Capitol Area..."  Therefore, new open space areas are being proposed by project leaders to compensate for the loss of open space to the State Office Building addition. New spaces next to the intersection of Rice Street and University Avenue are being considered and would need to be rezoned to G-2 (public open space) if they proceed.
"The New Behavioral Health Hospital Project at 559 North Capitol Boulevard in St. Paul, Minnesota, on a site formerly known as Bethesda Hospital, is a joint venture between Fairview Health Services and Acadia Healthcare. The new Hospital is a five-story, ~108,000 sf facility with 144 beds serving the mental health needs of adult, child/adolescent, and geriatric inpatients and outpatients. The new Hospital includes six inpatient nursing units highlighted by social spaces with generous natural light in tower elements at the building corners, a gymnasium and exterior activity yards for interior/exterior patient recreation, and an outpatient center for post-discharge step-down treatment of patients – all in a state-of-the-art and healing environment." Review the approved schematic drawings, application materials and community review timeline here.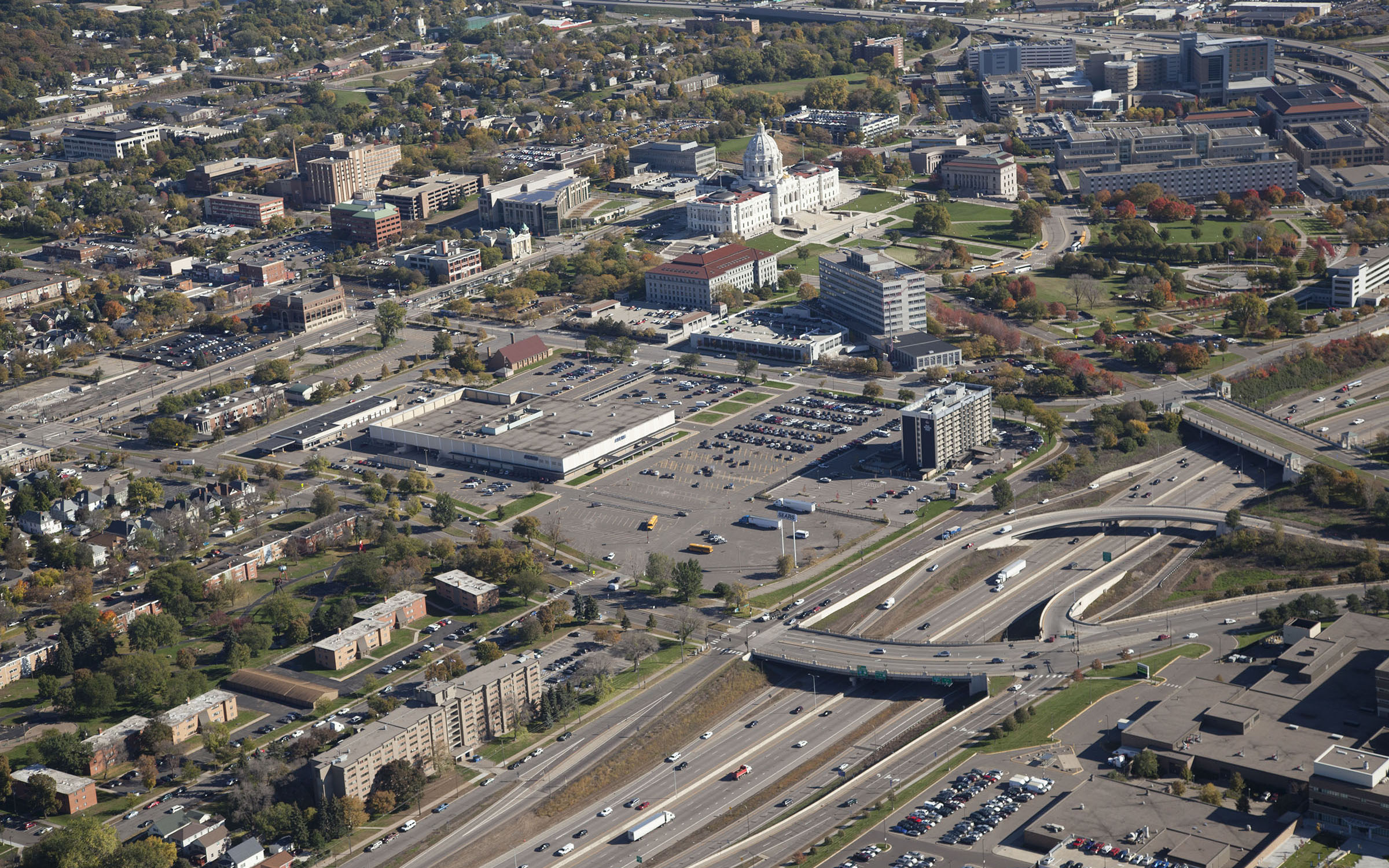 The March 2nd 2021 Board Meeting marked the beginning of the community design review process realizing the community plan for a mixed-use transit-oriented urban village near Capitol Rice LRT Station. Aspirational images presented by owner/developer team (Seritage Growth Properties) are the first iteration of a series of submittals to occur during a 'predevelopment' process featuring community discussions, individual surveys and stakeholder meetings involving neighbors, neighborhood groups and institutions. View the Sears Site Design Process page for more information and to share your views. 
Capitol Region Watershed District (CRWD) and Capitol Area Architectural and Planning Board (CAAPB) are partners on a stormwater management study to understand water quality and quantity issues in the Capitol Area and identify regional green infrastructure opportunities for improved stormwater management. CRWD and CAAPB believe that stormwater management strategies will be integral to achieving the broader vision and goals in the Capitol Area comprehensive plan. Visit CRWD's website (linked above) for further information.