Flood Insurance Basics
As one of the most common natural disasters, floods are widespread and can cause much more than property damage. For Minnesotans without proper insurance, flooding can cause severe personal and financial losses.
Flood insurance fact sheet for homeowners, business owners and renters. 
Flood insurance fact sheet for insurance agents.
What every Minnesotan should know about flood insurance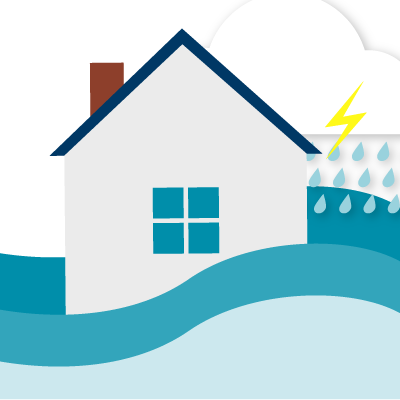 Three truths about flood insurance
A standard homeowner's insurance policy does not provide flood coverage.
You cannot depend on disaster assistance. You only get assistance when the President declares a disaster. Since less than 50 percent of floods are declared disasters, most flood victims are on their own.
Paying for flood insurance is less expensive than paying back a disaster loan. Most disaster aid comes in the form of loans, which must be paid back. The average loan payment on a $50,000 disaster loan is $240 per month ($2,880 per year) for 30 years compared to a $100,000 flood insurance premium which is about $400 per year ($33 per month).
Purchasing flood insurance
Contact your local insurance agent or insurance company to find out what types of offers they have for purchasing flood insurance.
Visit the National Flood Insurance Program's (NFIP) or call 877-336-2627 for more information about purchasing flood insurance.
If you have flood insurance and want information about filing claims, or if you are having trouble applying for flood insurance, call NFIP's national information line at 877-336-2627. 
If you experience problems with an insurance company or are aware of any fraudulent activity, please contact the Minnesota Department of Commerce Consumer Response Team at 1-800-657-3602 or 651-539-1600.
Questions about flood insurance