2021 Legislative Session Recap
The Council has compiled the below infographics breaking down the 2021 Minnesota legislative session into easy-to-understand pieces. Read on to learn how Minnesota fared in the arenas of Health and Human Services; Education, Equity, and Achievement Gaps; Economic Recovery and Support for Families and Workers; and Affordable and Stable Housing during the spring of 2021. 


Supporting Communities
A major focus of the legislature in 2021 was ensuring that the impacts and recovery from the COVID-19 pandemic were addressed in a way to supports all Minnesotans. Some of the topics and programs discussed were: funding to better understand disparities in maternal and infant health; expanded lead risk assessment; providing better preventive care under Medical Assistance, including improved dental coverage; a one-time $435 payment to low-income families through the Minnesota Family Investment Program; annual cost-of-living increases and an additional $50 per month housing benefit for Minnesota Family Investment Program participants; expanding tobacco and vaping prevention; expanded access to telehealth; and increasing compensation for personal care attendants and home care providers.
Equity Investments
Ensuring that expanded programs and new investments equitably reach Minnesotans was an area of greater focus by the Legislature in 2021. Some of the most important investments in this area included making investments in home and community-based services to help individuals live independently; establishing a long-term path to improve low-income Minnesotans' economic security; expanding affordable child care access; providing Medical Assistance coverage for treatment, testing, and vaccination for COVID-19; establishing a grant program to expand access to licensed child care providers; and requiring obstetric care and birth centers to make available anti-racism and implicit bias training for staff.
Federal Contributions
In addition to the state's increased investments and supports, the federal government has also provided significant additional funding to the state related to combating and recovering from the COVID-19 pandemic. Out of a total of $8.5 billion in federal American Rescue Plan funds provided to Minnesota, $83.8 million has been dedicated directly to ending the pandemic, through funding for vaccinations, addressing health disparities that have emerged during the pandemic, and preventing and controlling other infectious diseases. The state has reserved some of its American Rescue Plan funds for a supplemental budget in the 2022 legislative session. We encourage you to reach out to the Council or your legislators with ideas for what should be prioritized during the 2022 regular legislative session.
Historic New Investments in Education
The state made the largest new level of investments in education in 15 years during the 2021 Sessions, increasing E12 spending by a total of $21 billion, including $554 million in new investments. These investments included focus on areas such as equity and closing achievement gaps, in addition to significantly increasing baseline spending in all schools across Minnesota. Highlights of the new, general investments in E12 education include a $462 million, broad increase to all schools, teachers, and students across the state and $45.9 million to support pre-kindergarten schools, teachers, and students, giving students a head-start on their education and preparing them for the future.
Increasing the Number of Teachers of Color
Importantly, these new investments included incorporating significant aspects of the 2021 Increase Teachers of Color Act, a joint priority with our fellow ethnic Councils and the Indian Affairs Council. These investments will make important contributions to increase the number of teachers of color across the state, which will improve educational outcomes for all students and ensure that the state's teachers more closely reflect the growing diversity of Minnesota's students in every corner of the state. Major highlights of the $30 million in new investments to increase teachers of color include $10 million to support the "Grow Your Own" program; $4.5 million for teachers of color mentoring and retention incentive grants; $1.5 million for Aspiring Educators of Color Scholarships; and $1m million for Student Teacher Grants for Racially/Ethnically Underrepresented Candidates.
Focus on Equity and Preventing Learning Loss
The COVID-19 pandemic introduced significant challenges to families and students across the state as many schools shifted to remote learning. This presented significant challenges to many students and families as they adjusted to new ways of learning, both for classes and with homework. As a result of these new challenges, many students struggled in new ways, raising concerns about learning loss for students. Thankfully, the state made investments to help address his issue and prevent further learning loss as schools have transitioned back to in-class learning. Notable highlights of equity-focused investments and programs include $75 million for summer 2021 learning loss prevention for E12 students; $2 million per year in dedicated funding for English language learners; and $1.7 million for non-exclusion disciplinary training.
Substantial Support for Business and Employment
The economic impact from the pandemic and the challenges facing businesses and workers was one of the major issues of the 2021 session. Knowing the scale of the problem, the legislature appropriated $1.65 billion to help provide support for communities now while laying the groundwork for longer-term recovery. Within this, $500 million is dedicated to short-term programs, while $1.15 billion is provided for longer-term plans and programs. Relief provided to businesses was improved to allow more fair access and limiting technical hurdles, while also creating carve-outs for dedicated support for cultural malls and their tenants, the smallest businesses (those with 5 or fewer employees), and minority-, women-, and veteran-owned businesses.
In addition to these broad-based recovery funds, the state has continued to provide support for vulnerable communities through equity grants and targeted funding. This includes $2.85 million specifically dedicated for equity grants to the API Minnesotan community, helping businesses and workers recover and thrive. Included in this are $1 million each year for Southeast Asian business and community development equity grants, a long-standing program that has provided crucial support for our Southeast Asian communities. In addition to these competitive grants, direct funding has been provided to proven and trusted community partners for business support and community development, with $300,000 each year provided to Hmong American Partnership and through it partner organizations and $125,000 each year for the Hmong Chamber of Commerce to provide training and support to business owners and entrepreneurs.
Federal Support for Families and Local Communities
The federal government has stepped up support to states throughout the COVID-19 pandemic, and in particular has sought to provide stability to families, workers, and businesses. Particularly, support has been focused on supporting families with an emphasis on expanding access to childcare, with $202 million for Supplemental Discretionary Child Care Development Block Grant, a $9.2 million increase for Mandatory Child Care Development Funds, $324.1 million for Child Care Stabilization Grant Funding, and $8.2 million for the Women, Infants, & Children (WIC) Supplement.
In addition, $2.132 billion more in federal support is available for cities, towns, and counties to address the unique challenges in their own local area. Funds can be used to respond to the public health emergency, serve the hardest hit and address inequities, address negative economic impacts, and improve access to water and broadband infrastructure to keep communities healthy and engaged.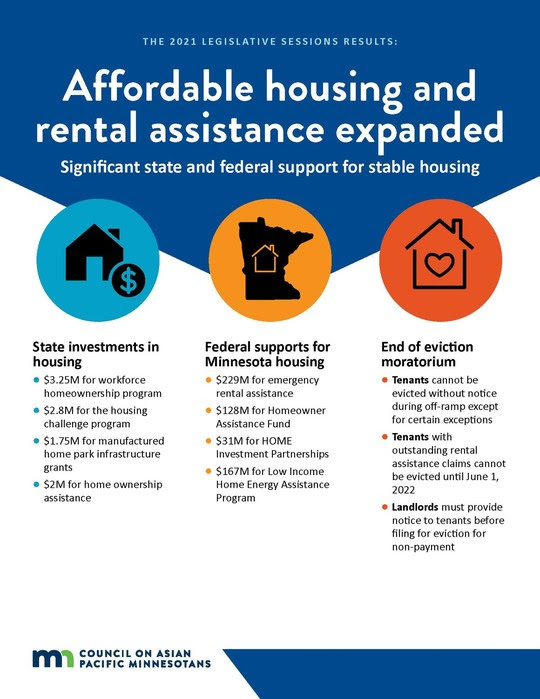 Substantial State Actions to Keep Housing Safe and Stable
The legislature made substantial investments in both new and ongoing housing programs to ensure both short- and long-term housing stability for Minnesotans. The total spending on housing was $125.6 million for the biennium, which includes $100 million for new housing infrastructure bonds to build more affordable housing, and $25.6 million in increased and new spending for other state housing programs. These new investments will help ensure that Minnesotans have access to safe, stable, and affordable housing for themselves and their families.
Some of the new programs, worth $9.8 million, include $3.25 million for workforce homeownership program, $2.8 million for the housing challenge program, $1.75 million for manufactured home park infrastructure grants, $1 million for the home ownership assistance fund, and $1 million to establish a local housing trust fund. Across the state, these programs will provide Minnesotans with better means to have stable homes as either renters or as homeowners.
Federal Support Adds Additional Security
The federal government has stepped up support to states throughout the COVID-19 pandemic, including regarding housing stability. Minnesota has received a total of $555 million in housing-dedicated funding from the federal government, which has provided needed stability to families and property owners during the ups and downs of the pandemic. Notable areas of federal housing support include $229 million for Emergency Rental Assistance, $128 million for the Homeowner Assistance Fund, $31 million for HOME Investment Partnerships, and $167 million for the Low Income Home Energy Assistance Program (LIHEAP). These key supports have helped keep Minnesotans in their homes during the pandemic, providing both housing stability and support for public health.
Some Protections Ending with Offramp
With progress in the pandemic, some additional protections were put in place. Some of the key elements of the offramp include that tenets cannot be evicted without notice during the eviction off-ramp unless they pose a danger to others, cause significant property damage, or engage in criminal activity, that landlords are required to provide 15 days notice to tenants 15 days before filing an eviction for nonpayment of rent before October 22, 2021, and that tenants with outstanding rental assistance claims cannot be evicted until June 1, 2022. This assistance and protections, for both renters and landlords, will help ensure that Minnesotans are able to navigate the offramp from pandemic protections.