Moments in Disability History 25
Behind the Scenes in the Reagan and Bush Administrations – Stories from No Pity
In his award-winning book on the disability rights movement, No Pity, Joseph Shapiro tells many background stories about overlapping events and processes through which the Americans with Disabilities Act (ADA) became law. [Shapiro, Joseph, P., No Pity: People with Disabilities Forging a New Civil Rights Movement, (1993), Times Books, Random House, New York and Canada.]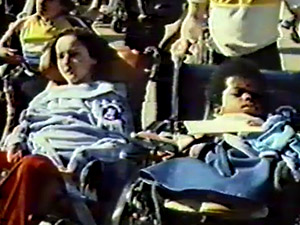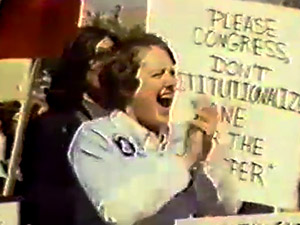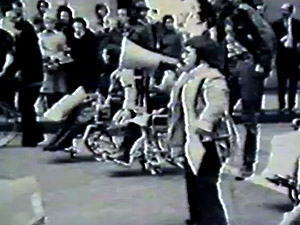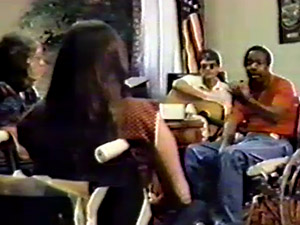 From the Documentary
We Won't Go Away
At the time, Shapiro was a social policies writer for U.S. News & World Report and received an Alicia Patterson Foundation Fellowship to study the disability rights movement. Today, he is an Investigations Correspondent for National Public Radio (NPR) News.
A brief bio of Joseph Shapiro is available at npr.org.
In No Pity, Shapiro documents the progress of the political awakening of people with disabilities that culminated in the enactment of the ADA. His five years of in-depth reporting uncovered many personal stories that had a direct bearing on the disability rights movement and the ADA. The following are just a few of those stories about people in the Reagan and Bush administrations.
The "Hidden Army"
California Representative Tony Coelho argued that the strength of the disability movement leading up to the passage of the ADA came from a "hidden army" of people who instinctively understood that the stigma of being disabled was the result of either having a disability themselves or having someone in their family with a disability [Shapiro, pg. 117-119]. As a person with epilepsy, Representative Coelho himself was a member of this "hidden army".
Lowell P. Weicker, Jr., United States Senator from Connecticut from 1971 to 1989, was an advocate for people with disabilities and legislator who often worked independently to further the advancement of public policy on behalf of people with disabilities. In the halls of Congress, he often acted and spoke not only as a U.S. Senator but also as a parent of a child with a disability. He is widely regarded as the "father" of the ADA.
Senator Weicker, Representative Coelho, and several other Senators, Representatives and advocates, testified about disability based discrimination during hearings on the ADA in September 1988.
After leaving Congress, Coelho asked his closest friend, Maryland Representative Steny Hoyer, another member of the "hidden army," to take over. What most people did not know was that Representative Hoyer's wife also had epilepsy.
Other notable "hidden army" politicians included Senator Edward Kennedy, whose son, Teddy, Jr., lost a leg to cancer, and the Senator's sister, Rosemary, who had a developmental disability; Senator Robert Dole, who had a paralyzed right arm as the result of a World War II injury; and Senator Orrin Hatch of Utah, whose brother-in-law had polio and slept in an iron lung. [Shapiro, pg. 118].
"Passionate Insiders"
Equally important as Coelho's "hidden army" were the people Rud Turnbull called the "passionate insiders." Rud Turnbull, Distinguished Professor in Special Education and Courtesy Professor of Law, University of Kansas, is the Co-founder and Co-director of the Beach Center on Disability.
He considers himself an "accidental advocate," triggered by the birth of his son, experience with aversive therapy, and service as an officer of a local parent's association. As a parent advocate, Turnbull's career includes research in the late 1980s as a Kennedy Foundation Public Policy Fellow, the results of which became incorporated in the ADA. In this clip, he describes his influence and the influence of other "passionate insiders" on the ADA.
Ralph Neas, Leadership Conference on Civil Rights, developed Guillain-Barré Syndrome that left him close to death and unable to breathe without a respirator. Neas convinced reluctant civil rights leaders to put disability rights at the top of their agenda [Shapiro, pg. 119].
One of the central, most influential and pivotal members of Coelho's "hidden army" and Turnbull's "passionate insiders" was the late disability rights activist, Evan Kemp, Jr. [Shapiro, pgs. 12-124.] Kemp died in 1997. In 1947, at the age of 12, Kemp came down with an illness that took 16 years to properly diagnose as Kugelberg-Welander syndrome, a rare muscle weakening disease related to polio. Kemp's parents, along with parents of children with muscular dystrophy and related conditions, founded the Muscular Dystrophy Association (MDA) and put together the first MDA telethon in 1959.
By 1964, Kemp made it through Washington & Lee University and graduated in the top 10 percent of his class at the University of Virginia Law School. He applied to work at 39 different law firms, all of whom turned him down because of his disability. Luckily, Kemp had a well-connected uncle, powerful Washington political columnist Drew Pearson, who helped him get hired at the Internal Revenue Service. Later, Kemp would move on to the Securities and Exchange Commission (SEC) where he had a successful seven year career until a garage door accident required him to use a wheelchair. As a result, SEC removed Kemp from the management track.
In 1971, Kemp sued the SEC for discrimination and won. Incensed at the way people with disabilities were treated, he left government in 1980 to become director of Ralph Nader's Disability Rights Center. It was here, as a disability rights activist, that Kemp would begin his influence on the Reagan and Bush Administrations. Kemp died in 1997.
Of all of the members of the "hidden army", the most important turned out to be President George H. W. Bush. In 1953, the Bush's three (3) year old daughter, Robin, was diagnosed with leukemia and died. In addition, Bush's son, Neil, has a severe learning disability. The youngest Bush son, Marvin, had a section of his colon removed in 1985 and wears an ostomy bag. Lastly, Bush talked of the "courage" of his favorite uncle, surgeon John Walker, who was struck by polio at the height of his career.
When the Reagan-Bush administration was sworn into office in 1981, Bush was chosen to lead Reagan's Task Force for Regulatory Relief. Among the first regulations under attack were Section 504 of the Rehabilitation Act and the Education of All Handicapped Children Act.
When people with disabilities and parents responded quickly and in number, Bush understood he was dealing with a hidden grassroots constituency. Bush's legal counsel, C. Boyden Gray, said the response "demonstrated to me and to [Bush] that this movement had enormous impact." Bush agreed to meet with disability groups to negotiate the administration's plan. So it was that then Vice President George H. W. Bush found himself face-to-face with Evan Kemp, Jr.
"We Won't Go Away"
Kemp told Bush that people with disabilities wanted independence, out of the welfare system, and jobs. Gray said the "eye opener" was when Kemp said that people with disabilities were looking for self-empowerment and not "some captured bureaucracy in Washington, DC."
When the administration held regulatory relief hearings on Section 504 and the Education of All Handicapped Children Act around the country, individuals with disabilities and parents were protesting and visible everywhere. By March of 1983, Bush announced that the administration had dropped its objections to Section 504 and rules related to the Education of All Handicapped Children Act.
Kemp and Bush came away from the confrontation as mutual admirers. Later, they became potent allies. Bush began paying attention to disability issues and sought Kemp's touch in drafting speeches before disability groups.
In 1985, when Tom Hopkins, self-advocate and leader of Capitol People First of Sacramento, and fellow advocate Sandra Jensen, met Vice President Bush and discussed their concerns and disappointments with sheltered workshops and institutions, Kemp was present at the meeting and said "(Bush) never had his preconceptions about any group turned upside down so quickly."
In 1987, President Reagan, on Bush's recommendation, appointed Kemp Commissioner of the Equal Employment Opportunity Commission (EEOC), the federal agency that enforces employment discrimination laws.
Early in 1988, Senator Bob Dole and Vice President George H. W. Bush, locked in battle for the Republican Presidential nomination, weighed in on the student revolt at Gallaudet University by urging the school to name a deaf president. [Shapiro, pg. 81].
In May 1988, Kemp was in Washington with other disability activists for the annual meeting of the National Council on Independent Living. The activists divided the campaigns of the 1988 presidential contenders to push their candidate to the same goal: they wanted a statement of rights for people with disabilities, like the ADA, which had been introduced in Congress that same month. Kemp took the Bush campaign.
Three months later, Bush pledged "I am going to do whatever it takes to make sure the disabled are included in the mainstream." These words, spoken during Bush's acceptance speech at the National Republican Convention, marked the first time that an American presidential nominee had acknowledged people with disabilities as a political force. [Shapiro, 124-125].
In 1989, President George H.W. Bush named Kemp the EEOC Chair. Kemp is one of the advisers credited with convincing the President to make disability civil rights a priority of his administration. [Shapiro, pg. 20].
The friendship between Kemp and Bush's Legal Counsel, C. Boyden Gray, grew. Gray started visiting Kemp's apartment on Q Street in Georgetown for late night bridge games. As an expert bridge player, Kemp had card playing friends all over official Washington. Both Kemp and Gray became vanguard champions of disability rights.
Kemp, and his partner in the White House negotiations on the ADA, Patrisha Wright, the lobbyist for the Disability Rights Education and Defense Fund (DREDF), spent hundreds of hours with Gray in his office, explaining their vision of disability as a rights issue.
In 1983, Wade Blank founded ADAPT (Americans Disabled for Public Transit – now known only as ADAPT) to empower people with disabilities to engage in direct action protest. At the time, the group's priority was getting all city buses equipped with lifts and offering themselves up to mass arrest was a tactic. By 1990, Blank made ADAPT a player behind the scenes. The key link was Evan Kemp. The radical and the Republican were die-hard fans of the Cleveland Browns. They also had a common devotion to disability rights and spoke often on the telephone of their latest strategies.
The timing of ADAPT's "Wheels of Justice March" in March 1990 had been set based on Kemp's judgment of the best time to pressure Congress and send a message to the White House. Several months before, when ADAPT took over the federal building to demand that the Department of Transportation not agree to fund any purchases of city buses unless they had lifts, a call came from the White House on behalf of the President. Transportation officials were flown to Atlanta to negotiate the temporary ban on inaccessible buses.
ADAPT members returned the favor in Washington by refusing to chain themselves to the White House gate, as urged by Patrisha Wright, who argued that Bush could do more to pressure House Republicans to support the ADA. Some 475 people with disabilities, many in wheelchairs, spread across the sidewalk in front of the White House for the start of the protest. Another 250 people joined them at the Capitol. Boyden Gray appeared at the White House gate to make a brief address, assuring the crowd that President Bush was committed to signing civil rights legislation for people with disabilities [Shapiro, pg. 131].
With the support of a powerful coalition of the "hidden army" of people with disabilities and their families, politicians and disability professionals, and "passionate insiders," the ADA moved swiftly through Congress. On July 26, 1990, President George H.W. Bush signed the ADA into law with 3,000 of the "hidden army" on the South Lawn of the White House. Bush declared "Let the shameful wall of exclusion finally come tumbling down."
During the signing ceremony, T.J. Monroe, President of People First of Connecticut, self-assuredly walked up and presented Bush with a carefully printed letter. The President thanked Monroe, put the letter in his inside jacket pocket, and promised to read it later. [Shapiro, pg. 209]. Bush's administration would promptly issue regulations for the ADA. The law took effect in 1992 [Shapiro, pg. 140].
---
Sources:
Minnesota Governor's Council on Developmental Disabilities
Feature: Ed Roberts, Activist
Parallels in Time II: 1950-2005
A Place To Call Home: The Development of Supports for Having A Home In The Community
The 1990s – Explosion of Community Housing, Institution-free States, A Home Of Your Own, Expanding Family Support