How to File a Complaint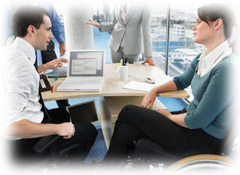 Concerns or complaints can come from any source. Complaints should involve the actions of an agency, facility, or program and can be person-specific or a system-wide concern. Use one of the methods below to file a complaint with the Office of Ombudsman for Mental Health and Developmental Disabilities (OMHDD):
Contact a Regional Ombudsman for the county the person is in. Use the Regional Map or the Regional Ombudsman by County list.
Call the OMHDD: 651-757-1800 or 1-800-657-3506.
Email the OMHDD:ombudsman.mhdd@state.mn.us
Fax the OMHDD: 651-797-1950
Send us a letter by US postal mail:

The Office of Ombudsman for Mental Health and Developmental Disabilities
121 7th Place East
Suite 420 Metro Square Building
St. Paul, Minnesota 55101-2117 

Thank you for contacting the OMHDD.


The OMHDD gives priority to the following:
Matters affecting the health, safety, or welfare of clients

Laws or rules, their interpretation, and their effect on services to clients

Policies and practices that diminish client dignity or independence

A disregard of client rights

Situations of abuse or neglect

The deaths and serious injuries of clients

The quality of services provided
What to do before you file a complaint?
You may be able to resolve the complaint directly. In many cases, you will be able to settle the problem on your own.
Here are some good common sense steps to take in trying to resolve any client problem, whether it involves a government agency or a company in the private sector:
Be Prepared - have relevant information available before you call the agency or program. A short telephone call may save hours of time and headaches.

Keep Records - take notes, ask for names and titles of those you speak to and keep all correspondence.

Ask Questions - ask why the agency or program did what they did. Ask for the relevant rules, policies, or laws.

Read Everything Sent To You - Many agency decisions may be appealed but there are deadlines and procedures to follow.
If you do not want to contact them yourself, or if you are not satisfied with the response you were given, then contact the OMHDD.
The OMHDD is authorized by law to receive inquiries on a confidential basis.