U of M CEGE Department, Students Receive NCEES Award
Each year, the National Council of Examiners for Engineering and Surveying (NCEES), of which the Board is a member, names Engineering Education Award winners. This October, Board Chair Nirmal Jain, PE, and Immediate Past Chair Dennis Martensen, PE, were please to present on behalf of NCEES an award to the Department of Civil, Environment, and Geo-Engineering (CEGE) at the University of Minnesota-Twin Cities.
The students and their university advisors and professional mentors won for their project, a multistage drip irrigation system. The group designed and installed the system for the 500-person community of Filakit Geregera, Ethiopia. Prior to the building of the irrigation system, multiple farm fields went uncultivated due to the inability to supply them with water during the dry season.
Presentation photos are courtesy of Merry Rendahl, Ph.D., Teaching Specialist and Publications Editor for CEGE.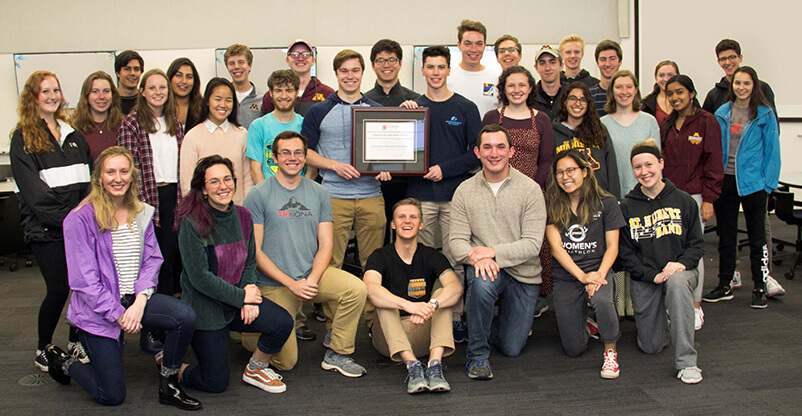 The student design team from the UMN-TC CEGE Department
Left-right: Matt Simcik, UMN-TC Project Advisor; Dennis Martenson, Immediate Past Chair, Board; Joseph Labuz, UMN-TC CEGE Dept. Head; Nirmal Jain, Board Chair; Paul Capel, UMN-TC Project Advisor
Working model of the award-winning irrigation project
More About the Project