What's New...
List of Individuals with 2016 CE Carryover Now Available
Those already looking ahead to June 2018 renewals and wondering if they have continuing education carryover from the previous period can check for their name and information on a PDF document (see link below). If your name does not appear, you do not have any carryover, according to Board records.
Rules Committee Meets May 4
The Board's Rules Committee will meet May 4, 10am-noon, at the Board office.
April Is World Landscape Architecture Month
April is a celebration of landscape architecture and its impact on our lives. Share your favorite landscaped space in Minnesota usinig the hashtags #WLAM2017 and #MNLandscape.
New Issue of The CommunicatorAvailable
The Winter 2017 issue of the Board newsletter, The Communicator, is now available for download.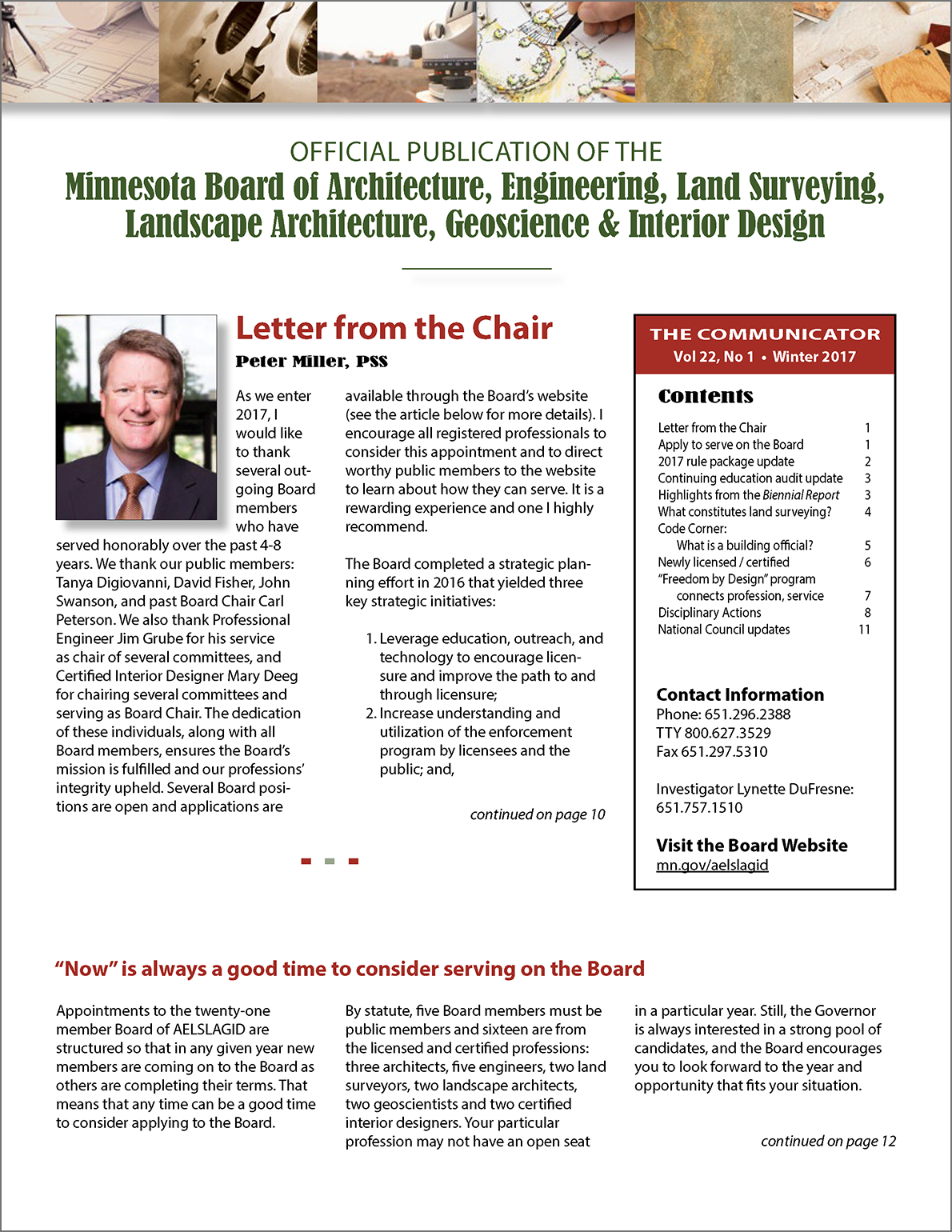 NCEES Announces 2017 Surveying Education Award
NCEES is recognizing surveying/geomatics programs that best reflect NCEES' mission to advance licensure for surveyors in order to safeguard the health, safety, and welfare of the public. The 2017 NCEES Surveying Education Award competition launched during National Surveyors Week (March 19-25). Entry materials and competition details are available on the NCEES website. A grand prize of $25,000 will be offered, as well as multiple $15,000 and $10,000 prizes.
Last Paper-based Exam for PE Chemical Is April 2017
The professional engineering (PE) Chemical exam is moving from paper-based to computer-based tasting (CBT). The April 2017 exam is the last offering of that discipline paper-based. The exam will not be offered in October 2017. The first available test dates for CBT format will be in January 2018.
You can read more here:
2017 NCEES Exam Specifications Now Available
Updated design specifications and design standards have been posted on the NCEES web site. Please note that if you are taking either the PE Civil or PE Mechanical exam, you will be asked to select an afternoon module when you apply.
CLARB to Update LARE Exam in April 2017
The Council of Landscape Architectural Registration Boards (CLARB) has announced revisions to the Landscape Architect Registration Examination (LARE) effective April 2017. Among the changes to the exam will be new content focusing on maintenance, historical preservation, performance metrics and specialty plans. These updates will align the exam with current practice.
This update will have no negative impact on candidates who have already successfully completed sections of the exam. All exam sections, through the December 2016 administration, will remain equivalent to the exam sections that will be administered in April 2017.
NCARB Launches ARE® 5.0
The Architect Registration Examination (ARE) version 5.0 launched November 1. NCARB has created several resources to explain the new version and how the transition from 4.0 to 5.0 will work:
New Test Center Security Measures for ARE Examinees
Starting immediately, Prometric test centers in the U.S. are instituting additional test security measures that include the inspection of eyeglasses, jewelry, and other accessories. Here's what examinees arriving to take the Architect Registration Examination can expect:
All candidates will be required to remove their eyeglasses for visual inspection by a Test Center Administrator (TCA). These brief inspections will occur during initial check-in and upon return from breaks.
Most types of jewelry are prohibited, with the exception of wedding or engagement rings. Candidates should avoid bringing watches, necklaces, bracelets, or earrings to the test center.
Other accessories are subject to inspection, such as headbands, hair clips, ties, cufflinks, or scarves. Please note: religious and medical head coverings are permitted.
Anyone with questions regarding the types of accessories subject to inspection, should contact Prometric directly: