What's New...
June 29 Meeting Canceled
The Board meeting scheduled for Thursday, June 29, has been canceled. It will be rescheduled for July (date to come).
New PE Exam Specifications Starting in April 2018
NCEES has announced several specification and other changes to exams beginning with the April 2018 administration. The following exams are affected:
Architectural Engineering
all 3 Electrical and Computer exams; also the "Electrical and Electronics" exam will be renamed "Electronics, Controls, and Communications"
Environmental; also it will be reduced from 100 to 80 questions
Structural 16-hour; also it will have new design standards
Civil will have revised design standards for the Construction and Structural modules.
See the link below for the Architectural Engineering exam specifications. The other exam specifications and/or standards will be available in October.
Former Board Member Wins NCEES Central Zone Award
Former AELSLAGID Board member Lisa Hanni, LS, was presented the Central Zone Distinguished Service Award at the recent NCEES Central Zone Meeting. This award is made only to individuals who have rendered outstanding service to the zone or NCEES.
Board Elects New Executive Committee
As called for in statute, the Board at its May meeting elected a new Executive Committee. Dennis Martenson, Professional Engineer, will serve as Board Chair; Terry Groshong, Architect, as Vice Chair; Bob Gunderson, Landscape Architect, as Secretary; and Nirmal Jain, Professional Engineer, as Treasurer. The Immediate Past Chair is Peter Miller, Professional Soil Scientist
FG Exam Costs to Increase in 2018
The Association of State Boards of Geology (ASBOG®) is increasing the Fundamentals of Geology (FG) examination fee from $150 to $200. The increase will go into effect for the Spring 2018 examination.
NCARB Survey Shows Number of Architects Holding Steady, Mobility Increasing
According to a 2016 survey by the National Council of Architectural Registration Boards, there are 109,748 architects in the United States. While the number is consistent with last year's survey, the 2016 survey reveals that reciprocal licensure has increased by 3 percent. At the time of the survey in Minnesota, 1,974 licenses were held by residents and 1,599 licenses were reciprocal, for a total of 3,573 licenses.
The number of individuals working towards licensure also held steady in 2016, with more than 41,400 candidates taking the Architect Registration Examination (ARE®) and/or reporting Architectural Experience Program™ (AXP™) hours.
List of Individuals with 2016 CE Carryover Now Available
Those already looking ahead to June 2018 renewals and wondering if they have continuing education carryover from the previous period can check for their name and information on a PDF document (see link below). If your name does not appear, you do not have any carryover, according to Board records.
New Issue of The CommunicatorAvailable
The Winter 2017 issue of the Board newsletter, The Communicator, is now available for download.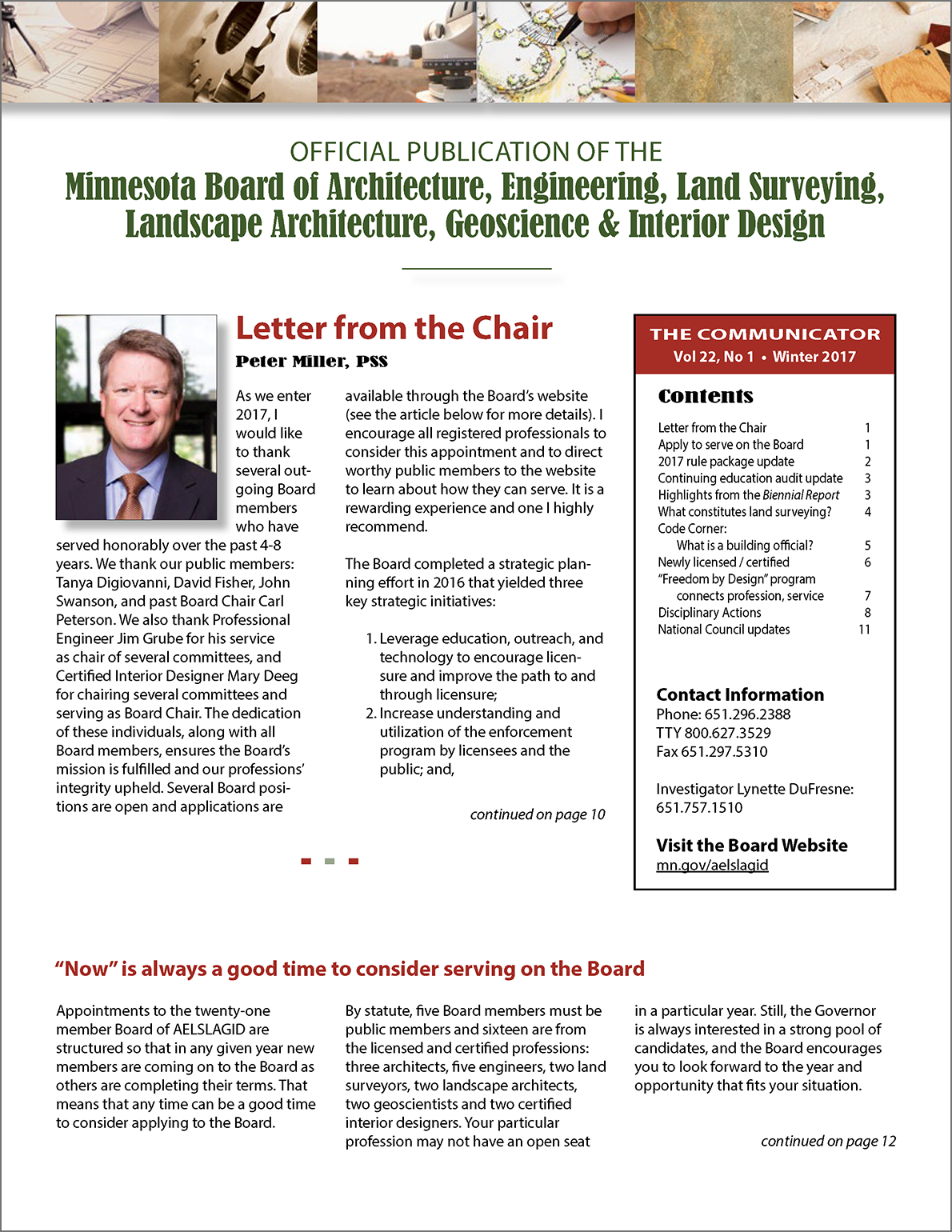 NCEES Announces 2017 Surveying Education Award
NCEES is recognizing surveying/geomatics programs that best reflect NCEES' mission to advance licensure for surveyors in order to safeguard the health, safety, and welfare of the public. The 2017 NCEES Surveying Education Award competition launched during National Surveyors Week (March 19-25). Entry materials and competition details are available on the NCEES website. A grand prize of $25,000 will be offered, as well as multiple $15,000 and $10,000 prizes.
2017 NCEES Exam Specifications Now Available
Updated design specifications and design standards have been posted on the NCEES web site. Please note that if you are taking either the PE Civil or PE Mechanical exam, you will be asked to select an afternoon module when you apply.
LARE Exam Updated in April 2017
Revisions announced by the Council of Landscape Architectural Registration Boards (CLARB) to the Landscape Architect Registration Examination (LARE) were made effective April 2017. Among the changes to the exam are new content focusing on maintenance, historical preservation, performance metrics and specialty plans. These updates align the exam with current practice.
This update has no negative impact on candidates who have already successfully completed sections of the exam. All exam sections, through the December 2016 administration, remain equivalent to the new exam sections that CLARB began administering in April 2017.
NCARB Launches ARE® 5.0
The Architect Registration Examination (ARE) version 5.0 launched November 1. NCARB has created several resources to explain the new version and how the transition from 4.0 to 5.0 will work:
New Test Center Security Measures for ARE Examinees
Starting immediately, Prometric test centers in the U.S. are instituting additional test security measures that include the inspection of eyeglasses, jewelry, and other accessories. Here's what examinees arriving to take the Architect Registration Examination can expect:
All candidates will be required to remove their eyeglasses for visual inspection by a Test Center Administrator (TCA). These brief inspections will occur during initial check-in and upon return from breaks.
Most types of jewelry are prohibited, with the exception of wedding or engagement rings. Candidates should avoid bringing watches, necklaces, bracelets, or earrings to the test center.
Other accessories are subject to inspection, such as headbands, hair clips, ties, cufflinks, or scarves. Please note: religious and medical head coverings are permitted.
Anyone with questions regarding the types of accessories subject to inspection, should contact Prometric directly: