The groundswell of support for reform continued to grow. In 1950, Geri Joseph published a follow-up series, noting improvements in the state institution system.
Among the improvements: A shared diet for both employees and residents, the nation's first "Patient Bill of Rights," and establishment of the nation's first volunteer services office.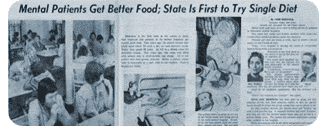 By the 1950s, some improvements were seen.