In 1990, the historic Americans with Disabilities Act (ADA) was signed by President George Bush. The ADA incorporated the statements made about equal rights from all previous decades. The Act was co-sponsored by Senator Dave Durenberger and Senator Tom Harkin of Iowa.
For the first time, citizens with broad-based disabilities, developmental and otherwise, had national legislation that protected their rights as individuals. It also forced employers, educators, landlords, builders and other service providers to improve access and opportunities to all citizens regardless of their abilities.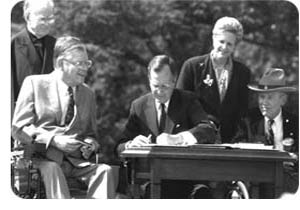 President George Bush signed the historic
Americans with Disabilities Act in 1990.