Council-Sponsored Grant Activities: Employment (2016)
The Discovery Process is a tool, an information gathering strategy that involves seven stages of learning about an individual. The Process includes interviews with the person and his or her family along with relevant school and work experiences. Three vocational themes are identified that best match with the person's interests, talents, and skills. A narrative description includes ideal conditions of employment, and a job/business development plan identifies 20 businesses that correspond with the vocational themes. Informational interviews are scheduled. The end result is a job offer.
During the 2015 project year, six transition students and nine adults with developmental disabilities were directly employed, earning minimum wage or above. This was the first year that transition students in St. Paul and Moundsview school districts had paid jobs through their school programs. Six individuals worked more than 20 hours per week; one student landed a temporary position at the State Fair, working eight hours per day for the 13 days of the Fair.
One individual completed an Associate Degree in Culinary Arts; two individuals are completing coursework for Associate Degrees in Architectural Drafting and Communications.
Job seekers had informational interviews with 214 businesses; and 354 individuals with developmental disabilities, parents, educators, and vocational rehabilitation staff attended training events.
Success Stories:
In August 2015, Josh started a new job with Room and Board, working on a maintenance team at their corporate campus. His position comes with perks so he has access to an onsite fitness center and basketball court. This all fits with his vocational themes of sports and manual labor with a team. Room and Board is committed to developing employees for promotions and advancement so Josh has the opportunity to learn new skills. He has already expressed an interest moving to warehouse work in the future.
In August 2014, Desiree accepted a teacher's aide position at Lighthouse Explorers Christian Child Center where she's working 18 hours per week. She's delighted with a job match that matches her vocational themes of faith, community, and children.
Victoria is working 35 hours a week in a home day care setting. This matches her interests in helping others and movement, and also gives her the opportunity to assist with food preparation and another of her vocational themes in the culinary arts. She completed several trainings prior to starting her job, including becoming certified in CPR and Fist Aid. Victoria and the children in her care seem happy to have found each other.
Katie has many connections to seniors; and her interests in helping others, listening to stories, and visual engagement became an ideal match as a server and activity assistant at Mainstreet Village. She is working 18 hours per week, has many opportunities to be with the residents and hear their stories, and thoroughly enjoys the environment where murals and living spaces reflect each of the residents there.
Jessica enjoys animals and helping other people, likes wearing a hat and comfortable clothes. Her enthusiasm and not being concerned about "getting dirty" but just jumping right in and doing the job paid off when she did a job tryout at Petland. Until she finishes school, Jessica will be working 15 to 20 hours a week as a kennel attendant.
Jim values his job, has an almost unparalleled work ethic, and didn't let a major disruption in his life about a year ago take its toll on his job. In the midst of having to find a new place to live and many options not being available to him, work provided some stability and a sense of continuity that Jim very much needed at the time. He now has a new home, has made a lot of adjustments and has successfully taken on additional responsibilities at Cub.
Abby has interests in athletics and health education so her job as a trainer's assistant at Fit Body Boot Camp is a good match. She one of the first people new clients meet. She does assessments, and records their weight and other fitness measures – helping everyone to get off to a positive start and better health.
Richard is very interested in cooking and culture so his job search for a restaurant that is ethnic oriented and serves dishes that are true to their country of origin was relatively easy. Arepa Bite specializes in Venezuelan food – home cooking prepared from scratch. Richard started his job in the kitchen, dishwashing and cleaning, and taking advantage of learning more about food prep and the culture of Venezuela.
Jane is delighted with her new job at AMC Roseville. She's part of a film crew working in the food service area. Her personal interests are working with people and with her hands so this is a good match. This may also give her the opportunity to learn new skills or consider other positions within the theater environment.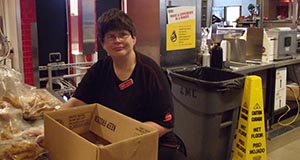 Michael started a new job in April at Burnet Title as a production support person. He works with a team to make sure that insurance forms are completed accurately and in a timely manner. He is responsible for proof reading and scanning documents, and entering codes. Burnet Title is a great environment and match for his interests in research, fact finding, and accuracy.
View 2015 Employment Grant Activities >>
View 2014 Employment Grant Activities >>
View 2013 Employment Grant Activities >>