Council-Sponsored Grant Activities
Partners in Policymaking Class 36
September 21–22, 2018 was the first weekend session for Class 36 Partners in Policymaking. Thirty-five individuals – 11 self advocates and 24 parents (four individuals from racial/ethnic minority communities) are participating in this year's leadership training program.
Inclusive Education was the theme and focus for the second weekend session on October 12–13, 2018. Participants learned and applied the concepts and principles of best practices in schools and all leaning environments, and the rules of civil discourse in difficult conversations and meetings.
The weekend of November 16–17, 2018 highlighted the County Role in Developmental Disabilities, the purpose and functions of local government, and meetings with County Commissioners to begin the process of establishing partnerships with elected officials.
The weekend of January 11–12, 2019 highlighted Living – the full range of types of housing that are available and financing options, and Supported and Customized Employment – emphasizing that "everyone can work."
The weekend of February 8–9, 2019 introduced participants to the concept of Community Organizing and small group work that focused on Minnesota's Olmstead Plan – why the Plan is important, Plan goals and strategies, and preparing and presenting testimony to support or strengthen amendments to the Plan.
This year's State Legislative weekend session was on March 17–18, 2019.  An overview of the legislative process; an introduction to bill reading, and preparing and presenting testimony during mock hearings filled much of the first day. The opportunity to transfer that classroom learning followed the next day as participants met with their state legislators, sharing personal stories about policy issues as well as proposed legislation, and enjoyed a tour of our State Capitol.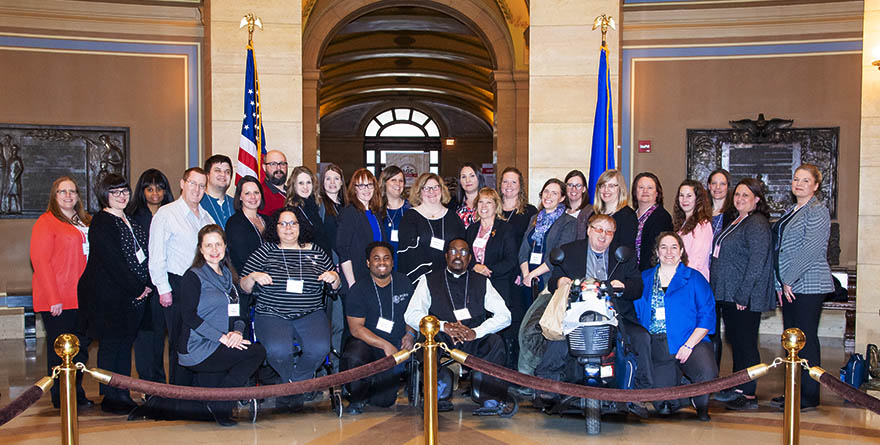 ---
Cultural Outreach Program in the Somali Community
Since 1992, a cultural outreach and leadership training program was offered in the African American community. Most participants were residents of Hennepin County and training sessions were held in North Minneapolis.
In 2017, the cultural outreach program was introduced to the Somali community. The Horn of Africa Aid and Rehabilitation Network (HAARAN) is carrying out the program. Participants are residents of Nicollet and Mankato counties and training sessions are held in St. Peter, Minnesota where HAARAN is located.
Many of the residents in this part of the state resettled to the United States from refugee camps in the five countries that comprise the Horn of Africa. They all bring their cultural and religious beliefs, customs and practices here; and all inform the new knowledge, awareness, and understanding of the services and supports that are available for parents with children with developmental disabilities and adults with disabilities.
In their homeland, children with disabilities had no access to services or care, parents were shunned, and may not have been allowed to participate in community life. In contrast, the knowledge they are gaining and  skills they are learning in the training sessions are providing them and their children with a quality of life that before they had not known.
Abdi Matan, President of HAARAN, is recognized and respected as a leader in his community. He founded HARAAN in 2008 in Maine to bring knowledge about disabilities and disability services to refugees. In 2014, he came to Minnesota and brought his organization to St. Peter, Minnesota. He is dedicated and committed to serve the Somali community, and carry out programs that will change attitudes and the lives of individuals with disabilities and their families. Together with Christina Feller, he is helping to coordinate this cultural outreach program and serve as interpreter.
Twenty individuals were recruited to participate in the Cultural Outreach Program.  On October 27 – 29, 2017, the first three training sessions were held.
Read the Complete Report, and View Photos >>
---
Self Advocacy – Ambassadors for Respect Anti-Bullying Campaign
The Ambassadors for Respect Anti-Bully Campaign is beginning  a new phase in order to both replicate and expand the program, making it available to other schools and many other students. In the Spring of 2017, the replication process began and the Ambassadors for Respect Handbook was created.
The Handbook was designed to reflect the spirit and intent of the anti-bullying program, inspired by four self advocates who had experienced bullying.  Under the guidance and support of Colleen Timbers, the program was first introduced in 2013 in three elementary schools in the Northeast Metro area, reaching 330 students.  Over four years, 10 additional schools waned to participate and thus the program grew.
The Handbook begins by addressing the problem of bullying, the incidence among school age children generally and the even greater incidence among students with disabilities. The Handbook is intended to serve as a guide, incorporating information and tips on how to develop presentations, and provide the support and assistance to transition students, the next generation of Ambassadors for Respect, as they develop and strengthen their teaching and leadership skills in the classroom with fourth grade elementary school students.
In 2018, PeaceMaker Minnesota created content for the training sessions and  developed a replication plan.  PeaceMaker schools and Board members, transition programs, staff from participating schools, and individuals who had requested copies of the Handbook were invited to provide input into the replication process.  That was the basis for launching this next phase, building on what was learned in those early years.
The  first training  session was held at Otter Lake Elementary School on March 22, 2019 with four teachers and 110 students participating.
Read the Complete 2019 Program Report >>
2017 Program Highlights >>
2016 Program Highlights >>
2015 Program Highlights >>
2014 Program Highlights >>
---
Employment
The Discovery Process is a tool, an information gathering strategy, that involves seven stages of learning about an individual's interest and skills to better match with employment opportunities, or shape job possibilities that will be successful and productive for the individual.
During 2017, Mounds View Life Training Transition Program and North St. Paul's Next step Transition Program completed initial work with students using a modified discovery process. That work is continuing in 2018 resulting in students finding jobs that are in keeping with person centered planning principles.
Read the Complete 2018 Report >>
2017 Program Highlights >>
2016 Program Highlights >>
2015 Program Highlights >>
2014 Program Highlights >>
2013 Program Highlights >>
---