Council-Sponsored Grant Activities: Employment (2013)
The Discovery Process is a tool, an information gathering strategy that involves seven stages of learning about an individual. The Process includes interviews with the person and his or her family along with relevant school and work experiences. Three vocational themes are identified that best match with the person's interests, talents, and skills. A narrative description includes ideal conditions of employment, and a job/business development plan identifies 20 businesses that correspond with the vocational themes. Informational interviews are scheduled. The end result is a job offer.
During the 2013 project year, the Discovery Process resulted in six transition students and six adults with developmental disabilities finding jobs that matched the vocational themes they had identified. They each earned at least minimum wage, and worked between 15 and 25 hours per week at a suburban YMCA, a Bistro, Eurest Dining, Midway Pro Bowl, St. Paul Parks and Recreation, Scholastic Book Fair, and Pep Boys. In addition to a part time, seasonal job with Minnesota Spice Nice, one individual completed an internship at the Harvest Moon Coop and then took on a second job at the Coop.
During the current project year, three transition students have started the Discovery Process, and one individual has completed informational interviews at the Edina Art Center and Bloomington Theatre and Art Center. One young adult is enrolled at Minneapolis Community and Technical College, and completed a sociology course in the fall. Another young adult has competed drafting classes at Hennepin Technical College.
Lauren started her new job at Therapy for Me, a speech and occupational therapy clinic in Eden Prairie, in early January for two days a week. She's responsible for prepping the therapy rooms, organizing equipment and communication resources, and working with the speech therapists. Lauren also has another part time job and is keeping both at the present time.
Eric has been employed at the Burnsville YMCA for over a year, supervising the young people in the Xrcade. He's very health conscious; exercise and physical activity are very much a part of his daily routine. Eric has a black belt in Karate/Taekwondo, works out regularly, and also attends a weekly underwater treadmill class. So he was up to the challenge when the Y decided to make their activities more active and instituted a policy that all employees must be "first responder ready," which meant becoming CPR/AED certified. Eric was successful in completing both the online and skills portion of the certification test to be first responder certified.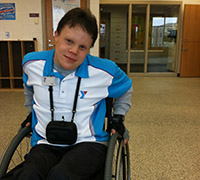 Eric is employed at the Burnsville YMCA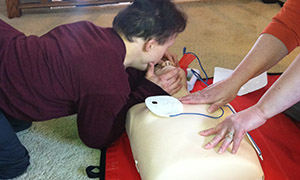 First Responder Certification Training
Elliot secured full time employment as a page for the Minnesota Legislature, a great match for his interest in helping people and desire to build a career in politics. The Minnesota House of Representatives passed a resolution commending him for his service and accomplishments.
Elliot is employed as a page at the Minnesota Legislature
The Minnesota House of Representatives passed a resolution commending him