The decennial (every 10 year) U.S. Census aims to count every resident in the United States. It is mandated by Article I, Section 2 of the U.S. Constitution and has been taking place since 1790. The data collected by the decennial census determine the number of seats each state has in the U.S. House of Representatives and is also used to direct the distribution of federal funds.
At the local level, the census provides critical data for decision-making: helping policymakers plan for infrastructure needs, helping businesses understand their markets, helping nonprofits align their services, and helping everyone understand how their communities are changing. The results of each decennial census are also used by states for redistricting. Redistricting is when state officials realign congressional and state legislative districts in their states, taking into account population shifts since the last census and assuring equal representation for their constituents.
PDF versions of each decennial census are available from the U.S. Census Bureau. This page features select reports with historical decennial data. Additional historical offerings are available here (including procedural histories and the Measuring America report). IPUMS-USA also catalogs all published decennial census volumes in an easy-to-navigate format, in addition to copies of the enumeration forms (questionnaires) used in each census beginning in 1850.
There are several other ways to access historical decennial data electronically.
The tools below may help you find the historical decennial Census data you need.
American FactFinder
American FactFinder (AFF), the U.S. Census Bureau's primary data retrieval tool, contains data from the
2000 and 2010 decennial censuses
only, but it contains thousands of decennial tables.
This link into AFF will show you commonly requested 2000 decennial census data for Minnesota, any any county or city within it
(from the DP-1, Profile of General Demographic Characteristics: 2000. Click the in the upper right of the table to advance to your geography of interest). Alternately you can download this file in CSV format for
all counties
or for
all cities and townships
in Minnesota. 
---

Minnesota Compass, a project of Wilder Research, features thousands of interactive graphs, maps, and tables for MN geographies. Its Demographics Topic section is rich with decennial data on total population, race and ethnicity, and age data, often dating back to the 1950 or 1960 decennial census. By using the dropdown menus in the gray banner above any graph, users can change geographies, further disaggregate data by subgroups, view data tables, or download data in a CSV file. Geographic profiles contain popular 2000 decennial data points compared more recent data.
---
Social Explorer allows users to interact with maps and tables featuring various decennial census data back to the original 1790 census at no charge. Geographies and topics available vary by year. Additional data and features are available through a paid subscription (check with your local academic or public library for availability).

---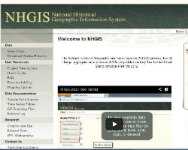 National Historic Geographic Information System (NHGIS)
NHGIS, a project of the University of Minnesota Population Center, provides free aggregate census data and GIS-compatible boundary files for volumes of decennial data back to 1790 as well as the more recent American Community Survey data. Users have to create a free account to extract data. Statistical software not required; Microsoft Excel will suffice.
---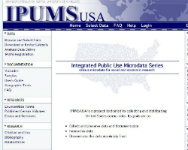 Integrated Public Use Microdata Series (IPUMS-USA)
IPUMS-USA, a project of the University of Minnesota Population Center, provides free, anonymized individual record census data ( microdata ) samples for volumes of decennial data back to 1850 as well as the more recent American Community Survey data. The data may be tabulated by advanced users for geographies down to the Public Use Microdata Area (PUMA) level, which contain at least 100,000 people. Users have to create a free account to tabulate data online or extract data. Statistical software required for extracts.