K-12 Education Study for Students with
Developmental Disabilities 2013
---
In 2012, MarketResponse International conducted a general population survey of Minnesota households to track changes in attitudes about people with developmental disabilities over the past 50 years. A parallel survey was also done with households with a family member with developmental disabilities. Both surveys also contained questions about quality of life issues, including the future outlook of education services.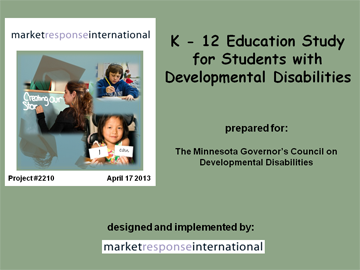 View as Slides View as PDF View as Text
Based on findings, the surveys showed a significantly more negative outlook about education services among households with a son or daughter with developmental disabilities. As a result, education was not only selected for this year's study but a relatively new approach and methodologies, referred to as Narrative Research, were used. Rather than framing a study around a preconceived idea and testing it out, narrative methods rely solely on the stories shared by participants and their personal experiences around a specific topic.
This study explains Narrative Research and what was learned about education services in Minnesota from students with developmental disabilities, parents, teachers, school administrators, and case managers.
Class 30 Partners were involved in one of the narrative focus groups for this research study. The images here are both Partners participants as well as MarketResponse International staff who were conducting the focus group: