Council-Sponsored Grant Activities: Self Advocacy – Anti-Bullying Campaign
Ambassadors for Respect, self advocates who are learning teaching and training skills, will be leading training sessions for 4th grade elementary school students about how to deal with and address bullying issues. Anti-bullying training sessions will be held in three schools in the North St. Paul and White Bear Lake school districts that participated last year, and three new schools this year that include the Mahtomedi school district. Teachers and paraprofessionals are also involved in the training sessions so they can reinforce the tips and tools that students learn.
Curriculum from PeaceMaker Minnesota is modified so that students with and without disabilities can benefit from this training. Efforts are underway to sustain funding for anti-bullying activities and expand these training sessions to school districts throughout the state.
During the first project year, 2014, a total of 330 students and 23 teachers were reached at 11 training sessions that included several interactivities at each of the schools.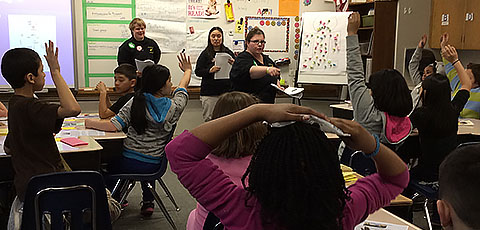 In April, the Ambassadors for Respect presented six classroom training sessions at Vadnais Heights and Willow Lane Elementary schools in Vadnais Heights, and Cowern Elementary school in North St. Paul. A total of 185 students and eight teachers participated. A majority of the students at each location as well as the teachers offered comments about the sessions, the learning that took place, the stories that were shared, and the valuable messages that were left with everyone.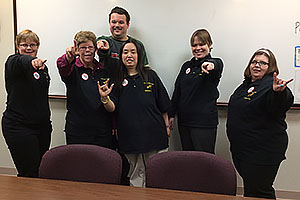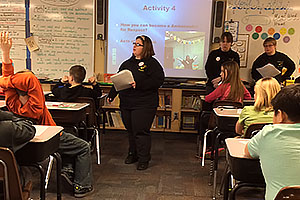 A sample of comments from students –
"Who cares if you have a disability. We are all the same. I liked when we shredded the hurtful words. Thanks for coming!!!!"

"The acts of kindness activity was my favorite activity."

"I will tell my friends and family not to say the "R" word and I liked the shredding of the hurtful words."

"My favorite part was when you told your stories."

"That helped me understand why people bully."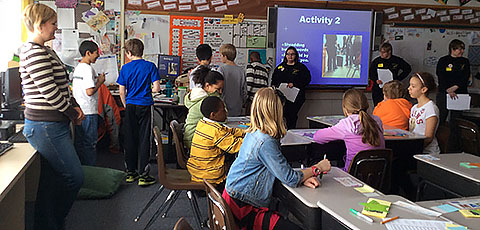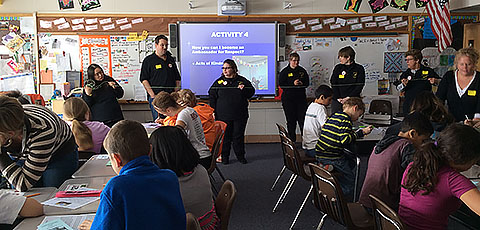 A sample of comments from teachers –
"They (Ambassadors for Respect) are wonderful role models and accomplishing great thing. I will be working with the students throughout the rest of the school year to ensure the message is followed through. Thank you."

"Thank you so much for the worthwhile presentation! You were all so organized and motivating! The Fourth Graders were mesmerized by your stories."

"The presentation was great! The activities were well thought out and planned well. Very powerful! You have made a difference."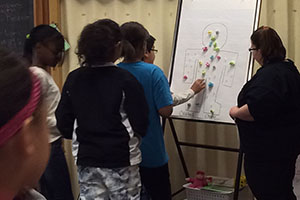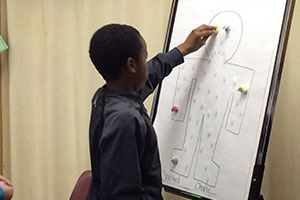 In May, Ambassadors for Respect presented three training sessions for 4th grade students at Otter Lake Elementary school in White Bear Lake; 83 students and three teachers participated. A second round of training sessions with 5th grade students may be considered for the next school year to reinforce concepts that are being first introduced at the 4th grade level.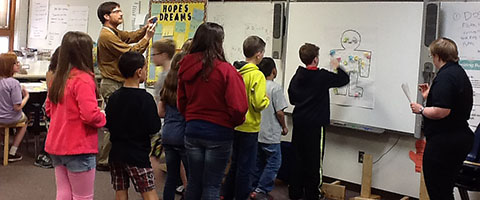 An unscheduled training session was done for a 5th grade classroom as a result of a bullying incident that targeted a student with developmental disabilities.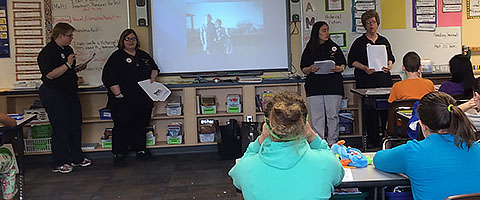 Students and teachers continue to speak highly about the value of these sessions, and the positive messages that serve to increase awareness and strengthen the notion of respect.
Examples of comments from students:
"Thank you for teaching us which words which words are bad and not good to be said."

"Thank you for teaching us about respecting others."/p>

"Thank you for coming and spending your time here today. Today at recess I'm playing with a girl that always gets left out."
And comments from teachers:
"Hearing directly from those who were teased and/or bullied was very meaningful to the students"

"Thanks so much. We loved the morning with you."