[ST. PAUL, MN] – Governor Tim Walz and Lieutenant Governor Peggy Flanagan today announced the hiring of Chris Taylor as the Chief Inclusion Officer. Taylor is currently the Chief Inclusion Officer with the Minnesota Historical Society.
"I am excited to hire Chris Taylor as the Chief Inclusion Officer for the State of Minnesota," Governor Walz said. "Chris demonstrates a deep commitment to supporting diversity and equity in everything he does. The Lieutenant Governor and I could not ask for a better partner to lead the One Minnesota Council on Diversity, Inclusion, and Equity, and make sure our institutions across the state look like and support the people we are working for."
"We are better as an office, a community, and a state when the perspectives of all Minnesotans are at the table and empowered to use their voices," Lieutenant Governor Flanagan said. "Chris approaches his work through the lens of equity, and has deep relationships with important stakeholders, including our communities of color, Native communities, school districts, and higher education institutions. I look forward to collaborating on an issue close to my heart."
"We are fortunate to live in a state that affords us the opportunity to learn from so many cultures. As the Chief Inclusion Officer, I am humbled and excited to support the Governor and Lieutenant Governor's vision for One Minnesota," Chris Taylor said. "I'm looking forward to building cohesion across difference and recognizing and honoring the rich mix of cultures that makes Minnesota unique."
"I am thrilled to work with Chris. He is a transformational leader and the perfect choice for the Chief Inclusion Officer position," Minnesota Department of Human Rights Commissioner Rebecca Lucero said. "In his career, Chris has honed the skills and vision needed to help shift Minnesota government to an ever more inclusive and equitable place, and now is the right time for this to happen. Minnesota is changing rapidly. We're getting older and we're getting more racially diverse so we know we have to do things differently. Chris will support the work of agencies across Minnesota to shift our workplace culture in a powerful way."
"Chris Taylor is about the work of Inclusion," Damon Shoholm, Director of the James P. Shannon Leadership Institute through the Amherst H. Wilder Foundation, said. "He is the experienced professional we need to develop and implement a vision and related strategies for this work throughout Minnesota. More importantly, he brings his entire self to the work, having spent critical time to understand and align his personal values with his professional commitment. This not only deepens his effectiveness, but also increases his credibility with colleagues and community. I am so very excited for Chris and for our State."
Taylor will begin this position on Monday, May 6.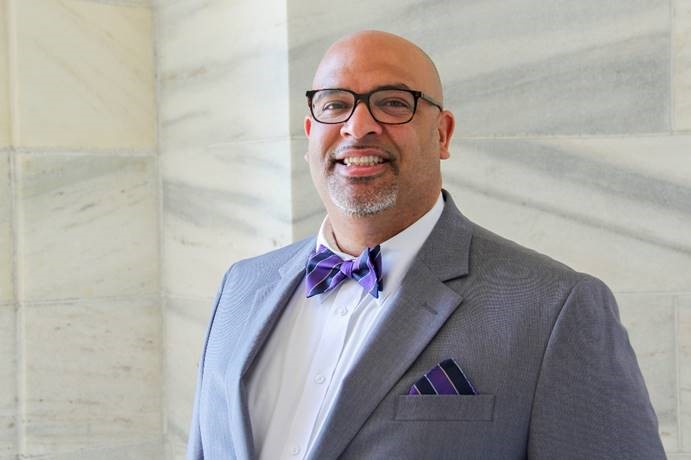 About Chris Taylor
Chris Taylor is the Chief Inclusion Officer at the Minnesota Historical Society. In this role, he is responsible for recruiting and retaining a more diverse workforce, facilitating a more welcoming and inclusive organizational culture for all people and identities, establishing a training program to increase the intercultural competence of staff, and building sustainable relationships with Minnesota's diverse communities. Taylor has served the Minnesota Historical Society for nearly 14 years, joining the organization as the Diversity Outreach Manager, providing support for students in the National History Day program. Additionally, Taylor is an independent nonprofit consultant, focusing on strategic planning, intercultural competency trainings, and building inclusive leadership. He has developed and facilitated undergraduate museum fellowship programs and is a co-creator and of the Heritage Studies and Public History program, a partnership between the Minnesota Historical Society and the University of Minnesota.
Taylor received his Bachelor's degree from the University of St. Thomas and a Master's degree from the Cooperstown Graduate Program for Museum Studies. He is currently working on a Doctorate of Education in the Organization Development and Change program at the University of St. Thomas.
About the Chief Inclusion Officer
The Chief Inclusion Officer will help provide direction to advance the work of diversifying employees and appointments, improve employee retention, expand government contracts with diverse businesses, create equitable policies, programs, and community engagement, and fulfill the Administration's commitment to become one of the best employers in the State of Minnesota. The Officer will also oversee the One Minnesota Council on Diversity, Inclusion, and Equity established by Governor Walz's first executive order.
The Chief Inclusion Officer position was created in 2016 by the Dayton Administration. The role, while still housed in the Governor's Office, has been elevated to Assistant Commissioner status.
About the Hiring Process
The opening was announced on February 5, 2019 and closed twenty-one days later on February 25, 2019. The applications were screened by a hiring panel of twenty private and public sector leaders, including:
Armando Camacho, President and CEO of Opportunity Partners
Ed Fairbanks, Minnesota Indian Affairs Council
Senator Foung Hawj
Senator Jeff Hayden
Sia Her, Executive Director of the Council on Asian Pacific Minnesotans
Commissioner Jennifer Ho, Minnesota Finance Housing Agency
Edwin Hudson, Deputy Commissioner at Minnesota Management and Budget
Henry Jimenez, Executive Director of the Minnesota Council on Latino Affairs
Abdirahman Kahin, CEO of Afro Deli & Grill
Migdalia Loyola, Governor's Office Deputy Chief of Staff for Public Engagement
Commissioner Rebecca Lucero, Department of Human Rights
Nicole Matthews, Executive Director of the Minnesota Indian Women's Sexual Assault Coalition
Representative Rena Moran
Clyde Pickett, Chief Diversity Officer at Minnesota State Colleges and Universities
Commissioner Alice Roberts-Davis, Department of Administration
Chris Schmitter, Chief of Staff to the Governor
Justin Terrell, Executive Director of the Council for Minnesotans of African Heritage
Stella Whitney-West, CEO of NorthPoint Health & Wellness Center
Colleen Wieck, Governor's Council on Developmental Disabilities
Amanda Simpson, Governor's Office Chief Operating Officer
The hiring panel recommended three finalists from the 72 applications received. The Governor and Lieutenant Governor interviewed these finalists on April 9 and 10, and then made their final selection.
In the interest of transparency, the Administration is releasing the names of the other finalists. They are Tracey Gibson and Todd Williams.