Title: Minnesota Driver's License
Alternate Title: Minnesota Driver's License
Description: Minnesota Department of Public Safety (DPS)
Subject: Drivers
Drivers' License
Creation Date: 9/15/2008 11:06:59 AM
Modification Date: 2/9/2021 11:46:05 AM
Agency Name: Public Safety (DPS), Minnesota Department of
Agency URL: https://dps.mn.gov
Agency Description:
The Minnesota Department of Public Safety (DPS) is responsible for the Bureau of Criminal Apprehension (BCA), Alcohol and Gambling Enforcement, Driver and Vehicle Services (DVS), Emergency Communication Networks, Homeland Security and Emergency Management, Office of Justice Programs, State Fire Marshal, Pipeline Safety, State Highway Patrol, Capitol Security and Traffic Safety.
Agency Phone: 651-201-7000
Agency Fax: Agency URL: https://dps.mn.gov
Agency Address: Public Safety, Minnesota Dept. of
445 Minnesota Street

St. Paul
MN 55101


Division Name: Driver and Vehicle Services (DVS)
Division URL: https://dps.mn.gov/divisions/dvs/Pages/default.aspx
Division Description:
Division Phone: 651-297-3298
651-284-2000 Driver's License Status
651-282-6555 TTY
Division Fax: Division URL: https://dps.mn.gov/divisions/dvs/Pages/default.aspx
Division Address:
445 Minnesota St., Suite 190

St. Paul
MN 55101-5190


Audience: Application URL:
Renewal URL:
Versa URL:
Requirements:
View the MN Dept. of Public Safety driver's manuals: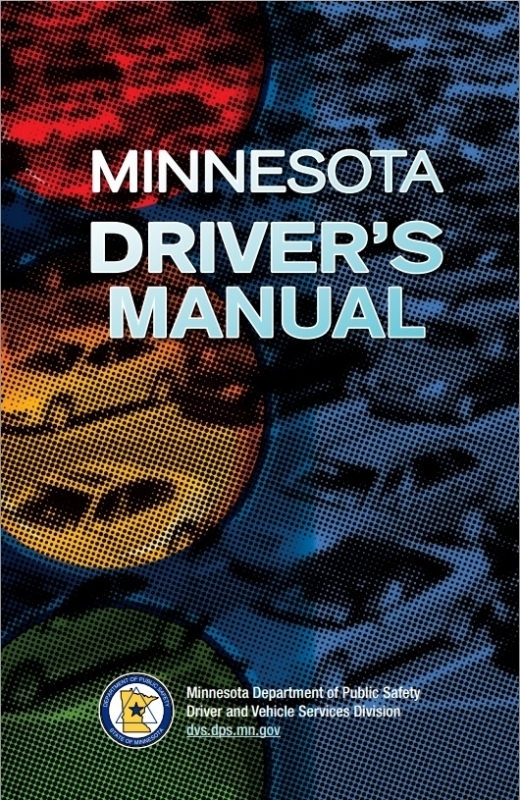 or El Manual Del Conductor De Minnesota (Spanish Driver's Manual) 
The Driver's license manual is a summary of Minnesota's motor vehicle and licensure requirements. For complete standards, consult the state statutes and rules. 
---
Summary of Requirements

Testing:

Knowledge (Written) Test: Knowledge tests are available on a walk-in basis at driver exam stations during certain hours. The person must show proper identification when they are ready to take the test. The knowledge test contains multiple choice and true false questions that show how well the person knows and understands Minnesota traffic laws and road signs. Only one test is allowed per day. Some stations offer a computerized test which is available in English or several other languages (Hmong, Vietnamese, Somali, Spanish, and Russian).

Skill (Road) Test: The skill test consists of a demonstration of the vehicle's safety equipment, vehicle control skills and a driving performance test. The person is tested on their ability to drive a motor vehicle safely under normal traffic conditions. The person may not have anyone in the car during the test other than the driver examiner. It is recommend that an appointment be scheduled for the skill test at a Driver Exam Station or at Schedule a Skills Test. 
View the Office Locations

* The person must show proper identification when they take the test.
* They must provide their own vehicle to take the test.
* The passenger door on the vehicle must open from both the inside and the outside.
* Seatbelts must work properly.
* Turn signals, brake lights, and headlights must work.
* They must provide current proof of insurance (such as an insurance certificate) for the vehicle used for the test.

Vision Check: The person's vision will be screened when they apply for a permit or license. This is not a medical exam, it is a screening to determine if their vision meets minimum standards. To pass, the person's normal or corrected vision must be at least 20/40 in either one usable eye or both eyes together. Peripheral vision must be at least 105 degrees in either one or both eyes.
---
New Resident

* New residents have 60 days after becoming a resident in Minnesota to obtain a Minnesota license or permit if they have a valid driver's license or instruction permit from another state.

* New residents have 30 days to obtain a Minnesota license after moving to Minnesota if they have a valid commercial driver's license from another state.

If the person works for the United States Armed Forces or are a family member of someone in the Armed Forces stationed in Minnesota and hold a valid out-of-state driver's license the person does not need to obtain a Minnesota license.


Test Requirements: 

* If the person has a valid license from another U.S. state, certain territories (Puerto Rico, American Samoa, Virgin Islands, Guam, Federated States of Micronesia, Marshall Islands, and Northern Mariana Islands), or Canada, they can obtain a Minnesota driver's license by passing the knowledge test and vision screening. They do not need to take a skills (road) test. If the license has been expired for more than a one year, they will also then need to take a skills (road) test.
*If the person has moved to Minnesota from a country other than the U.S. or Canada, they must pass a knowledge test, vision check and skills (road) test. This is true even if they have a valid driver's license from your former home country.
The person must present other driver's licenses. A license from previous state of residence will be invalidated and returned to applicant. Licenses from another country are not invalidated as the person may use them if they have dual citizenship. If the person is unable to present current valid driver's license they will need to supply a certified copy of their driving record.
---
There are four classes of driver's licenses and several endorsements available to Minnesota drivers. Information about the license class and any endorsements or restrictions should appear on the back of the driver's license.

A brief description of the different license classes and endorsements:

Class D License
Most common license for Minnesota drivers.
With a Class D driver's license, driver may operate:

-All single-unit vehicles (cars and pickup trucks), except those with a gross vehicle weight of more than 26,000 pounds, vehicles designed to carry more than 15 passengers (including the driver), and vehicles that carry hazardous materials.
-Any farm truck transporting agricultural products, farm machinery or farm supplies (including hazardous materials) within 150 miles of the farm. The farm truck must be operated by the farmer, his or her immediate family member or an employee of the farmer.
-Operating an authorized emergency vehicle whether or not in excess of 26,000 pounds gross vehicle weight.
-Recreational equipment (motor homes and camping trailers) as defined in Minn. Stat. § 168.002, subd. 27, operated for the driver's personal use.
-A towed vehicle with the combined gross vehicle weight of 26,000 pounds or less.
-Motorized bicycles.
-Motorcycles, with the appropriate license endorsement.
-Neighborhood electric vehicles (NEVs).
-Autocycles.
License Endorsements  
Driver must have an endorsement on license in order to drive motorcycles, buses, school buses, double and triple trailers, tank vehicles, and if driver will carry hazardous materials. All endorsements require additional knowledge tests. Bus, school bus, and motorcycle endorsements require specialized road tests.
Commercial Driver's Licenses
Class A, B and C licenses are called commercial driver's licenses (CDL). A CDL allows a driver to drive all Class D vehicles, in addition to certain types of vehicles included in each driver's license class.

Class C License
With a hazardous materials endorsement, a Class C license holder may transport hazardous materials in a Class D vehicle. With a school bus and passenger endorsement, the holder may operate a school bus or bus designed to transport 16 or more passengers, including the driver.


Class B License
A Class B license, with necessary endorsements, allows the holder to operate all class C and D vehicles and all other single-unit vehicles.
The holder of a Class B license may only tow vehicles with a gross vehicle weight of 10,000 pounds or less.


Class A License
With appropriate endorsements, a Class A license is valid for any vehicle or trailer combination. 
Review the Driver and Vehicle Services Driver's License Information
and  
Minnesota Motorcycle, Motorized Bicycle and Electric-Assisted Bicycle Manual 



Commercial Driver's License (CDL) For Persons Under 21 Years of Age:

Minnesota residents under 21 years of age may obtain a CDL. The license will carry specific restrictions.

For more information about CDLs and CDL requirements, review the  
Minnesota Commercial Driver's Manual

Note: If a driver operates any class of vehicle as an employer or employee, they may be subject to commercial motor carrier requirements. These requirements may apply to single unit and combination vehicles of more than 10,000 pounds gross vehicle weight (such as construction vehicles), vehicles used to deliver packages and other items, and vehicles designed or used to transport more than eight passengers, including the driver. In order to legally operate these vehicles, a driver may need to possess a valid U. S. Department of Transportation medical examiner's certificate. They may also be subject to restrictions on the number of hours they drive and to vehicle maintenance and inspection requirements.
Rules: 7409
7410
7503
Statutes: 171.02
171.13
Forms:
See:
Apply for a Driver's License
Renew or replace a standard Class D driver's license or State ID. Cannot be used for REAL ID. If you need a photo receipt you must apply at a driver's license office.
Fast Track Driver's License, ID and Title
Enhanced Driver's License (EDL)  and Enhanced Identification Card Just the Facts
Enhanced Driver's License (EDL)  and Enhanced Identification Card requirements
Fees:
Driver's License                                                                                                           Fee
Class A regular
$44.25
Class A, under age 21
$24.25
Class B, regular or under age 21
$36.25
Class C, regular or under age 21
$29.25
**School Bus processing fee-original and renewal applications
       $4
Class D, regular or under age 21
$25.25
Provisional driver's license
$16.25
Class D Provisional license upgrade to under age 21 driver's license -no violations on record ($3.50 credit)
    $21.75
Duplicate Driver's License/Identification Card -All Classes

**Enhanced Driver's License (in addition to applicable Driver's License card fee)             

         $14.75

 $15



Identification Cards
Under age 65
$19.25
**Age 65 and older    
       $16.50


Physical Disability, Developmental Disability, or Qualified Mental Illness 

**Enhanced Identification Card (in addition to applicable ID card fee)

   $.50 

   $15

Permits/Endorsements
Class D instruction permit (Valid for 2 years)
$13.25
*Class A, B, or C instruction permit
no fee
*Endorsement examination fees
$2.50
*Motorcycle instruction permit/endorsement fee%
$21
*Motorcycle endorsement renewal (2 wheel only)
$13
**Standby or Temporary Custodian Designation
$4.25
Reinstatement Fees
**Revoked licenses
Alcohol/Drugs/Criminal Vehicular Operation (Effective 7/1/03)
$680
Other offenses - including No-fault Insurance revocation
$30
** Suspended License, includes No-fault Insurance violation (suspended)
$20
CDL Disqualification Fee
$20






   
Motorized Bicycle Operator's Permit:
*Knowledge test and 30 day instruction permit
$6.75
Motorized Bicycle Operator's Permit before age 21 and valid to age 21
$9.75
Duplicate permit
$5.25




Renewal, age 21 or older
$15.75
Retesting Fees:
*Third and subsequent knowledge (written) test after failing first two.
$10
*Third and subsequent skill (road) test after failing first two
$20
*Available at driver exam stations only
**Fee does not include the cost of a new license
Period of Issuance:
Length of Determination:
Other Info:
Activity: License Detail URL:

Social Media