The process: How change happens
Whole Family Systems Initiative is a partnership between state agency staff, site staff, families and other key partners. A Theory of Change guides the work with a comprehensive description and picture of expected change and goals.
Human-centered design
Whole Family Systems Initiative uses the principles of Human Centered Design which focuses on the experiences and needs of specific groups. Listening to all feedback and centering family voice, applying creative responses, and iterative learning are practices we use to bring people from various parts of the system together in this process.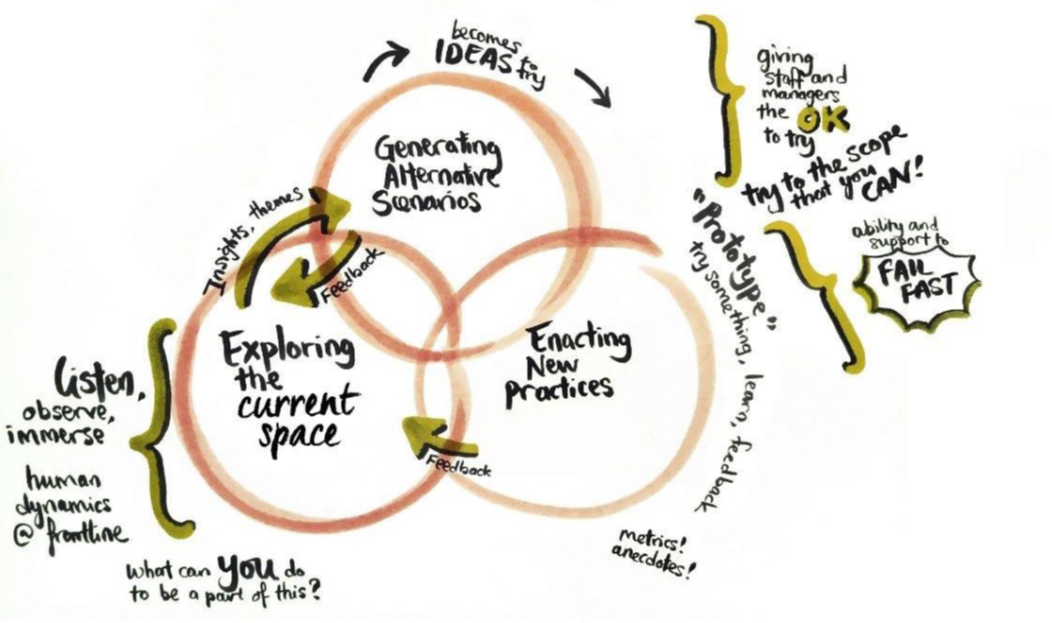 The nature of this work is emergent, and learning happens together. Some of the changes that will emerge include tangible results (such as policy changes, integrated programs, thoughtful methods of engagement, culturally significant practices, deeper resource investment where matters), and intangible results (such as better experiences for families and workers, stronger relationships between partners, collective knowledge on doing this important work together). 
The Department of Human Services awarded multi-year grants to partnering organizations and had a broad five-year plan for the work. 
Year 1: Exploring the current space 
The design process begins by exploring the current space, via deep diving into the context – who, what, and how. The site teams work together to identify helpful methods to understand existing context. Engagement comes through various methods including conversations, ecosystem mapping, user journey maps, literature reviews, observation and Indigenous and culturally-informed methodologies. Together, we question assumptions being made within the system and uncover assets that push ideas forward. 
Year 2: Generating alternative solutions 
Potential solutions are imagined as part of Generating Alternative Scenarios, where ideas are brainstormed and fleshed out to explore what a future might look like. Some insights are then turned into tangible ideas that can be tried quickly in the context, and feedback is used to refine ideas for longer-term implementation in subsequent years. 
Years 3-5: Enacting new practices 
In years three to five, with support from the site teams, local sites will enact new practices to test and adapt as they receive feedback from families and core teams. The learnings from each site will be shared with the Whole Family Systems Initiative network and other state agencies. Policy, practice, and programs will be adapted. 
Feedback Loops
Each site will design its feedback loops and learning plan with the Learning Team. Each plan has a different format to support what's meaningful in it's context. The state site leads work with sites to hear and understand where those concerns 'live' within the state, county, local government, and tribal nations. These localized learnings/feedback then goes to the Learning Team and back to state agencies. Potential policy and practices changes can emerge as a result, with share backs to the sites. The Learning Team will document and share learnings across all sites. See examples of feedback loops and learning paths here. 

Family centered work
This innovative design process puts family voices at the center. Through frequent testing of solutions and an evaluation process focused on highlighting systemic barriers, this work identifies opportunities for system change at all levels. The lessons learned from the prototypes are used to inform state-level policy change, which can include drafting legislation, state agency administrative change or guidance, county administrative change, federal change and making new tools or technology available.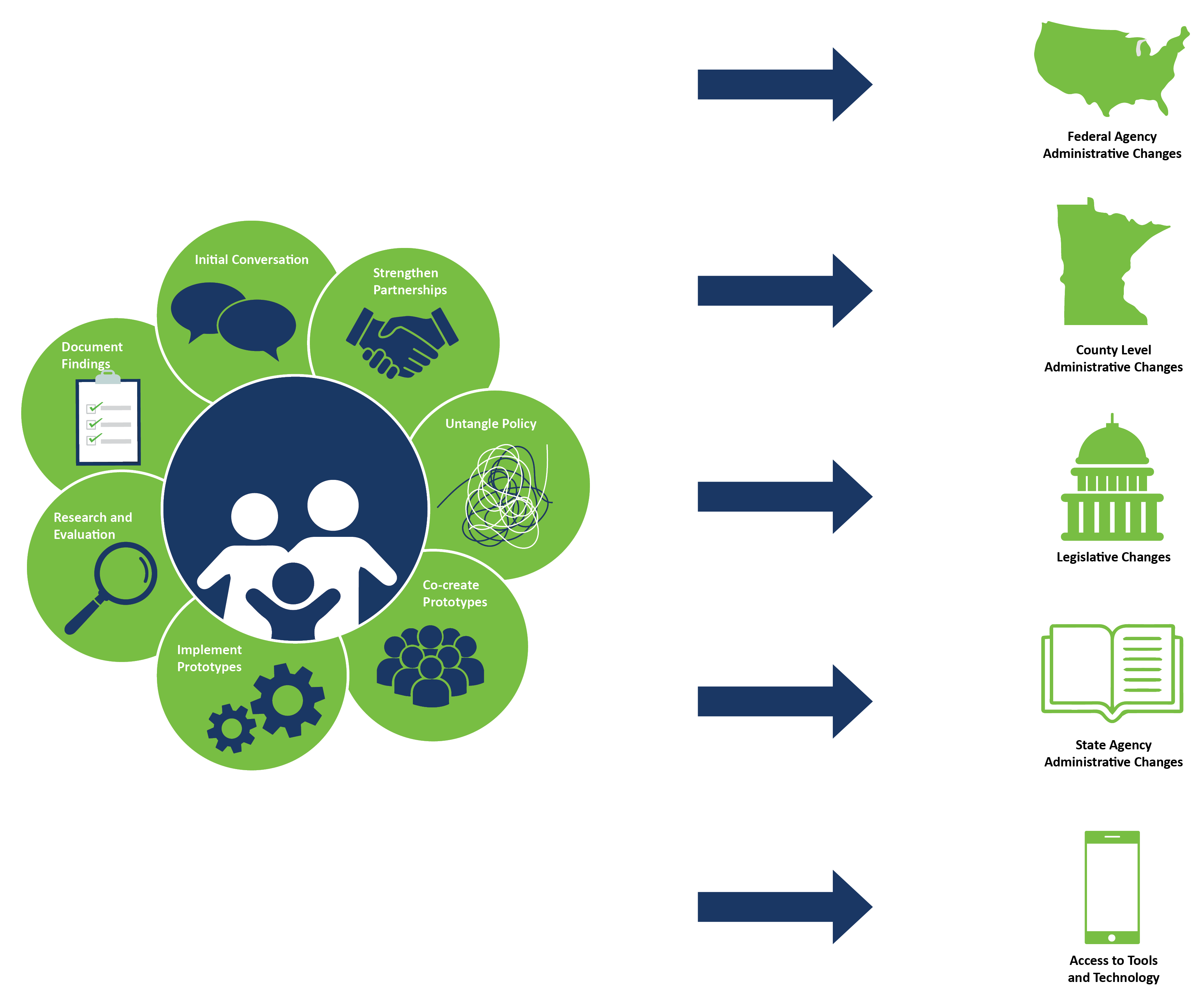 Team Structure
The Department of Human Services wants feedback loops for all levels of learning built into the way the work is done. By having site teams embedded in the work, the local learnings from the prototypes are looped back to the state network.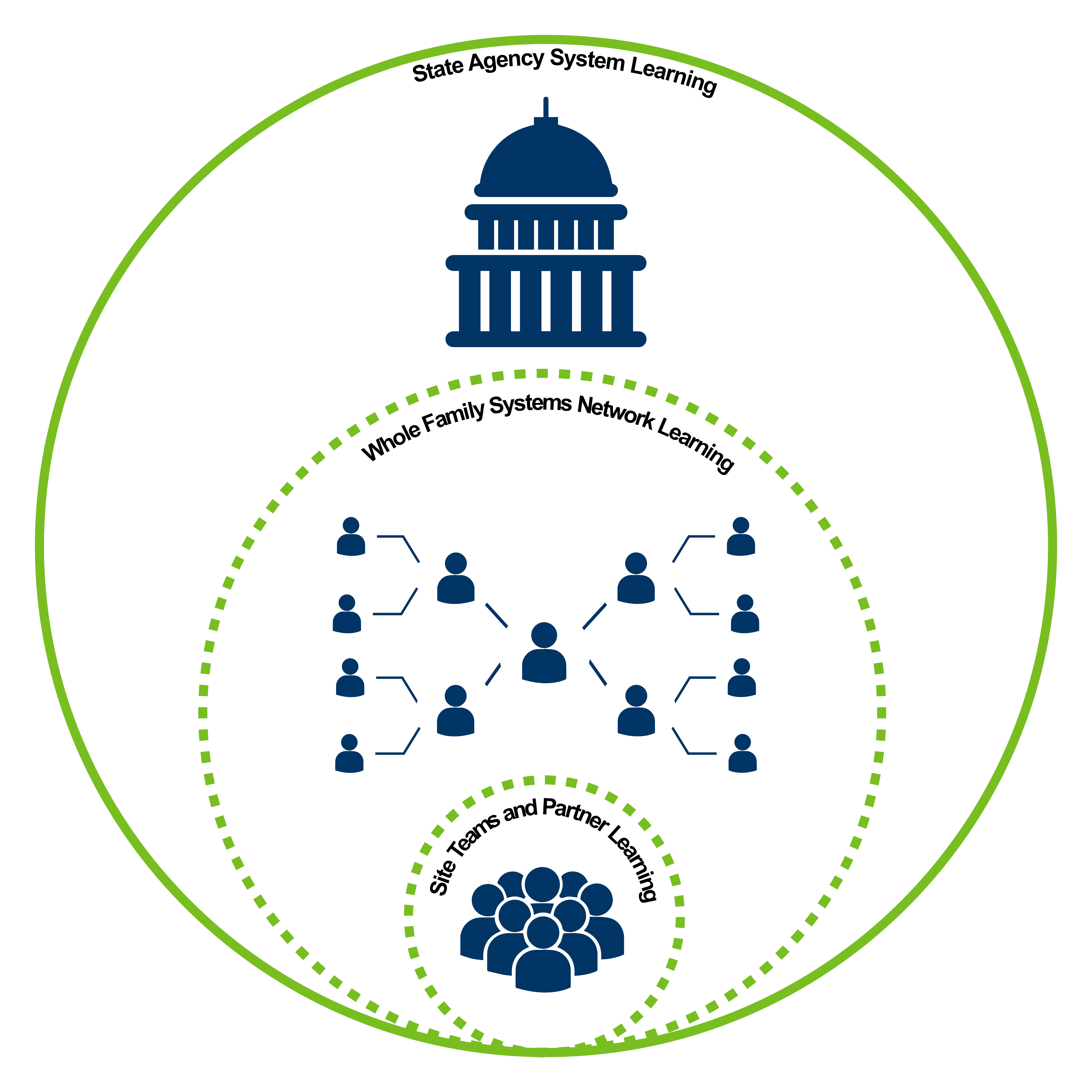 Grantee sites
Each grantee site has a full-time coordinator working on Whole Family Systems Initiative innovation. Each site is expected to have their own evaluator to help capture family feedback and learning and to help ensure feedback loops from the site to the rest of the network. The site may have people from it's agency, who also support in designing and implementing prototypes, working with the families and providing feedback.
Core Team
Each site is asked to form a local core team specific to its priorities. The grantee site project coordinator gathers this group of community partners who help guide the work. The core team is an advisory group that includes the Department of Human Services/BUILD site team and all relevant partners representing the various systems involved with the problem being addressed.
Department of Human Services / BUILD site teams
Each site is supported by a diverse team that contributes their time, energy and efforts to enable systems change. Site teams are made up of a Department of Human Services site lead who attends to the policy and practice feedback loop, an innovation and facilitation lead from BUILD Initiative to help support the learning of the department and the sites, and an evaluation lead from the department who holds the learning feedback loops for the site. Some sites have added collaborators from the Minnesota Department of Education to their site teams to enhance cross-agency work in the projects.
Whole Family System Initiative network meetings
These gatherings, also known as the Home Team Meetings, include all Whole Family System Initiative sites and their community project partners in a quarterly in-person meeting to share what they are learning and get input from the other sites.
Minnesota Interagency Leadership Team meetings
The Interagency Leadership Team, convened by the Governor's Children's Cabinet, works to foster long-lasting connections among and leverage the expertise of leaders from core state agencies serving children and families. The group also works to support the goals of the Governor's Children's Cabinet to take a results-oriented approach to coordinating, aligning programs and strategies, while promoting action and accountability of Minnesota's efforts to ensure that every Minnesota child is in a family and community of caring adults who promote child well-being and growth and development. 
The team ensures that a whole family approach is uplifted in cross-agency teams and strategies of the Children's Cabinet and provides a network of champions for children and families. Current membership includes the Minnesota Departments of Human Services, Education, Health, Employment and Economic Development and Minnesota Budget and Management. Whole Family Systems Initiative leaders attend meetings to share the learnings from the initiative to other state agency leaders.