Financial and Legal Planning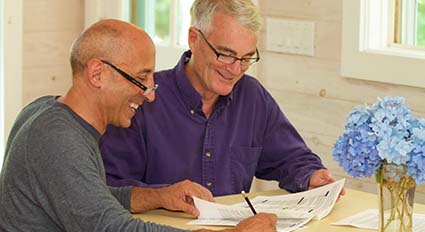 Legal, financial and health-related planning is for everyone, regardless of health status. Putting a few basic documents in place can give guidance to your loved ones and ensure your future well being. Talking about these plans may make you uncomfortable or seem irrelevant if you're young, but the earlier you start, the better off you and your loved ones will be. Getting your affairs in order is one of the greatest gifts you can give your loved ones.
Financial Planning
Financial planning is the process of setting up a plan for how to cover your financial needs while you are alive, manage your money when you are no longer able to, and disperse your money after your death.
Planning ahead means:
Having joint signatures on all financial accounts
Discussing future financial affairs with an adviser
Making a financial power of attorney
Naming beneficiaries on all banking, investment and retirement accounts
Arranging for payment of long-term health care: use of private insurance, Medicare, Medicaid and Supplemental Security Income (SSI) when applicable
Ensuring the protection of their assets
The distribution of the person's assets on his or her death. (If the person has a disabled spouse, child or another family member that they wish to provide for, special arrangements need to be made.)
Legal Planning
Health care directives are a set of documents that describe your health care wishes.
Health care declaration or living will: a written explanation of the type of care you would like should you be unable to communicate at the time of illness; specifically this document addresses the use of artificial life support, mechanical ventilators, cardiopulmonary resuscitation (CPR), feeding tubes, pain medication, etc. It is important to note if you choose to refuse life support, this does not mean you refuse all care; you can request specific life support measures, comfort care and pain medication.