Planning My Future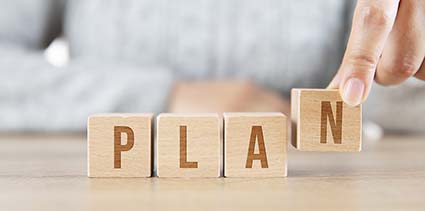 Planning ahead is about your future—for the expected (death someday) and the unexpected (not being able to care for yourself). Having a plan in place means you get to choose - where and how you live and who will take care of you. And knowing what you want will give your family peace of mind, make caring for you easier and save money.
Right now, you manage your finances and make informed medical decisions. Planning ensures that you make decisions in advance that your agents—the people you choose to carry out your wishes—will do for you.
Life is unpredictable. Start planning now to make sure you can live where and how you want to live as you age.
Everyone's needs are different, but there is a lot you can do now to get your plan in place.
Get Organized
Begin by putting all your important papers in one place where your family or people you choose to help you can find them.
Talk to a Lawyer
Your attorney will get to know you and can help you decide what documents you need and who you should appoint to act on your behalf. You should have a statutory short form power of attorney and a health care directive in place, in case something happens to you, that provides information about who you have chosen can care for you and your property. Other documents your attorney may suggest for you are a will, trust, common law power of attorney, transfer on death deed and an advance funeral directive.
Make a Plan for your Money and Property
It's important to manage your money and property as you age. Your plan may change over time, and should include safeguards in case you lose your ability to manage things yourself. There is a lot you can do now to make sure your wishes are followed when the time comes.
Plan for your Health Care Preferences
Having a health care directive in place lets you make informed decisions now about the type of health care you want to receive in the future. A health care directive is a written document in which you name someone (your health care agent) to make health care decisions for you, if you become unable to make or communicate decisions for yourself. As an adult, you have the right to make decisions about your own health care. That right does not end when you are not able to make decisions for yourself. If something happens to you, your health care agent can carry out your health care preferences.
Plan for Long-term Care Services and Supports
Long-term services and supports are on-going help for someone with a chronic health condition or disability. They can be delivered in a person's home, the community or facility, like a nursing home. Long-term care services and supports are expensive and many people are surprised to learn that Medicare covers very little. It is important that you have a plan for how you will pay for your long-term care. You can visit the state of Minnesota's website to learn more about your options mn.gov/dhs/general-public/own-your-future.
Plan for your Post-death Wishes
In the Minnesota Health Care Directive, you can appoint your agent to manage the disposition of your body after your death. This includes organ donation, whether you want to be cremated and where you want your remains to be buried or scattered.
Plan for Distribution of your Money and Property
You will have to decide if you want your estate to go through probate or if it can all pass automatically at death. There are only a couple of options for the post-death distribution of your property, payment of your debts and providing for your loved ones—a will, a trust or having your property pass automatically without a trust or a will. But talk to a lawyer to make sure you have all your bases covered, even if you don't have a lot of money or property.
Talk to People Close to you about your Plan
As part of your plan, you have chosen agents to carry out your wishes. Though you have chosen them wisely, you still need to talk to them about your wishes and to be certain they will act as you have requested. You also need to let your family and friends know about your plan. This is very important so they can be supportive of those you have asked to act on your behalf to manage your plan. Coordination ensures your plan's success and your wishes are carried out in the way you had wanted.
For more information, download a copy of the Senior LinkAge Line's Planning Ahead booklet.